Clad in blood-red armor and wielding some wicked weaponry, The Shadow Council's Praetorian Guard are coming up in 2024.
Elite
Disney+'s The Mandalorian continues to work to connect the original trilogy to the 'sequel era'. Not that that's entirely wanted by the fanbase at large, but it's pretty undeniable at this point, as things take more of a modern turn for the show. And while fairly minor, the debut of the Praetorian Guard were definitely a part of that.
The show's version of the Guard served under Moff Gideon, as it stood between the Mandalorian's and their claim to their ancestral world. But while the press release from Sideshow mentions their evolution from Emperor Palpatine's Royal Guard in Return of the Jedi, they're pretty clearly a mid-point between those red-robed troopers and what we see in The Last Jedi.
That's not to say that they don't sport a wicked design though, because they kind of do. It's a visage that's highlighted by some great weaponry that incudes a whip and blade.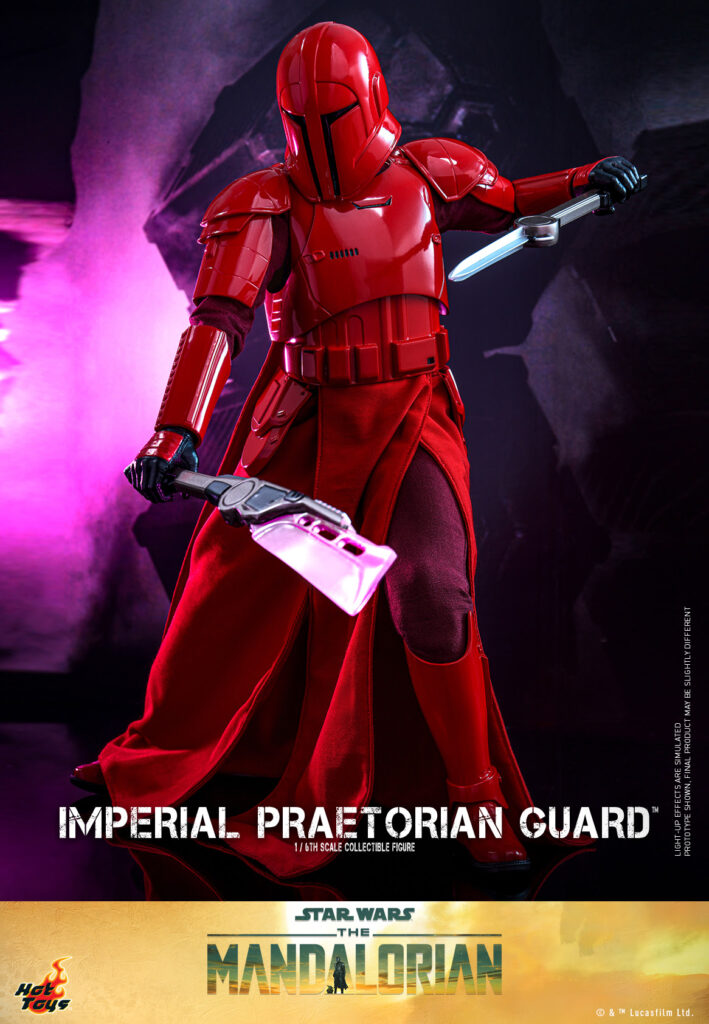 Inspired by the hit Star Wars™ series The Mandalorian™, the Imperial Praetorian Guard 1/6 Scale Collectible Figure by Hot Toys features carefully crafted armor in a sleek, glossy red finish. This highly articulated figure comes with a variety of hands, allowing for a wide range of dynamic pose options. Accessories include a heavy blade, two blades which can be combined to form a double blade, and the guard's signature chain whip which has embedded wire for posing.

Add some elite protection to your Star Wars collection with the Imperial Praetorian Guard 1/6 Scale Collectible Figure by Hot Toys. Available to pre-order from Sideshow.

Sideshow press release
The Praetorian Guard are set to ship some time in the last half of 2024, and are priced in at $245 USD. Pre-orders are indeed open right now, and you can hit the links above to get one locked-up for yourself.