It's getting up to be a packed San Diego Comic Con for publisher IDW, which will be bringing some of its biggest licenses for signings and panels.
Big names, big talent
While we probably can't say we're almost there, Comic Con is fairly close at this point, being less than two weeks out. Some of the biggest names have already been confirmed for the show, and that includes a list of talent and licenses that'll be making the trip courtesy of IDW.
The comic book publisher will have a number of artists and writers on hand for autograph sessions, as well as a full list of panels. All of the above will be taking place throughout the Con, with all of the signings being held at the booth itself (#2729).
It's a pretty packed list, and one that touches on nearly all of the publisher's titles. So if you're going you might want to grab a pen and start allocating your time.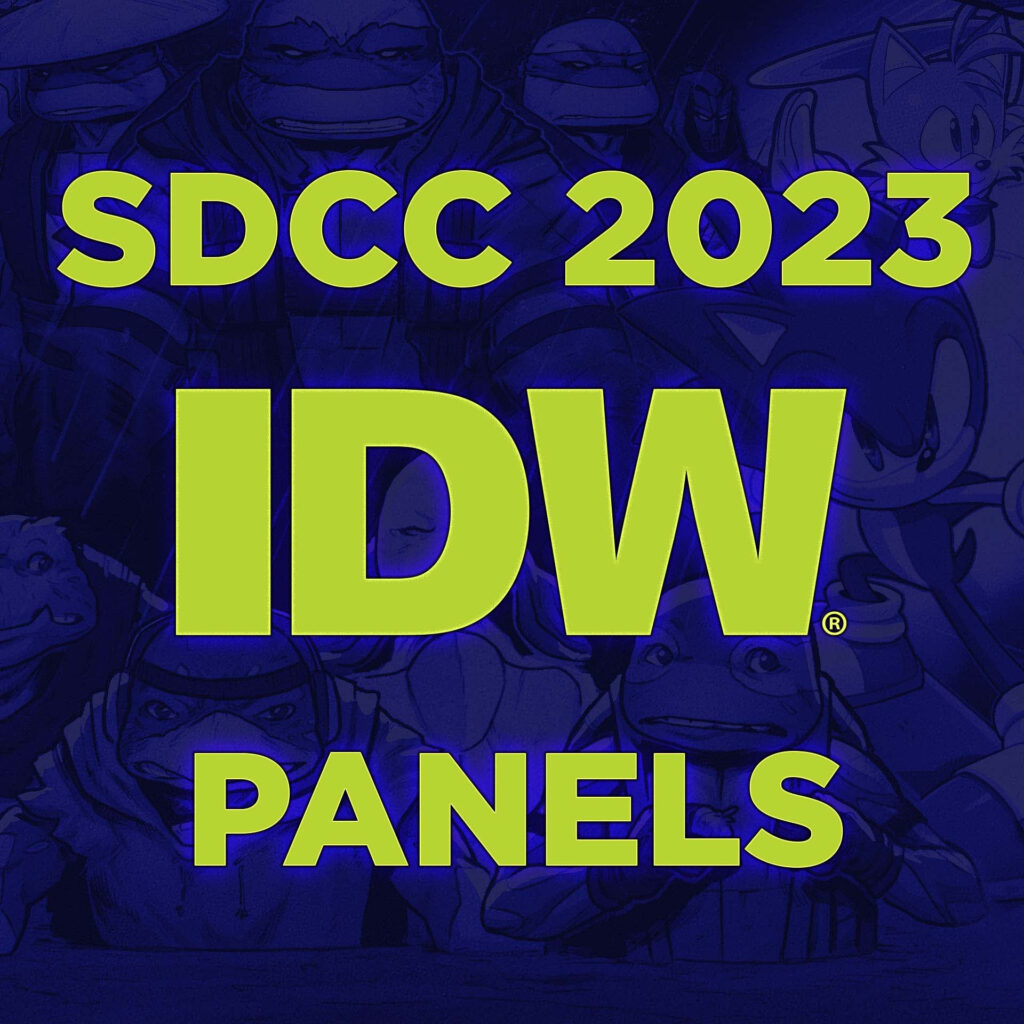 THURSDAY, JULY 20
Star Trek: Going Bigger and More Boldly Than Ever Before!

12:00pm-1:00pm, Room 28DE
Day of Blood is upon us! Never before has Star Trek been bigger (or bloodier). Join IDW Group Editor Heather Antos and Chris Cantwell, Collin Kelly, and Jackson Lanzing, the writers of the first-ever Star Trek comics event as they give an inside look into this bold crossover. Plus, Marc Guggenheim, Sam Maggs, Malachi Ward, Chirs Sequiera, and Liana Kangas share all the exciting things happening across IDW's Eisner-nominated line of Star Trek comics.
FRIDAY, JULY 21
IDW Publishing: 2023 and Beyond!

1:30pm-2:30pm, Room 10
Join IDW Publishing's Co-Publishers Mark Doyle and Tara McCrillis along with EIC Jamie S. Rich and Top Shelf's Chris Staros, as they discuss the exciting new direction of IDW's future. From fan-favorite series like TMNT, Star Trek, Sonic the Hedgehog, Godzilla, and My Little Ponies, to Top Shelf gems like Cosmoknights, to IDW Originals like Scott Snyder's Dark Spaces–IDW has something for everyone! Don't miss this chance to hear about the amazing work being done by talents like Snyder, Hannah Templer, Jeremy Lambert, Sam Maggs, Frank Tieri, Scott Bryan Wilson, Che Grayson, and moreI. The future is bright at IDW Publishing, so come join the excitement! 
SATURDAY, JULY 22
TMNT: The Next Evolution of Turtlemania

11:00am-12:00pm, Room 23ABC
From the unstoppable ongoing series to the new frontier of The Last Ronin to nostalgia-packed stories of Saturday Morning Adventures to epic crossovers like TMNT x Stranger Things, Turtlemania is in full force and isn't slowing down. Join IDW's Teenage Mutant Ninja Turtles team as Tom Waltz, Kevin Eastman, Mateus Santolouco, Erik Burnham, Ben Bishop, and Senior Editor Charles Beacham take the stage to discuss what's next for everyone's favorite heroes in a half-shell. Serious shellheads won't want to miss this panel that's guaranteed to serve heaping helping of shell shock!

The One and only IDW Artist's Edition Panel!

2:00pm-3:00pm, Room 4
For those who love dramatic inks and original pages, IDW has the perfect addition for your shelf. IDW's Artist's and Artisan Editions collect some of the most iconic runs by popular artists including Mike Mignola, Todd McFarlane, and Jim Lee, among so many more legendary names. These editions preserve the unique nuances of the original art via detailed scans–effectively putting you in the studio with your favorite illustrator. Join Scott Dunbier, the man responsible for these incredible editions, as he discusses his future plans for this remarkable line of books with moderator Kristen Simon.
SUNDAY, JULY 22
Sonic The Hedgehog: Speeding to the 900th Adventure!10:00am-11:00am, Room 25ABC

Gotta go fast to the IDW Sonic the Hedgehog panel at San Diego Comic-Con! Join the creative team – including Sonic editor David Mariotte and writer Evan Stanley – as they celebrate the upcoming 900th adventure of the Blue Blur with super fun stories that will leave fans spinning. Get ready to race into action with exciting sneak peeks and announcements that will make this panel one for the history books.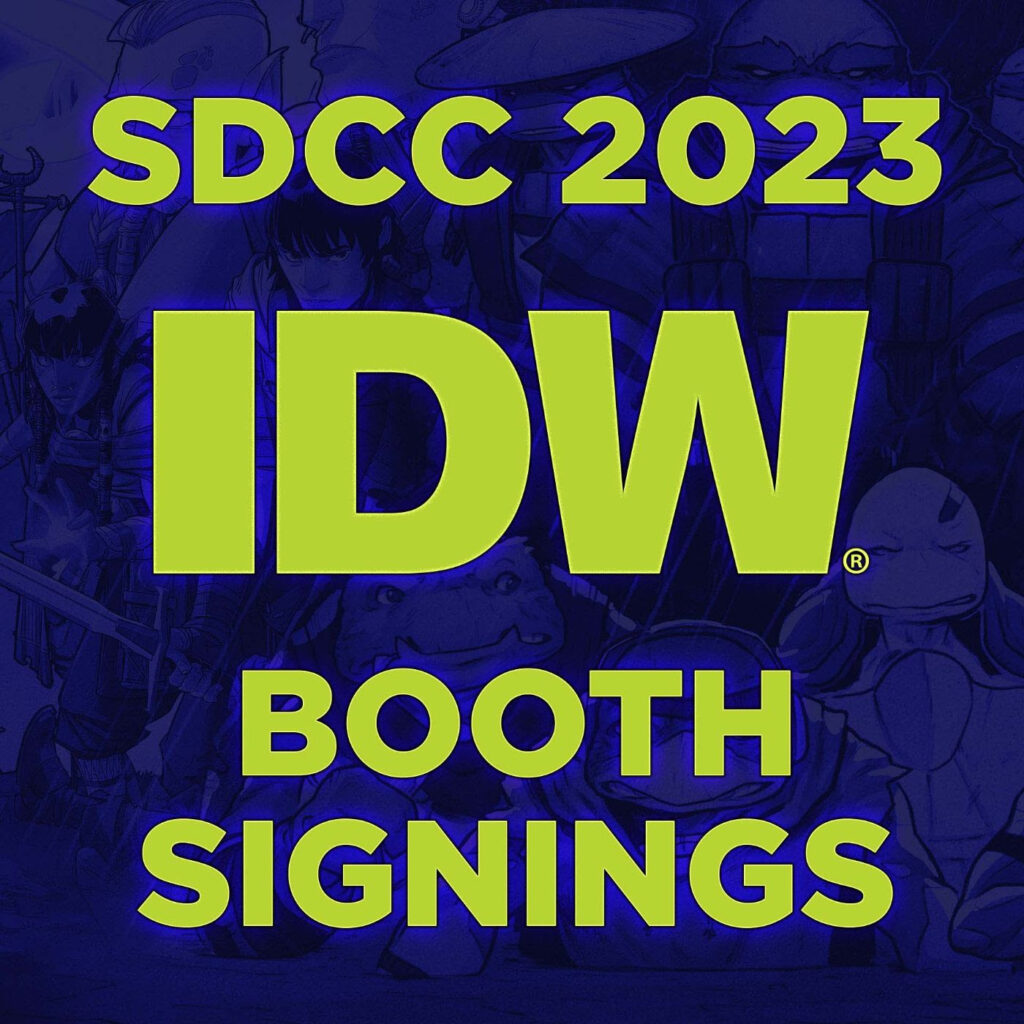 THURSDAY, JULY 20
DUNGEONS & DRAGONS: HONOR AMONG THIEVES
10:30am-11:30am
Ellen Boener, Jeremy Lambert, Casey Gilly
TMNT 
12:00pm-1:00pm
Erik Burnham, Fero Pe, Ben Bishop
STAR TREK
1:30pm-2:30pm
Christopher Cantwell, Marc Guggenheim, Sam Maggs, Malachi Ward
GODZILLA
3:00pm-4:00pm
Frank Tieri

FRIDAY, JULY 21
DARK SPACES: GOOD DEEDS 
11:00am-12:00pm
Che Grayson
STAR TREK: DAY OF BLOOD
12:30pm-1:30pm
Collin Kelly, Jackson Lanzing, Christopher Cantwell
IDW ORIGINALS
3:30pm-4:00pm
Rich Douek, Cavan Scott, Scott Bryan Wilson
THE SECOND FAKE DEATH OF EDDIE CAMPBELL & THE FATE OF THE ARTIST
4:30pm-5:30pm
Eddie Campbell
SATURDAY, JULY 22
COSMOKNIGHTS 
10:30am-11:30am
Hannah Templer
TMNT: THE LAST RONIN
12:30pm-2:00pm
Kevin Eastman, Tom Waltz, Ben Bishop, the Escorza brothers
Note: This TMNT signing will be a ticketed signing event. Follow IDW social for details.
DARK SPACES
2:45pm-3:45pm
Scott Snyder, Che Grayson
THE SECOND FAKE DEATH OF EDDIE CAMPBELL & THE FATE OF THE ARTIST
4:15pm-5:15pm
Eddie Campbell
SUNDAY, JULY 23
SONIC THE HEDGEHOG
11:30am-12:30pm
Evan Stanley, Adam Bryce Thomas, Mike Cisneros, Min Ho Kim
MY LITTLE PONY: 40th ANNIVERSARY
1:00pm-2:00pm
Amy Mebberson, Jenna Ayoub
DUNGEONS & DRAGONS: SATURDAY MORNING ADVENTURES
3:00-4:00pm
Sam Maggs, David Booher