Hankering for some original Xbox goodness with the likes of Halo, Fable, Conker and others, but need a way to go HD? EON Gaming has you covered.
High-def
It's almost tough to imagine a time where we didn't have HDMI, since the format has been around for so long at this point. But indeed the majority of the age of home entertainment was spent without it. That includes the early 2k's.
Microsoft's original Xbox console launched in 2001, bringing a fresh console competitor to the gaming universe, and with it, a few key new franchises and series'. Hits like Mortal Kombat, Burnout, Gauntlet, The Elder Scrolls and more were joined by exclusives like Halo and Fable, to cement Xbox as a brand that'd be sticking around.
Retro-minded fans who might like to dive back into that era though, might find it a bit difficult. After all, getting your classic Xbox a nudge up to high-def isn't all that easy. While there are solutions available, most of those are underwhelming. We speak from experience there, since some third-party adapters tend to be not all that well made, conking out after a few uses.
A whole new world (of connectivity)
Just revealed today, the XBHD seeks to solve those above ills, and is an all-in-one solution for bringing the Microsoft's original Box to modern TV's. Well, it's that and actually a bit more.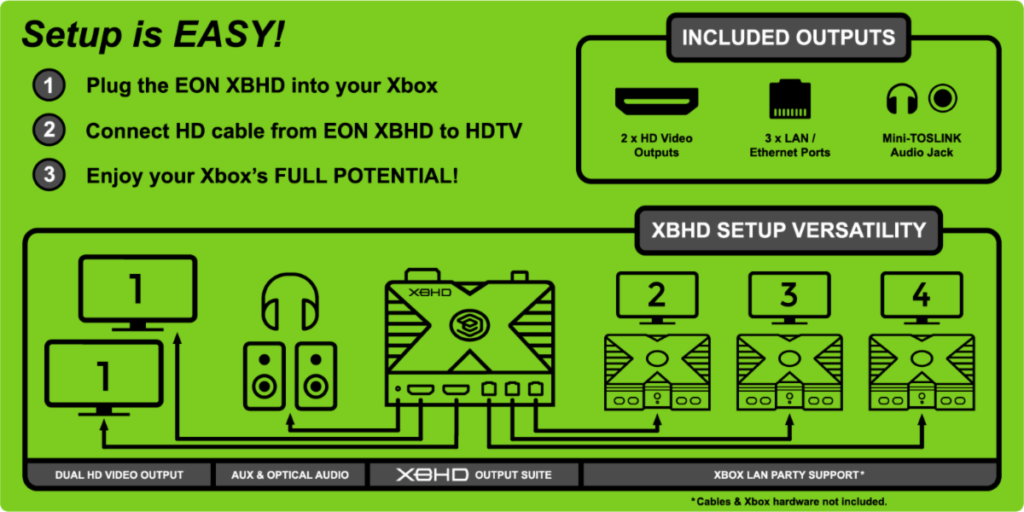 Aside from requiring no additional cables (like power), offering MiniToslink audio output, and promising "no lag" on bringing the Xbox' visuals to your monitor, the XBHD also sports 4 ethernet ports. Remember the LAN parties of yesteryear? Yeah, they're back.
"The Xbox was home to the LAN party." said Justin Scerbo co-founder of EON Gaming. "The magic of linking consoles together to enjoy an expanded, connected local gaming experience was something that defined us then, and something we long for now. With XBHD, we wanted to bring that possibility back. Now, it's easier than ever, and these classic games have never looked better."


"I remember packing up my Xbox, 4 controllers, the cables, and an old, hefty tube TV into my small Miata, driving down to my friends house, and having a Halo party that felt like it lasted for days," said Justin Chou, co-founder, EON Gaming. "Now-a-days, although everything's become easier with the use of online matchmaking lobbies, I can't help but feel like I've lost something magical. I miss sharing a living room with my closest friends and playing games all night."

Justin Scerbo and Justin Chou, co-founders of EON Gaming
Ready to hit some auction sites and start recollecting the classics? The XBHD is set to hit stores on June 20th, 2023. It'll retail for $189.99 USD, and you'l be able to grab one via Castlemania Games, Retro Saga, Games Connection, and Amazon.
Update: Forget the above, the XBHD now effectively has no release date, due to what sounds like a manufacturing issue. While the delay is definitely disappointing, it's seems for the best, since EON says that the units that came in (and were intended for retail) were "not in alignment with EON's approved prototype."
The company is working right now to fix those "small discrepancies" and get the XBHD shipped. We'll let you know more as soon as we do.