Nintendo Switch Online + Expansion Pack subscribers are getting a triple dose of Super Mario Game Boy Advance goodies this month.
It's-a-me
It's been quite the year for Mario, hasn't it? At this point, the recently released big-screen juggernaut has made its way to home video, and now the Switch is completing Mario's Game Boy Advance adventures with a trio of fresh ports.
Of course you've likely played these games before, but even so, are you really going to say 'no' to more Mario? And besides, some of them have some key differences when compared to the NES titles they're based on.
The fun comes by way of the Nintendo Switch Online + Expansion Pack service though. So you do have to be a subscriber to get in on it.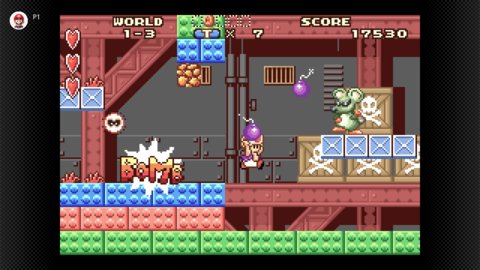 Super Mario Advance – Fling veggies (and lots of other stuff) at foes with Mario, Luigi, Peach and Toad in this powered-up version of the NES™ Super Mario Bros ™ 2 game! In Subcon, the land of dreams, Mario and friends each have their own distinct abilities to aid them in the adventure: Luigi jumps the highest, Peach can hover over obstacles, Toad can grab items faster than anyone and Mario is an all-arounder who's great in any situation. This Game Boy Advance™ version of Super Mario Bros. 2 also features added surprises to discover and challenges to take on, including one featuring Yoshi. Wa-hoo!
Super Mario World: Super Mario Advance 2 – Bowser has taken over Dinosaur Island and it's up to Mario and Luigi to stop him – but they're not alone, because Yoshi is along for the ride! Every level, secret and Power Up from the Super NES™ Super Mario World is here alongside additional features and surprises. This Game Boy Advance classic also includes the option to play the entire adventure as Luigi with his Super Mario Advance abilities. Those Chargin' Chucks won't know what hit 'em when they encounter this high-jumping bro!
Yoshi's Island: Super Mario Advance 3 – Yoshi's back, baby! Colorful worlds, giant bosses, secrets and enemies galore await in this Game Boy Advance version of the Super NES classic that first introduced Baby Mario. Join a flock of multicolored Yoshi and save the infant Mario brothers from the clutches of the villainous Magikoopa Kamek in this vibrant, egg-tossing adventure. Just make sure you keep an eye on the baby – he may be cute, but he's a total crybaby!
The 3 titles above join Super Mario Advance 4, which is out already. So the update will make for a pretty complete look back at some of the greatest 8/16bit platformers of all time.
Watch for 'em all on May 25th.