There's more than just the stock racing action on the way for 2K and LEGO's upcoming racer. A quartet of free Drive Pass seasons will be in-bound.
Building a future
It's been a little while since we've gotten a LEGO title, and you couldn't get much more interacting than LEGO 2K Drive for a comeback. If you haven't seen this upcoming block-fest in action yet, it's just what it sounds like; a racing game.
A first for the property, LEGO fans will be able to take it to the track in LEGO 2K Drive, and blast across Bricklandia in a number of vehicles. And yes, these will be buildable rides, as you can see in the reveal trailer below.
While all of that is looking spiffy, there's much more to come post-launch. LEGO 2K Drive will have a full on series of post-launch content, in the form of Drive Passes. Oh, and those passes? Yeah, they'll be free.
Each DLC Season will offer a massive boost of stuff too, with over 100 levels to play through. Yes, 100. And in those levels players can earn bonuses that'll change from Season to Season. The first of them hits on June 1st, and will include "new drivers, stickers, flairs, sounds, and more". While we're talking about new stuff too, 2K has also revealed that a new "biome" will arrive within year one of LEGO 2K Drive's release. So there's a load of post-launch content coming to keep things fresh.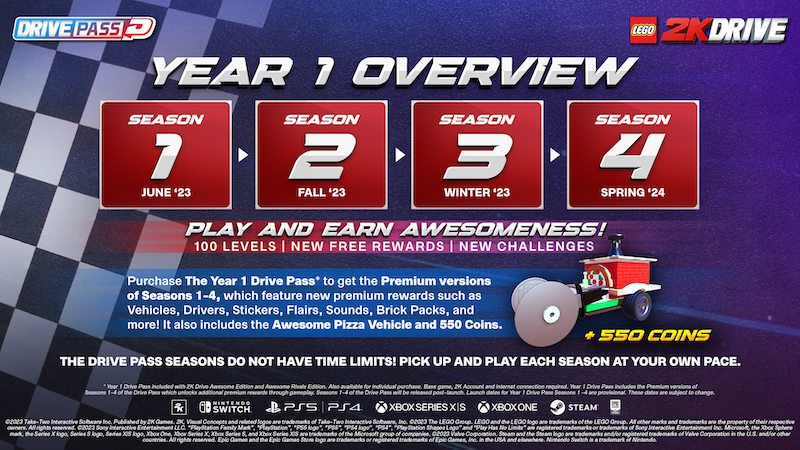 Get premium drivers
In addition to the free Seasons, there'll also be a "Premium Drive Pass" available. That's a secondary option that'll include bumped-up versions of the free Drive Passes, that unlock "additional premium rewards through gameplay".
Also added in is the "Awesome Pizza Vehicle and 550 Coins". You can use those coins in the in-game shop. And that's plus even more, like real-world vehicles to race from Dodge and Nissan, both of which will be in Season 1.
The Drive Pass is included with two versions of the game as well, in the LEGO 2K Drive Awesome Edition and Awesome Rivals Edition. Both of those, plus the basic edition, will be on the shelves for consoles and the PC on May 19th, 2023.