Prime Gaming might've been a little thin in terms of grade A titles lately, but it's back in action for May, with Star Wars, Torment, and more.
Jump to hyperspace
I guess we don't want to overstate it too much, because it's not like there are any massive games on offer this coming month by way of Prime Gaming. But that said, it's not a bad slate either, with some classic gems hitting the service's rotating selection of freebies.
Subscribers will have the N64 classic Star Wars: Rogue Squadron 3D to play, along with the role-playing legend Planescape: Torment, Samurai Showdown V, King of Monsters 2 and loads more. As has been the norm lately, you won't find all of these at once, but the offerings will be staggered across the month.
Here's what's coming:
May 4 STAR WARS™: Rogue Squadron 3D [Amazon Games App] – Save the Rebel Alliance from imperial onslaught in this thrilling flight simulation game where players take on the role of Luke Skywalker and assemble their Rogue Squadron team to fly into battle, engage in intense, fast-paced space and planetary missions to continue the fight for freedom.

May 4 Super Sidekicks [Amazon Games App] – Dribble, pass and use a variety of techniques to compete against the best teams from around the world as players battle for the SNK Cup.

May 4 Samurai Shodown IV [Amazon Games App] – Test your samurai skills using powerful attacks to wage intense battles and defeat Amakusa before he conquers the modern world.

May 11 Planescape: Torment: Enhanced Edition [Amazon Games App] – Explore the planes, survive dangerous combat scenarios and solve mysterious puzzles in this story-rich, tactical role playing game set in the Dungeons & Dragons multiverse.  

May 11 Lake [Amazon Games App] – Take on the role of Meredith Weiss and take a break from the big city to decide how you want to experience the beautiful Providence Oaks, featuring its iconic lake and scenery.

May 11 Robo Army [Amazon Games App] – Take on high-powered collisions in this beat 'em up title as players crush and destroy their enemies to restore peace from the robot corps known as Hell Jeed.

May 11 Last Resort [Amazon Games App] – Save humanity's first hotel on Mars by taking down hordes of aliens in this small co-op shooter game.

May 18 Kardboard Kings [Amazon Games App] – Own the best card shop in town by earning a reputation with customers, beating your shop goals, unlocking new decorations and more!

May 18 The Almost Gone [Amazon Games App] – Unlock intricate dioramas to experience the plethora of connections of your life in this narrative puzzle game about death, loss and mental health.

May 18 3 Count Bout [Amazon Games App] – Become the world's strongest wrestler by learning the moves and winning hard fought battles to take the champion's throne for yourself. 

May 18 Alpha Mission 2 [Amazon Games App] – Recapture the universe from the seven star alliance by utilizing 11 types of various power armor in this vertical scrolling arcade game.

May 25 Lila's Sky Ark [Legacy Games Code] – Protect a psychedelic world from bizarre beasts and punishing bosses in this poetic mystery filled with secrets, puzzles and music.

May 25 Agatha Knife [Amazon Games App] – Embark on a whimsically twisted adventure with Agatha, as players join her in exploring her love for eating meat and her friendships with animals.

May 25 King of the Monsters 2 [Amazon Games App] – Become the undisputed king of the monsters as players take on earthshaking battles against a plethora of behemoths.

May 25 Kizuna Encounter [Amazon Games App] – Engage in intense battles as players use both weapons and fists alike to win in single-round sudden death tag-team matches.
And as usual, on top of that will be a nice collection of Luna steaming titles. Players who indulge in Amazon's streaming service will find some LEGO DC action, as well as Resident Evil 2 and more.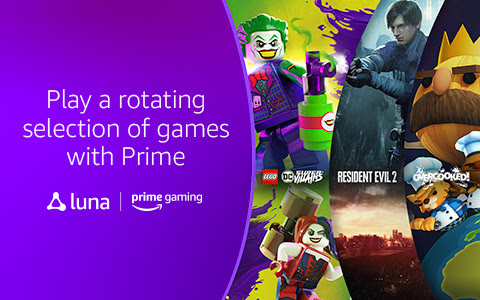 Starting on May 1, Prime members will have full access to a new slate of popular games on the Prime Gaming Channel, including LEGO® DC Super-Villains, Resident Evil 2, Overcooked! and Frog Island.Stay tuned in the coming months for additional Prime Gaming Channel offerings via Amazon Luna!

Prime Gaming press release
Want more? Sure, why not?! Scroll down to check out the full list of what's on tap for May of 2023, including all of the above plus all the free DLC you can nab.