DC Comics is expanding its Dawn of DC lineup with some fan-favorite names. Look for Steelworks and Hawkgirl on the stands this summer/fall.
A new dawn
If you've been following along with Dawn of DC, then you already saw the announcement of titles like Wonder Woman and Flash. Both of those books will have fresh directions as well, with Diana basically a fugitive and Wally… well Wally is going to be running headlong into some cosmic horror.
But wait there's more, as DC has revealed that both Steel and Hawkgirl will be getting new runs too. And they'll likewise have new narratives, with maybe a setting or two to boot. In the case of John Henry Irons, Steelworks finds him in a familiar position for comics fans, though one that he's never been in before. And as for Hawkgirl, she's on her way to Metropolis to try to figure things out in a world without a Justice League.
Oh, and did we mention Michael Dorn is writing Steelworks?
Steelworks
Michael Dorn, legendary actor and the voice of Steel in the classic Superman: The Animated Series, will be writing the not-to-be missed Steelworks with art by Sami Basri (Harley Quinn). The Metropolis of the future is here today, but can it survive a terrorist who's out for revenge against its builder, John Henry Irons—a.k.a. Steel—and his company, Steelworks…and who possesses secrets that could undo everything John has worked so hard to build?


While John's professional life is firing on all cylinders, his personal life is even better, as his on-again, off-again relationship with Lana Lang might be back on, permanently. Now he must decide whether it's time to give up being Steel once and for all. But does John even know who he would be without his superhero identity? How does the other Steel—John's niece, Natasha Irons—feel about his momentous decision? And does any of that matter if Steelworks crumbles around him when he lacks the superpowers to fight back?

DC Comics press release
Hawkgirl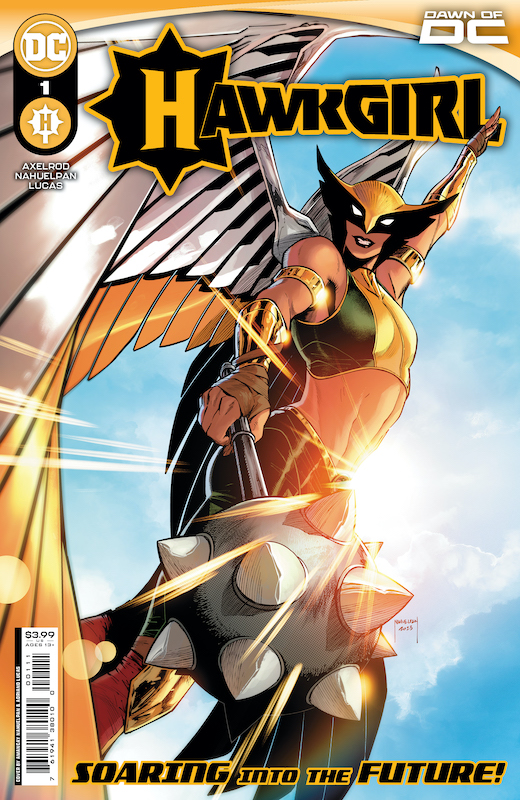 A brand-new adventure with sky-high action, adventure, and intrigue begins in Hawkgirl by Jadzia Axelrod (Galaxy: The Prettiest Star) and Amancay Nahuelpan (Wonder Woman).


Kendra Saunders, the winged warrior better known as Hawkgirl, has been one of the DC Universe's greatest heroes for a long time, serving as a member of both the Justice League and the Justice Society. But with the Justice League disbanded, Kendra decides she needs a fresh start and heads to Metropolis to begin a new life. That life is quickly interrupted by a mysterious villain with a powerful connection to the Nth Metal that makes up Hawkgirl's wings and weapons. Hawkgirl will also feature a series of variant covers that recount Kendra's DC history. Hawkgirl #1 will be available on July 18 at local comic shops.

DC Comics press release
It's notable too, before we wrap things up here, that Steelworks doesn't seem to have a release date just yet. With pretty much everything else arriving this summer into the fall though, it's probably a safe bet that it'll be dropping some time when the leaves start to turn.