A whole bunch of new pre-orders just opened up for Diamond Select Toys. Check out the list for Marvel, The Mandalorian, D&D, and more.
Future planning
A few times a year, Diamond Select will drop a heck of a lot of pre-orders on fans. And being that we're approaching the last month of quarter 1 here in 2023, the company went and did it again. this is a big one too, with some monster names and much-anticipated stuff.
The Marvel Select Invisible Woman might be the biggest drop out of all of it, since she completes the Marvel Select version of the FF. On top of her though, is a new Dungeons & Dragons Minimate set that comes complete with Venger and the Dungeon master (and others), a series of Star Wars busts, and a The Last Ronin PVC Diorama.
All of the stuff below is up for pre-order now, and most of it will be arriving before the end of the year. Scroll down and check it out.
Dungeons & Dragons Minimates Villains Box Set
A Diamond Select Toys release! Diamond Select Toys returns to the animated world of the D&D cartoon of the 1980s with an all-new deluxe box set of 2-inch Minimates! This new set includes an array of villains: Venger, Warduke, Dekkion the Skeleton Warrior, a Shadow Demon, and Night-Mare, Venger's horse that he can really ride! Plus, get a figurine of the Dungeon-Master, with a removable ice crystal prison! Each Minimate features multiple points of articulation and character-specific accessories, and all parts are fully interchangeable! They come packaged in a full-color, book-styled window box with a fifth-panel cover. Designed and illustrated by Barry Bradfield! (SRP: $50.00)
Marvel Animated X-Men Beast 1/7 Scale Mini-Bust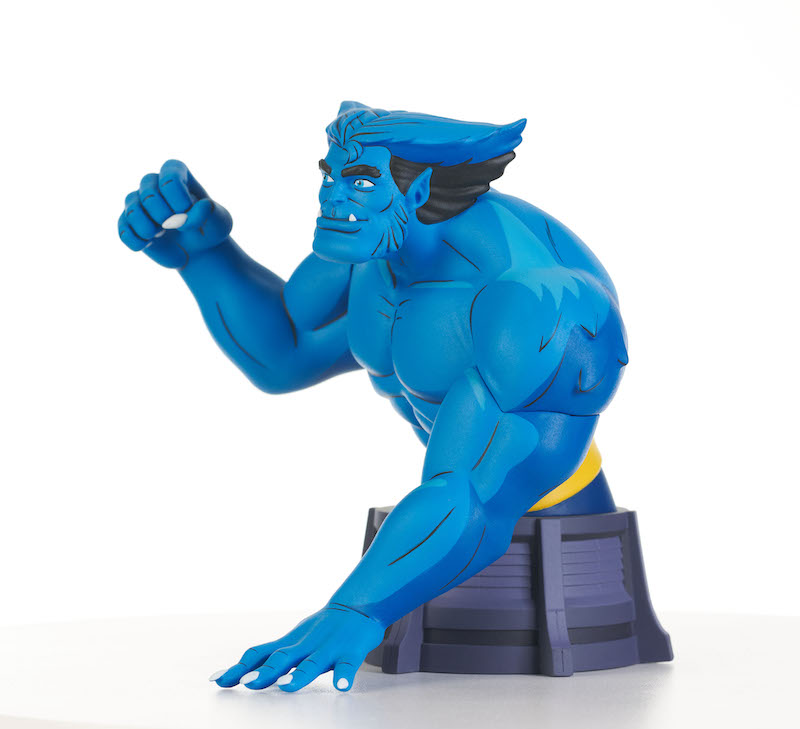 A Diamond Select Toys release! Oh my stars and garters! The X-Men Animated Mini-Bust line just got a new team member: the hyper-agile and hyper-intelligent Beast! This animated-style resin mini-bust, based on the classic 1990s X-Men: The Animated Series, stands approximately 6 inches tall atop a pedestal base, and is limited to only 3000 pieces. It comes packaged in a full-color box with a numbered certificate of authenticity. Designed by Barry Bradfield, sculpted by Paul Harding! Formerly a Disney Store Exclusive. (SRP: $80.00)
Marvel Animated Style Moon Knight Statue
A Gentle Giant LTD release! The Fist of Khonshu has never been cuter! Marc Spector, the Moon Knight, is ready for action in this 3 ¼" tall statue, inspired by the "Young Marvel" cover artwork of Skottie Young. Limited to only 3000 pieces, it comes packaged with a numbered certificate of authenticity in a full-color box. Sculpted by Casen Barnard! (SRP: $60.00)
Marvel Select Sue Storm Collector's Action Figure
A Diamond Select Toys release! Complete the Four! The fourth member of the Fantastic Four, Sue Storm, a.k.a. the Invisible Woman, finishes up the team as she enters the Marvel Select action figure line! Joining the previously released Thing, Human Torch, and Mr. Fantastic, Sue stands approximately 7 inches tall and features 16 points of articulation, as well as a variety of interchangeable parts and accessories. Designed by Eamon O'Donoghue, sculpted by May Thamtarana! (SRP: $29.99)
Mighty Morphin' Power Rangers Vinimates Series 1 2-Pack
A Diamond Select Toys release! It's Morphin' time! Two of the most powerful Zords around, the Megazord and the Dragonzord, are now 4-inch Vinimates vinyl figures for your Power Rangers collection! With poseable heads and arms and a removable sword for the Megazord, these are awesome stand-alone pieces, not to mention the perfect companions to your Power Rangers Minimates! Both come packaged in a full-color window box. Designed by Barry Bradfield! (SRP: $35.00)
Star Wars The Mandalorian Koska Reeves 1/6 Scale Mini-Bust
A Gentle Giant LTD release! Another Mandalorian has entered the battle! As seen in The Mandalorian Season 2, Koska Reeves, compatriot of Bo-Katan Kryze, is now the latest 1/6 scale mini-bust from Gentle Giant LTD! Standing approximately 6 inches tall atop a pedestal base, with her gun leveled, Reeves features interchangeable helmeted and unhelmeted heads, and features detailed sculpting and paint applications. Limited to only 3000 pieces, it comes packaged with a numbered certificate of authenticity in a full-color box. (SRP: $130.00)
Star Wars Clone Wars Animated Cad Bane 1/7 Scale Mini-Bust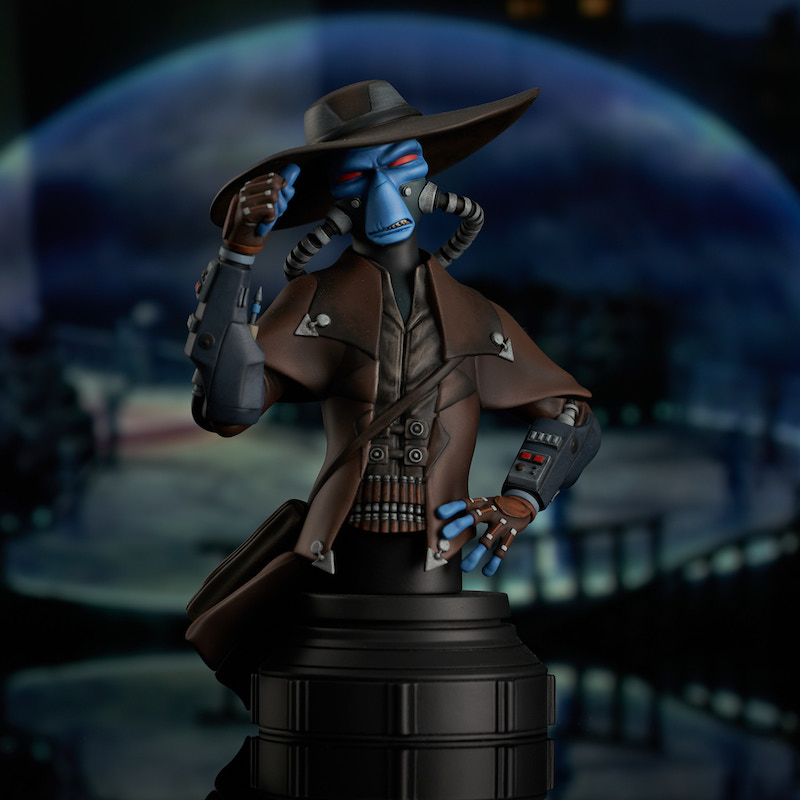 A Gentle Giant LTD release! The gunslinger returns! Infamous bounty hunter Cad Bane is back, as an animated-style mini-bust from Gentle Giant LTD! Measuring approximately 6 inches tall atop a pedestal base, this sculpture depicts Bane tipping his wide-brimmed hat as he contemplates his next target. Limited to only 3000 pieces, this mini-bust comes packaged with a numbered certificate of authenticity in a full-color box. (SRP: $130.00)
Star Wars Rebels Sabine Wren Animated 1/7 Scale Mini-Bust
A Gentle Giant Ltd. release! The Ghost crew's resident Mandalorian tagger is now the latest animated-style mini-bust from GG Ltd.! Standing approximately 6 inches tall, this 1/7 scale mini-bust features an interchangeable head and arms, so you can show her helmeted or unhelmeted, with her spray paint or a blaster! Limited to only 3000 pieces, it comes packaged with a numbered certificate of authenticity in a full-color box. (SRP: $150.00)
TMNT Gallery Last Ronin PVC Diorama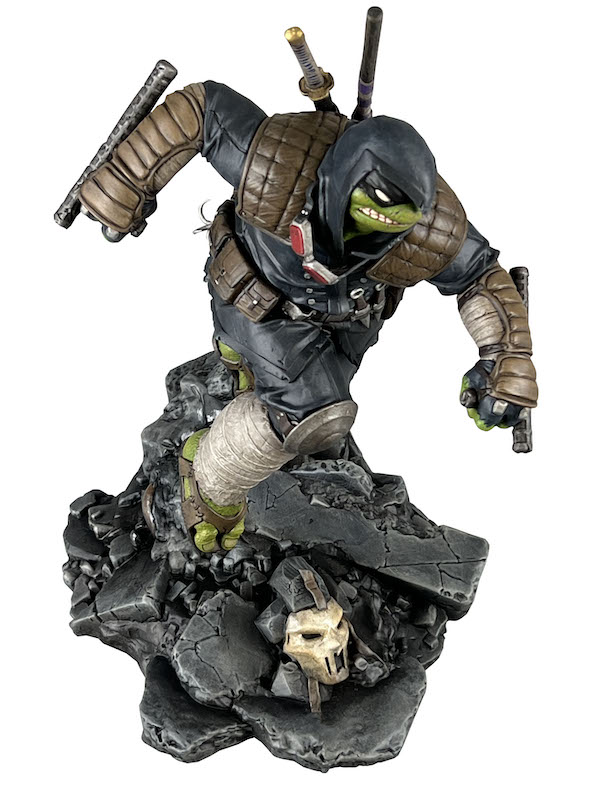 A Diamond Select Toys release! Who is the Last Ronin? The last surviving member of the Teenage Mutant Ninja Turtles is shrouded in mystery, but now he's the latest TMNT Gallery Diorama! Measuring approximately 10 inches tall, this dynamic sculpture depicts the Ronin running across a rocky landscape. Crafted of high-quality PVC, this diorama comes packaged in a full color window box. Designed and sculpted by Kinetic Underground! (SRP: $75.00)