Once again, it's looking like collectible and apparel company Numskull is prepping a killer Quarter Arcade, with the upcoming Space Invaders.
Quarter size, full action
There are quite a few mini-arcade machines and lines out there, that's for sure. Maybe not as many as a few years back, when the form-factor was exploding, but there are still a number of them. Few of those though, have the attention to detail and overall punch of Numskull's.
You might know that name best from the company's apparel and accessory items, which you could have seen a few reviews for right here on BG. But they also periodically produce Quarter Arcades. And as the name would lead you to believe, those are shrunken down versions of actual, classic arcade titles.
Numskull just announced the latest in that range, and it sounds like the coolest one yet. Space Invaders will ship some time in 2023, on target with the original game's 45th birthday. And when Numskull says that it's going to be a 1/4 size duplicate of that original, they mean it.
Great Pepper's Ghost!
Both Space Invaders and Space Invaders Part II (they're both on the way) look and play like the originals. But there's more to it, as each one will also sport something called "Pepper's Ghost Effect". If you don't know what that is, don't feel bad because I didn't either.
Basically though, it's a special effect that the original Space Invaders machines used, that dates back to the 1800's. No, really.
Pepper's ghost is an illusion technique named after the English scientist John Henry Pepper (1821–1900), who began popularising the effect with a theatre demonstration in 1862. This launched an international vogue for ghost-themed plays, which used this novel stage effect during the 1860s and subsequent decades.


The original Space Invaders arcade machines use this effect to project the gameplay over the starfield positioned directly in front of players when they stand at the cabinet. This is done by playing the game (backwards) on a monitor positioned low down in the machine. The picture is then reflected on an angled piece of glass, which gives the holographic effect. The team behind Quarter Arcades have worked very hard to recreate this effect at a 1/4 scale and are delighted to have reproduced an accurate Space Invaders replica.

Numbskull press release
How freaking cool is that? The massive attention to detail is a big part of what makes Numskull's line so impressive, as an arcade fan.
Here's the full spec list:
Features:
Made with a high-quality wooden shell – just like the original
Official Taito products – ¼ scale playable replicas of the original Space Invaders & Space Invaders Part II arcade cabinets
Realistic replicas – everything from the artwork, shape and buttons match the original
Collect them all to build your own miniature ¼ scale arcade collection
Shipping from the factory in June 2023 for delivery July / August 2023
The tech specs:
Dimensions Height: 17" (44cm) x Width: 6.5" (16.6cm) x Depth: 8.8" (22.5cm)
Includes mirror screen with "Pepper's ghost effect"*, based on the original cabinet
Replication of the 'glowing moon' from the original arcade version
5 inch full-colour TFT screen with 4:3 ratio
3-watt built-in speaker with volume control
Built-in rechargeable lithium battery
Fully playable cabinet – plays the original arcade ROM on a bespoke emulator
Special editions
With all versions of both replica units set to ship in summer of 2023, there are a few different options to buy. As you can imagine, there are some 'standard' versions as well as a set of collector's options for either Space Invaders or its sequel.
All of what you see below though, should hit the warehouse this coming June. After that, it'll be available for shipping over late summer, so think July or August, 2023.
Those include:
STRICTLY LIMITED TO 78 x SPACE INVADERS AND 79 x SPACE INVADERS PART II WORLDWIDE.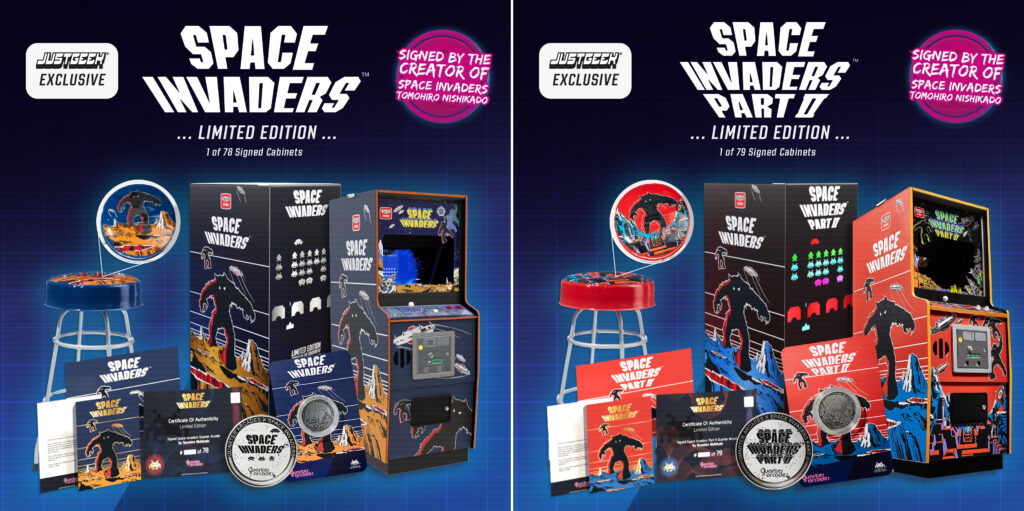 Official Taito product: ¼ scale replica of the original Space Invaders arcade cabinet that sits neatly on shelf, desk or tabletop
HAND-SIGNED BY THE CREATOR OF SPACE INVADERS HIMSELF, TOMOHIRO NISHIKADO
Limited edition collector's packaging (different in design and production to the standard edition box)
Collector's COA; a certificate of authenticity showing the numbered rarity and its official association with creator Tomohiro Nishikado and Taito
Collector's postcard – celebrating the anniversary of Space Invaders and cabinets
Official collector's coin with official Taito Space Invaders packaging – unique design
Official Taito Space Invaders stool – designed, engineered and scaled to fit in perfectly with your Quarter Arcade cabinets
Just Geek Store Exclusive:
Pre-orders for Space Invaders and Space Invaders Part II from www.justgeek.com receive an exclusive official Taito Space Invaders stool (not available to purchase separately):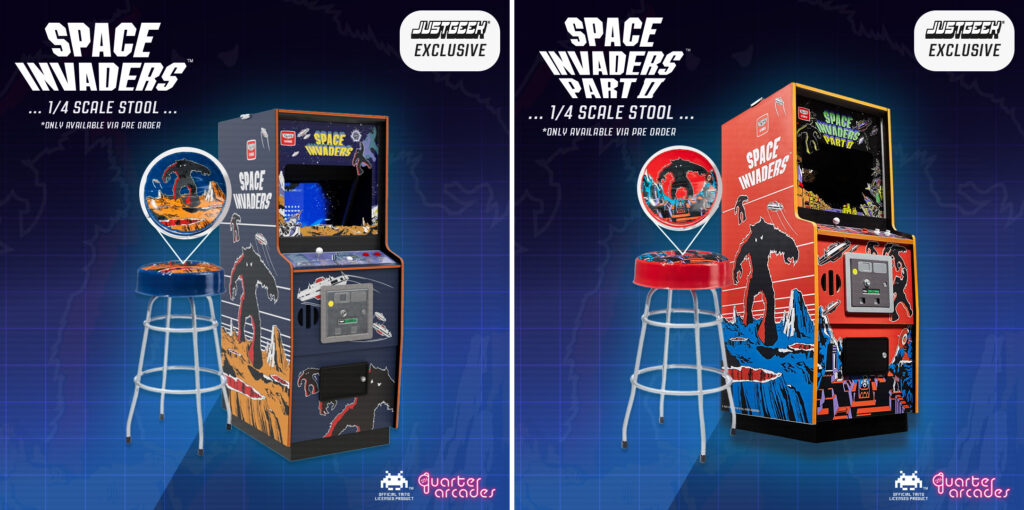 A 'money can't buy' add-on at no additional cost to a standard edition – only available for pre-orders. Once these arcade stools are gone, they're gone!

Numbskull press release
Retail Pre-order Exclusive:
Pre-orders for Space Invaders and Space Invaders Part II from selected retailers receive an exclusive official Taito Space Invaders collectible coin (not available to purchase separately):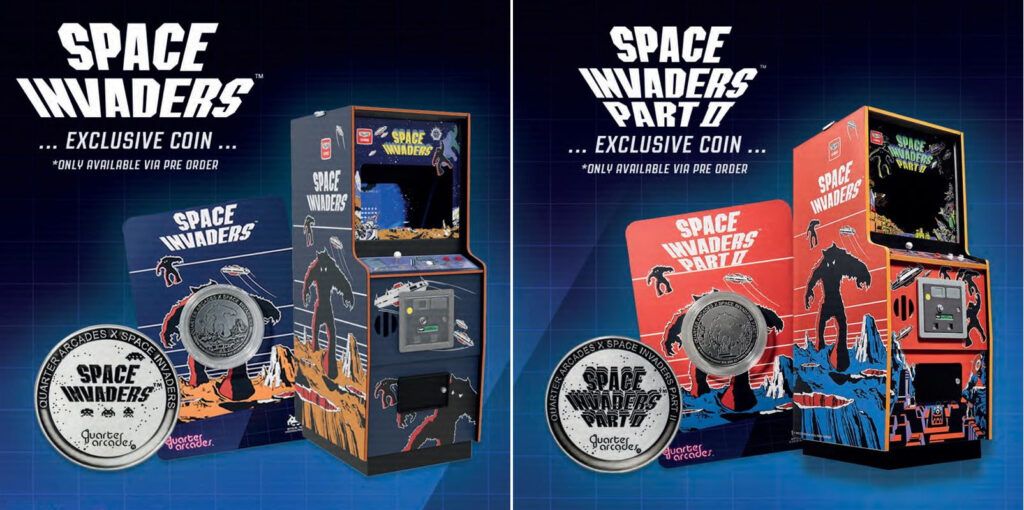 A 'money can't buy' add-on at no additional cost to a standard edition – only available for Pre-Orders. Once these Taito Space Invaders collectible coins are gone, they're gone!

Numbskull press release