It's November, and you know what that means. Yep, it's Geeksgiving, and Sideshow has a full schedule, covering all the Holiday-themed bases.
Give thanks for geeks
It's kind of hard to believe it's already mid-November. No matter where you live in the world, that means that the year is getting thin, and the Holidays are coming on fast. Probably a lot faster than you'd like.
But it also means that Sideshow Toys is ramping up its Geeksgiving celebration. A year-ender to give back to the geeks fans, Geeksgiving is packed up with sales, deals, giveaways, and of course a streaming presentation that'll hit the net just in time for Cyber Monday.
But before you go any further, make sure you register for the event. Doing so will net your account $10. Did you do it? Okay cool, scroll on.
Early Black Friday Offers are happening now
Kicking off the festivities, is an Early Black Friday slate of sale items. This is happening right now, and is more or less an "early access" look at what the shop has planned for the yearly sales event/day. This year brings a pretty interesting deal too, one I don't think Sideshow has done before.
If you click over to the official page, you'll be treated to a look at a collection of items, selected by Sideshow. These are pretty wide-ranging, and get into a few different categories of what the company carries.
Each one is priced normally, but that's not the 'deal'. The savings come in whereas, if you buy one of the things included, you'll get another at a whopping 50% off. Not too shabby there, and everything is in stock too, so you won't have to wait for it.
Loads more to come
While Early Black Friday is on now, you best believe there's more to come.
It's a November slate that will include a full compliment of Black Friday and Cyber Monday sale items, as well as the return of the Wish List Giveaway. If you've followed Sideshow for any length of time, you know that's something that the company does from time to time.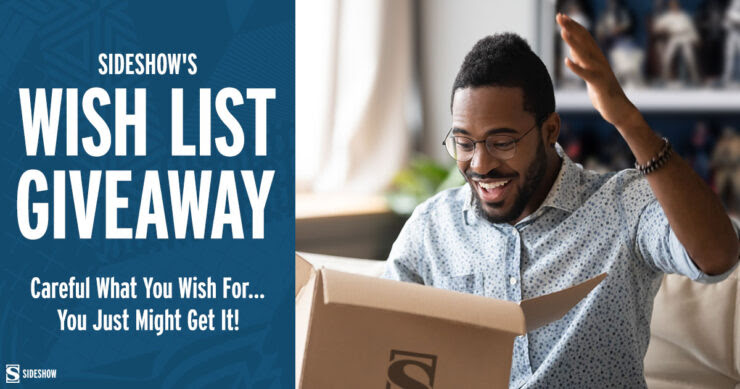 It'll see them grant shoppers an item off of their wish lists on sideshow.com. So if you have a Sideshow account, and you don't have anything on that wish list, maybe start adding a few pieces?
Sideshow will choose one winner a day, from the 16th to the 30th of this month (November). Then almost right in the middle of the whole thing, they'll be choosing a winner every hour. Look for that on Black Friday (November 26th).
Finally, and here's something else to keep an eye on that Black Friday/Cyber Monday weekend, comes the live show. Airing on YouTube, the Live Shopping Show will be packed up with "special featured bargains and discounts". So if you're looking to add to your shelves or kickstart a collection, don't miss it.