Evil West combines the sensibilities of a semi-steampunk old west and vampiric horror. The result? Western superheroes and a whole lotta blood.
You ain't no daisy
Westerns and horror themes have seemingly been intertwined for a little while now. Not that we've seen a ton of video games merging them, but a handful have attempted it over recent years, and had some success. But out of all that have seen release, Evil West looks like it might be the best yet.
Not that Flying Wild Hog's Evil West is out just yet of course, but the game is coming up fast, and is looking fantastic. You can get a feel for just how "fantastic" thanks to a new gameplay video, with a little over 4 minutes of clips from the campaign.
In it, you'll once again meet Jesse Rentier, a young (and government-sanctioned) vampire hunter on the American frontier. You'll also get intro'd to several members of the supporting cast, and lots and lots (and lots) of vampires and other freakish terrors.
Get to know Jesse Rentier, the skilled, young vampire slayer you'll incarnate in Evil West. Star agent of the Rentier Institute, a secret monster-hunting organization led by his father and many generations of Rentier before him, he'll have to take the action into his own hands after a deadly vampiric conspiracy emerges from the darkness and wipes out the Institute. With the help of Edgar Gravenor, another survivor from the Institute, he'll have to battle fierce foes and demystify the conspiracy while rebuilding the organization and becoming the leader it needs.


Focus Entertainment press release
Ready to rock-n-sock some vamps? Evil West lands on the Xbox Series X|S, PS5, and PC this November the 22nd. If you're really digging it too, then you might be down for the Signature Edition.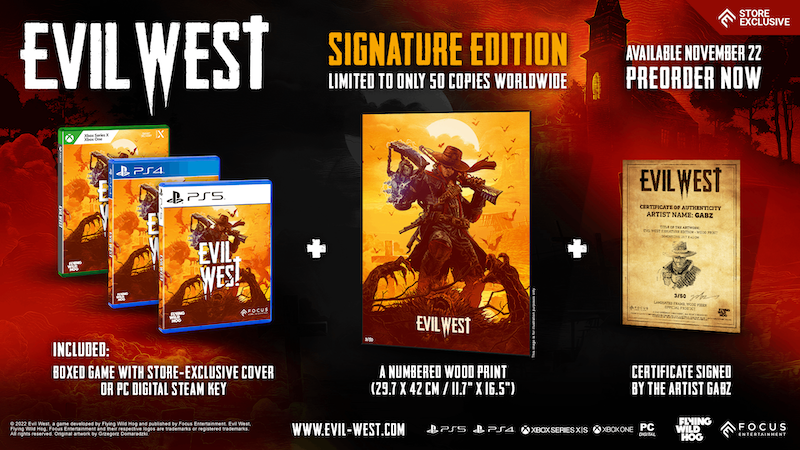 A special edition of Evil West, the Signature Edition is available exclusively via Focus Entertainment's online shop. It includes the game itself, plus "a numbered, laminated wooden frame printed with an exclusive artwork by artist Gabz" and the "Wild Wild East Skin Pack" DLC.