The 80s sensation is back, and ready to gross out a new generation. Well, that and maybe tell a few fortunes, with the Garbage Pail Kids Tarot Deck.
Didn't see this one coming
Remember the Garbage Pail Kids? I mean, I say "80s sensation" only because that's when they first arrived, but the property pops up every few years or so at this point. It's easy to see why too, since they're still pretty darn funny. And even decades after the fact, their riff on the iconic Cabbage Patch Kids is just too cool. But, a Tarot Deck?
You'd have to be some kind of Psychic Sally to see a Garbage Pail Kids Tarot Deck on the horizon. And yet here we are, and here are the pop culture masters at Insight Editions to deliver just that.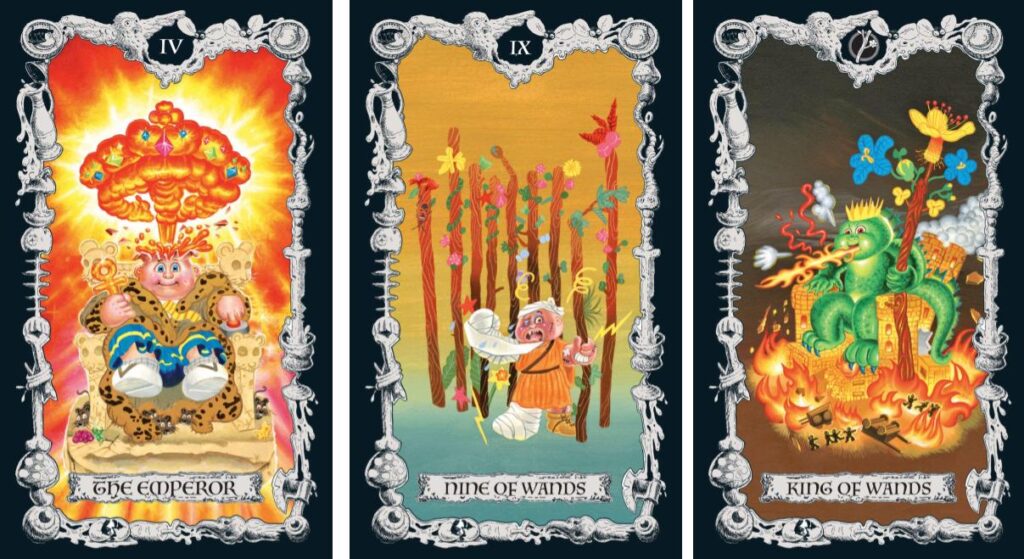 Beloved for nearly forty years, the Garbage Pail Kids have shocked, delighted, and entertained fans through a trademark combination of gross-out humor, sharp wit, and amazing artwork. Now, tarot enthusiasts and card collectors alike can celebrate their Garbage Pail Kids fandom with this official GPK tarot deck. 

Insight Editions press release
As you can see, this deck looks like a full fledged tarot at heart, so you should be good to go with it, if you wanna get into a little fortune telling. It's just that, on top of that, it's got a heavy coating of GPK paint applied, in the form of some cool-looking, original artwork.
Garbage Pail Kids: The Official Tarot Deck and Guidebook is out right now, if you couldn't sense that already, and carries the MSRP of $24.99 USD. You can grab a set wherever books are sold (here it is at Amazon).
Oh, and if you just can't wait for your order to come across, there's a Tik Tok filter for you to try right now, featuring the cards. Check that out here.