It's been common knowledge for a while and has been popping up in Walmarts everywhere, but McFarlane's finally made Super Powers official.
That's a powerful lineup
It's tough to convey just how popular Super Powers was back in the 80s. Headlined by the likes of Batman, Superman, Wonder Woman, and others, it was arguably the premier superhero figure series of the decade. Not the there were a lot of those.
It might also be tough for some modern audiences to fathom just how few superhero action figures there were out there. It was a far cry from the glut of awesome stuff that's out there today. Still, for a very short time, there were some truly fun toys
That included Mattel's Secret Wars, and the roughly-compatible DC Comics counterpart from Kenner, Super Powers. For my own money though, and I loved both Marvel and DC for the record, Super Powers was the superior line. And as such it holds a very special place in my heart, as I'm sure it does for a ton of other fans.
While it was popular though, it didn't run for all that long. Super Powers beat out Secret Wars by just one wave, with 3 compared to the Marvel line's 2. It crushed it in terms of figures and vehicles however, with way more of both making it to market.
And now it's back. Sort of.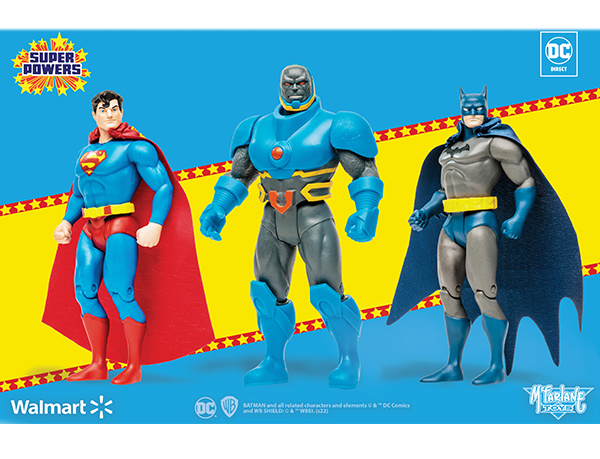 Direct to market
McFarlane Toys is the official company at work here, producing the new Super Powers line, but it's also an extension of DC Direct. The formerly official toy arm of DC Comics, DCD is now licensed to McFarlane, and that includes a number of lines that the company had in the works, but that never made it to shelves.
The zombie-like DCeased series is one of those, as are some statues and assorted pieces like Batman: Black & White. And yes, now you can add Super Powers to that mix. Whether it was in the works or not as DC closed DCD up is a mystery, but it's here now and looking awesome… as many collectors know already.
That's because Super Powers popped up in Walmart stores a while ago, with no advance warning. Just *poof*, and there was Superman, Batman, and Darkseid, along with an opening volley of vehicles. The Batwing and a very classic-looking Supermobile both were in wave 1, further proving that McFarlane seemingly can do what larger toy-makers refuse to (hi Hasbro); make vehicles.
But finally, with the opening series having been out for well over a month, McFarlane has made it official with an 'announcement'. Of course, as that wave 1 announcement arrives, there's even more landing in stores.
John Stewart (the Green Lantern, not the comic) has been sighted, with reports of Flash, and The Batman Who Laughs too, throwing the line a modern twist. There have also been rumors of Wonder Woman heading to retail, so the amazing Amazon could be appearing soon as well.
The figures themselves are classily-styled, with limited articulation. That's in keeping with the original SP lineup, though McFarlane has (thankfully) removed the gimmicked legs. So you can't squeeze them to make the arms move.
Along with the streamlined figures, the pricing is also a lot less than your typical superhero figures these days. Each action figure (including the larger Darkseid) is $9.97 USD, with the vehicles priced in at $29.97 for the Supermobile and $19.97 for the smaller Batwing.
Most of the first wave is readily available at Walmart stores and through Walmart online, with wave 2 showing up only sporadically in-store at this point. Note the mention of "Walmart" as well, as this line is an exclusive. So plan a trip or keep an eye on the site if you want some of these on your own shelves.