Getting in the spirit of the season-to-come is Marvel Comics, as the publisher has announced its lineup of Halloween books for Trick-or-Read.
Comicsfest no more!
Actually, an admission here, I have no idea what happened to Halloween Comicsfest. It might still be running, but without Marvel. I don't have a clue where it went though, and I don't have time to look it up right now.
What I do know though, is that Marvel Comics will be getting in the swing of things regardless. That'll come by way of Trick-or-Read, a new Halloween-flavored initiative that will see a special sampler book arrive in shops, alongside 4 new titles.
All 5 issues will land in stores on October 29th, and each of the main 4 books will have a special backup tale. That'll introduce fans to something called Tiger Division, a new super-team coming to Marvel's U.
AMAZING SPIDER-MAN #88 is one of the most thrilling entries in the recently acclaimed Beyond era! The action-packed issue marks the debut of QUEEN GOBLIN, the latest addition to Spidey's iconic rogues gallery who will soon be heating things up in a major storyline in Zeb Wells and John Romita Jr.'s current run of AMAZING SPIDER-MAN, including an appearance in DARK WEB.
MOON GIRL AND DEVIL DINOSAUR #1 presents the first appearance of Lunella Lafayette, the preteen super genius who took the Marvel Universe by storm with this critically-acclaimed series. Moon Girl's adventures are perfect for all ages and the breakout hero is set to star 'Marvel's Moon Girl and Devil Dinosaur' on the Disney Channel later this year!
STAR WARS: DOCTOR APHRA #1, the start of Doctor Aphra's latest run by writer Alyssa Wong and artist Marika Cresta. With a new crew and new treasure to hunt down, the rogue archaeologist continues to captivate both Star Wars and Marvel Comics fans and is celebrated as the first Star Wars character created for comics to headline their own solo series!
STRANGE ACADEMY #3 opens the doors of the Marvel Universe's first school for sorcerers to new readers! In this hit series by Skottie Young and Humberto Ramos, Doctor Strange, the Scarlet Witch, Magik, and all your favorite Marvel mages establish an academy for the mystic arts where young magic users from around the world are brought together to study. This hit issue spotlights one of the breakout students of the spellbinding cast of new characters– DOYLE DORMAMMU!
The Halloween fun continues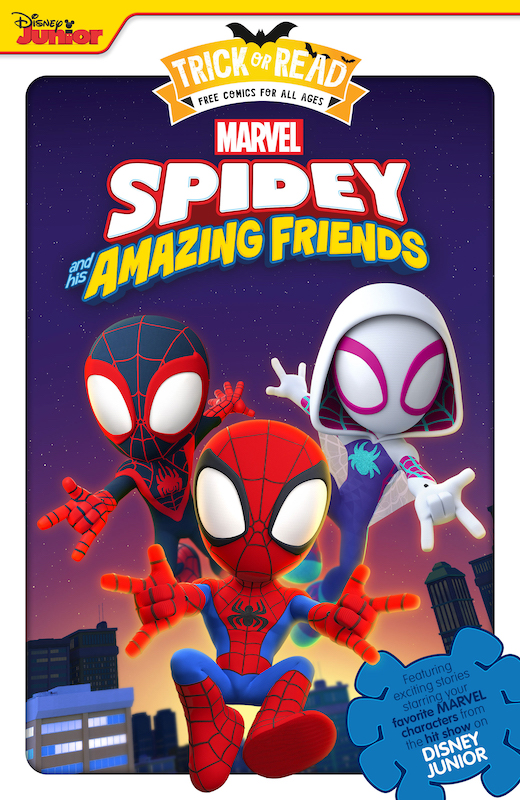 As for that fifth book, that'd be Halloween Trick-or-Read 2022: Spidey and His Amazing Friends #1. Aimed at the younger set, this new Trick-or-Read title will include "Spidey, Ghost-Spider, and Miles as they face Green Goblin, Doc Ock, and more in this spectacular special filled with all new stories from MY FIRST COMIC READER".
It's an "easy to read" tale targeted at kids aged 5 through 7 years, and one that's got some "activity pages" as well. Kind of sounds like a fun time, though don't forget that not all comics shops will be participating in Trick-or-Read.
From the press release though, it sounds like locals should know by now if they're going to take part. So you're probably safe asking about it at this point.