Marvel and Star Wars fan (especially Star Wars fans) should be happy this week, as DST has a pretty big selection of new stuff hitting stores.
Flame on
So yes, there's a lot of Star Wars stuff out this week from Diamond Select, with statues and busts landing. But while all of that cool, I'd say the drop of the week is actually a Marvel item. That'd be the new Fantastic Four box set of Minimates.
If you don't know, Minimates are one off DST's longest running lines, and are basically cute little mini-figures. Each one is about 2″ tall, and they usually come packed with some neat accessories. The new Fantastic Four set definitely covers those bases, and is pretty packed.
Now, it's the recently modern FF that's the subject here, so these figures are decked out in the black uniforms. And inside the box, you'll find not just the FF, but also the Silver Surfer and Doctor Doom as the Infamous Iron Man. Plus there are those accessory items, which include HERBIE and a light-up "flame" stand for Torch. Slick stuff.
As for the Star Wars stuff, it's all modern era as well, but is spread out well. Fans will find The Force Awakens, The Mandalorian, and The Clone Wars stuff. Scroll down for the full list.
Marvel Minimates Fantastic Four Deluxe Box Set
A Diamond Select Toys release! It's a new era for Marvel Minimates! Celebrating the line's 20th anniversary, this all-new six-pack of the Fantastic Four includes Mr. Fantastic, Invisible Woman, Human Torch, The Thing, Silver Surfer Black and Doctor Doom, a.k.a. the Infamous Iron Man. Each 2-inch figure features up to 14 points of articulation as well as interchangeable parts: Mr. Fantastic includes pieces to elongate his arms and legs, the Surfer includes his board, and the Torch includes a flaming flight stand! Plus, you get a miniature HERBIE the robot! All six figures come packaged in an all-new window box with a fifth panel featuring original Minimates artwork of the Fantastic Four. Designed and illustrated by Barry Bradfield! (FEB222116, SRP: $49.99)
Star Wars The Mandalorian Death Watch 1/6 Scale Mini-Bust
A Gentle Giant Ltd. release! A PREVIEWS Exclusive! As a child, Din Djarin was rescued from an Imperial attack by a band of Mandalorians – members of the Death Watch. Raised in their ranks, he was taught that no one living should ever see his face, not realizing that he was part of a fanatical group within the larger Mandalorian culture. Now, the Death Watch member that saved Din Djarin is captured in a 1/6 Scale Mini-bust! Made of resin, this approximately 7-inch mini-bust features detailed sculpting and paint applications. Limited to only 2,000 pieces, it comes packaged in a full-color box with a numbered certificate of authenticity. (FEB218599, SRP: $120.00)
Star Wars The Force Awakens First Order Officer Legends in 3D ½ Scale Bust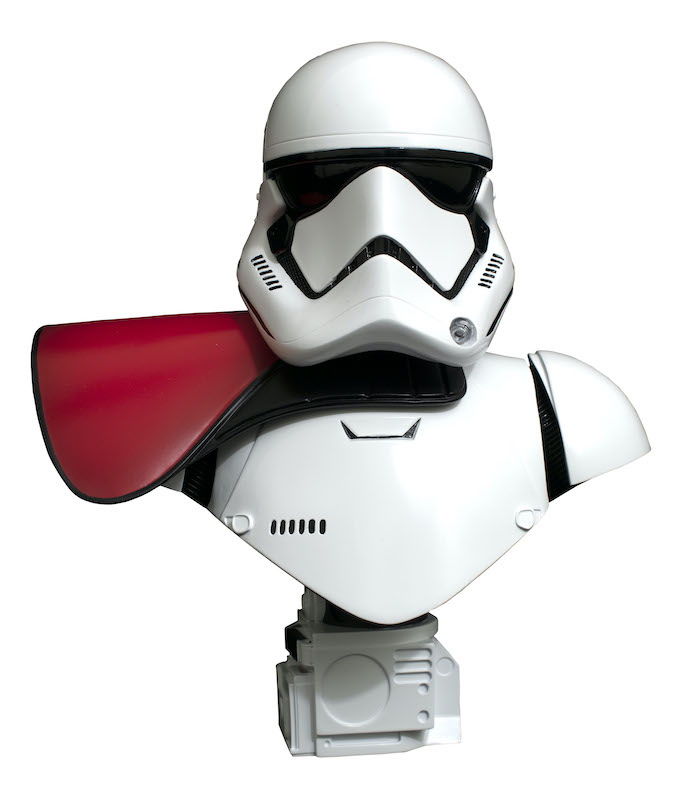 A Gentle Giant Ltd. release! Officer on deck! The First Order Officer joins the Legends in 3D lineup, sporting a red pauldron as seen in Star Wars: The Force Awakens! Standing approximately 10″ tall, this exclusive bust sits atop a high-tech base, and is limited to only 1000 pieces. It comes packaged in a full-color window box with a hand-numbered certificate of authenticity. (SEP218370, SRP: $200.00)
Star Wars The Clone Wars Bo-Katan Kryze Premier Collection 1/7 Scale Statue
A Gentle Giant Ltd. release! For the glory of Mandalore! Mandalorian freedom fighter Bo Katan blasts her way into the Premier Collection with this dynamic, customizable statue! Featuring interchangeable helmeted and unhelmeted heads, and alternate helmet-holding and gun-holding arms, Bo Katan engages her jetpack in this 1/7 scale, approximately 11-inch statue. Limited to only 3,000 pieces, it comes packaged with a numbered certificate of authenticity in a full-color box. Designed by Barry Bradfield and sculpted by Alejandro Pereira! (MAR212001, SRP: $175.00)
Star Wars: The Clone Wars Bo-Katan Kryze 1/7 Scale Mini-Bust
A Gentle Giant Ltd. release! The Mandalorian leader is captured in her animated look in this all-new 1/7 scale resin bust. Depicting Bo-Katan Kryze with her dual pistols in hand, this bust also comes with both helmeted and unhelmeted heads, for two dynamic display options. Measuring approximately 6 inches tall, this bust is limited to 3,000 pieces, and comes packaged in a full-color window box. Designed by Barry Bradfield, sculpted by Paul Harding! (OCT212180, SRP: $99.99)