In stores this summer is a new addition to the Switch's hardware lineup. While it's not a new console, Splatoon fans might want to check it out.
He slimed me
There's still quite a bit for Switch fans to get excited about this summer. This month alone, a pair of huge RPGs arrive, and that's before the big fall/Holiday season brings the likes of the Mario + Rabbids sequel and Splatoon 3.
But that last title isn't coming along all by itself, as Nintendo has announced a new Switch console too, bearing its branding.
Something fresh is surfacing! On Aug. 26, a special edition Splatoon 3 themed Nintendo Switch – OLED Model system will be available in stores featuring design inspiration from the new Splatoon 3 game (sold separately). (Photo: Business Wire)
The new console will be of the OLED variety, keeping it current with the higher-end Switch unit. That means a 7″ OLED screen, 64 gigs of onboard storage, and that new dock that has the ethernet port built in.
And on top of that, there'll also be Splatoon graphics scrawled across the dock and controllers. As you can see above, the Switch itself will be untouched, but the dock and especially the joy-cons have a brand new, squiddier look.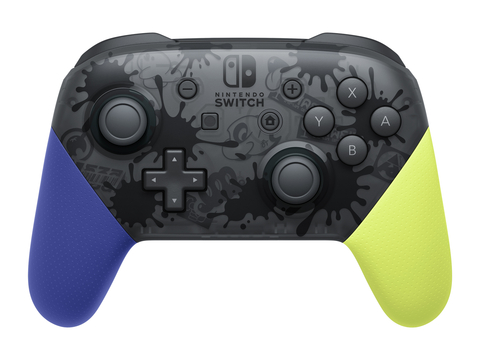 But what if you have a Switch already and want to get in on the Splatoon 3-action? Well there's always the new Switch Pro Controller. The new pad will be out this August as well, and will have some neat Splatoon deco as well.
The new OLED Switch console will be priced in at $349.99 USD, while the Pro Controller will be $74.99. If you really want to go all out, there'll also be a new Splatoon Switch carry case for $24.99 surfacing for the launch.
And speaking of, Splatoon 3 and the controller will be out on September 9th, while this special Switch arrives on August 26th.