A familiar looking new threat to the X-Men and mutantkind in general is getting set to make his appearance in July's Judgement Day #1.
Cosmic evil
There are a few things happening with A.X.E.: Judgement Day #1. For one thing, it's starting the main storyline of the title event, so if you're going to get into that, you'll want this issue. For another though, it's reintroducing Uranos, and the Uranian Eternals in general. Who are they? Thanos' lineage.
While it sounds like there won't be any other members of the sub-group showing up, Uranos is more than enough. As Thanos' Grand-Uncle he's ridiculously powerful, and will be a part of The Eternals' war machine.
We'll also be meeting some new characters with The Hex. An ancient team of Eternals, The Hex are "mega-powerful" and awaken with the specific goal of crushing the X-Men.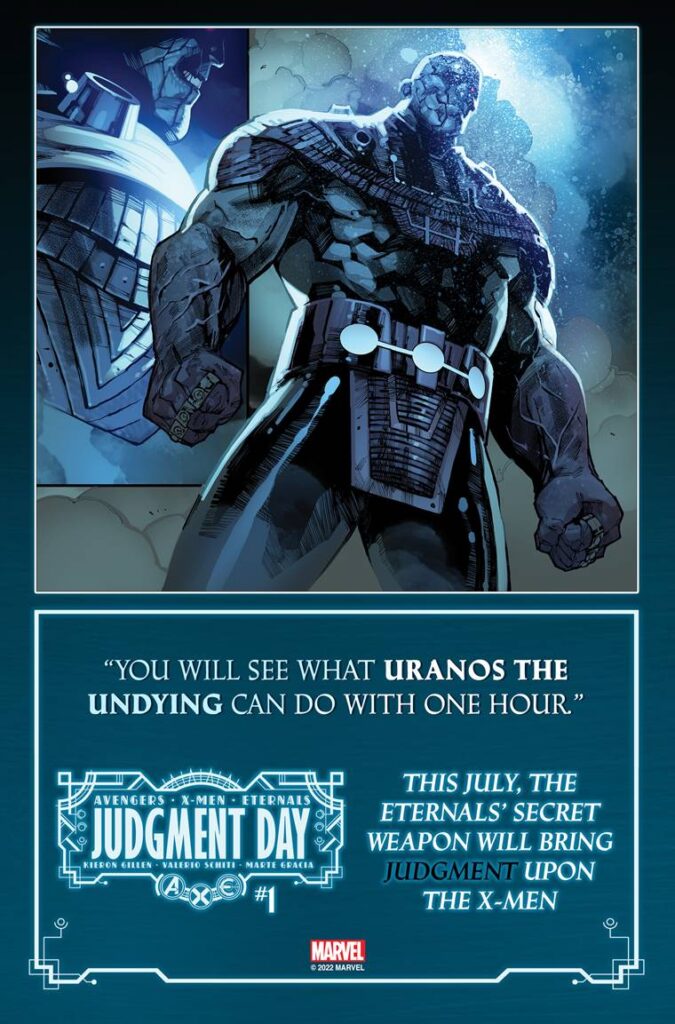 The Marvel Universe braces itself for JUDGMENT DAY! Written by mastermind talent Kieron Gillen and featuring the grand-scale artwork of Valerio Schiti and color artist Marte Gracia, A.X.E.: JUDGMENT DAY is an upcoming Marvel Comics event that kicks off when the Eternals start a vicious war with their new immortal rivals—the X-Men! The Eternals' plan for mutant annihilation will include unleashing the most brutal members of their species starting with URANOS THE UNDYING! Imprisoned for millions of years, the grand-uncle of Thanos will be instrumental in the conflict, leading the attack against the new mutant planet of Arakko.

Marvel Comics press release
The line is drawn
Sounds like mutants claiming a planet for themselves (still so bizarre) was the straw that broke the camel's back for The Eternals. Interesting to note too is that, according to Gillen, they're the clear aggressors here, proclaiming war on the mutants.
And we'll be getting a deeper look at what that means in Judgement Day #1. It's in that issue that the cosmic group, both heroes and villains, prepare for a slaughter.
"The Eternals are the aggressors here," Gillen explained to Popverse in a recent interview. "This is the Eternals about to go to war. You get to see the prime Eternals building their armories, working out how they're going to kill people, various plans and kidnappings, and the good Eternals perhaps being a bit more lost. It's preparation for war. That's what it is. I think that's the best way of describing it, as well as being also a really good restatement of what's going on in the Eternals. Because if you haven't read issues one to 12, this is like, 'OK, I don't know anything about Eternals. I don't know, why would [they] be going to war? Who are they even?' It's that as well. This is the preparation of the war happening and everything you need to know going in."

Kieron Gillen
Get ready for war, Judgement Day #1 arrives this July the 20th.