Yes, it's almost summertime, but we've got some Halloween news for you thanks to Marvel Comics, and the company's upcoming Extravaganza.
Halloween (news) in June
What will you be doing around Halloween this year? Well whatever it is, you might want to add on a trip to your local comics shop, since Marvel Comics will once again be holding its Halloween Comic Book Extravaganza.
The event is making a comeback this year, and it's doing so in the wake of this year's Free Comic Book Day. It certainly sounds like that it's with the success of that latter event, here post-pandemic, that Marvel's celebration will be moving forward.
And if you love the Marvel U, you'll probably want to check out the roster of books that'll be up for sale. Though it sounds like there might be a freebie coming too, with a new Spidey adventure targeted at youngsters.
On offer will be: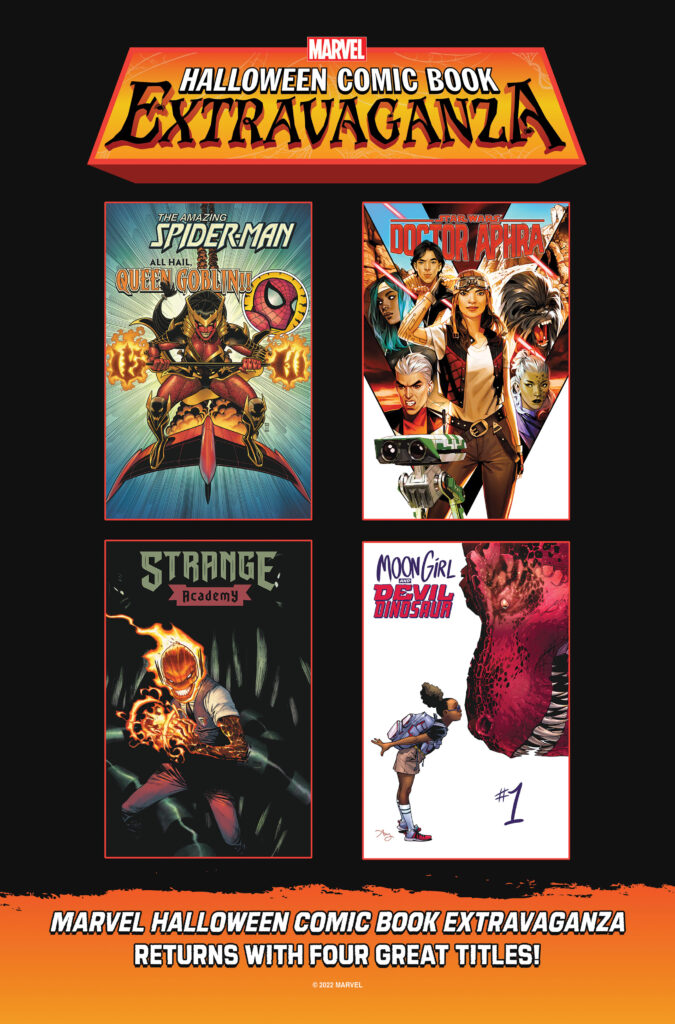 AMAZING SPIDER-MAN #88 is one of the most thrilling entries in the recently acclaimed Beyond era! The action-packed issue marks the debut of QUEEN GOBLIN, the latest addition to Spidey's iconic rogues gallery who will soon be heating things up in a major storyline in Zeb Wells and John Romita Jr.'s current run of AMAZING SPIDER-MAN.
MOON GIRL AND DEVIL DINOSAUR #1 presents the first appearance of Lunella Lafayette, the preteen super genius who took the Marvel Universe by storm with this critically-acclaimed series. Moon Girl's adventures are perfect for all ages and the breakout hero is set to star 'Marvel's Moon Girl and Devil Dinosaur' on the Disney Channel later this year!
STAR WARS: DOCTOR APHRA #1, the start of Doctor Aphra's latest run by writer Alyssa Wong and artist Marika Cresta. With a new crew and new treasure to hunt down, the rogue archaeologist continues to captivate both Star Wars and Marvel Comics fans and is celebrated as the first Star Wars character created for comics to headline their own solo series!
STRANGE ACADEMY #3 opens the doors of the Marvel Universe's first school for sorcerers to new readers! In this hit series by Skottie Young and Humberto Ramos, Doctor Strange, the Scarlet Witch, Magik, and all your favorite Marvel mages establish an academy for the mystic arts where young magic users from around the world are brought together to study. This hit issue spotlights one of the breakout students of the spellbinding cast of new characters–DOYLE DORMAMMU!
After the success of Free Comic Book Day 2022's SPIDEY AND HIS AMAZING FRIENDS comic, this year's MARVEL HALLOWEEN COMIC BOOK EXTRAVAGANZA will also give young readers a chance to enjoy a new collection of Spidey adventures! Stay tuned for more details!