Owners of the original Dying Light's standard edition are in for a pretty big treat. Techland's original zombie/parkour title is going Enhanced.
We're enhancing the apocalypse
Here in 2022 Dying Light 2: Stay Human might be all the rage, but Techland hasn't forgotten about the first game in the series either. And while that doesn't mean 'new' content, it does mean a pretty big treat for those who own the game's standard edition. If you're in that lot, you're about to get a hefty dose of free content.
The developer announced today that all standard editions of Dying Light would be receiving the bump up to Enhanced Edition. What's that mean? Well, a ton and a half of content, that's what.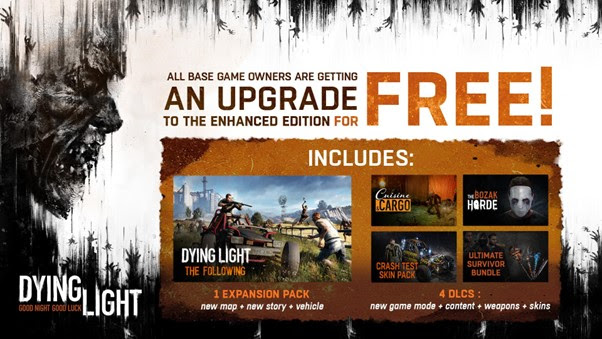 Everyone who owns the base Dying Light game will now get:
The Following expansion (including a new story, new map, and vehicle)
The Bozak Horde
Crash Test Skin Pack
Ultimate Survivor Bundle
and Cuisine & Cargo
All you need do, once updated presumably, is to access the "DLC Packs" option from main menu. Do that and you should have access to all the new goodies. Along with this too, there's also update 1.49.
This new update for Dying Light adds in a bunch more content, including the Dieselpunk bundle.
Tolga and Fatin, the eccentric engineer twins, will reward players with their latest invention—with the aid of players first, of course. To get the genius twins' blueprint, join the Tolga and Fatin Event and kill 7 different types of enemies the specified number of times, adding those defeated monsters to the global bounty of 10 million infected slain by all players.

Techland press release

Chainsaw — Gut Render (bleeding effect, destroying enemies' armor, high chance for critical damage)
SMG — Greaser
Saw blade — Flesh Ripper (medium bleeding effect)
New Outfit — Punk'd Beret
New buggy skin — Rugged Roadster (50% slower fuel usage)