Another pretty great month all-around for Amazon's Prime Gaming service is here with Dead Space 2 and The Curse of Monkey Island.
Classics
There's a lot to like with Prime Gaming next month. It might seem like that's been. pretty constant thing with Amazon's PC gaming service, and it kind of has. Nevertheless, May of 2022 is another winner with a set of classics, plus plenty of complementary DLC to grab and a nice slate of Luna stuff too.
Leading off, and free to claim, will be: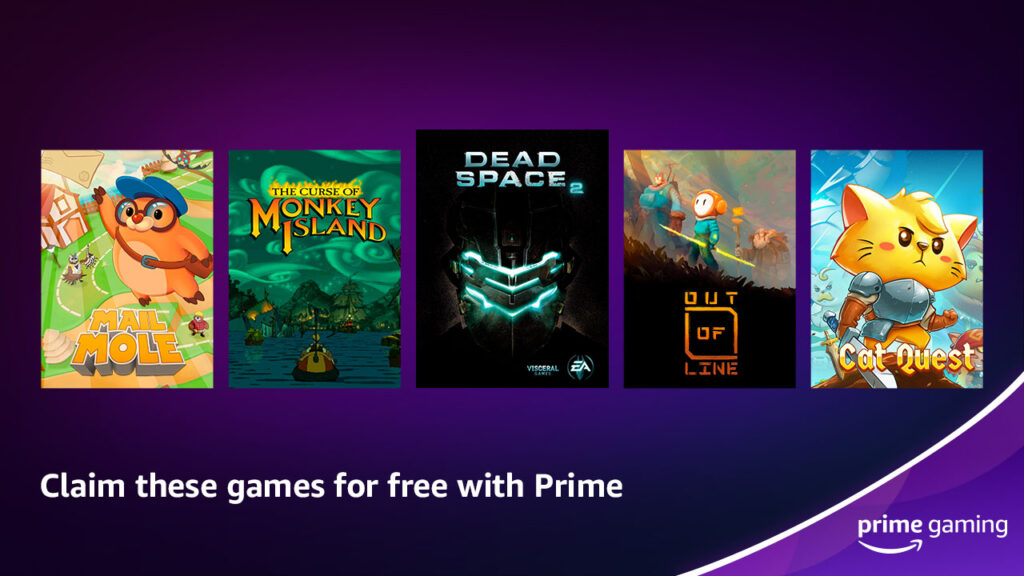 Dead Space 2 – Return as Isaac Clark to explore The Sprawl and its zero-g environments as players uncover the truth behind the Unitology's role in the Necromorph epidemic.
The Curse of Monkey Island – Guybrush Threepwood returns to take up the dull blade and his rapier wit against the nefarious demon-pirate LeChuck in the highly anticipated third installment of LucasArts' popular Monkey Island series.
Out of Line – Play as San who goes on a quest to escape the Factory that was once home in this distinctive hand-drawn 2D adventure game filled with charming puzzles.
Mail Mole + 'Xpress Deliveries – Dig through Carrotland as Molty, the speediest delivery mole, as he embarks on his quest to save his magical world by making new friends, finding collectibles, solving puzzles and more.
Cat Quest – Purr for joy with this multi award-winning action RPG which brings loot-fuelled cat-venture to all players with ultra satisfying combat and magic.
Shattered – Tale of the Forgotten King – With the disappearance of the King, the old world begins to fall apart. Reforge reality in this shadowy action RPG as players traverse this innovative open world platformer.
Then there's the streaming stuff
Those who partake in the Amazon Luna corner of Prime Gaming will be in for a few time-limited treats next month. As a reminder, you might want to make these a priority, as unlike the rest of what Prime Gaming offers up, the Luna games all timeout at the close of the month. So basically, play 'em while they're there.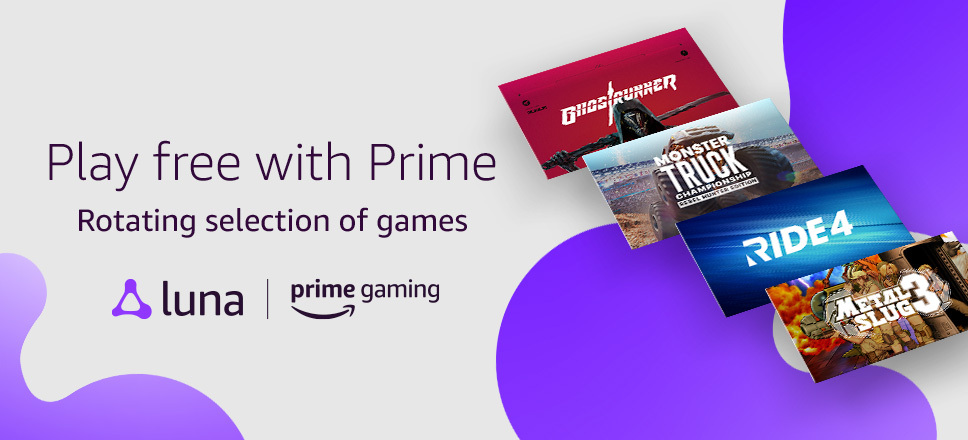 Those include:
Ghostrunner
Ride 4
Monster Truck Championship
Metal Slug 3
And finally, the DLC
Along with everything else, there's also the heaping helping of downloadable content. As usual, Prime Gaming is packing a ton of it, and most is for the biggest titles out there.
Here's the full calendar of what's coming up:
NOW AVAILABLE Age of Empires 3 – United States Civilization
NOW AVAILABLE Apex Legends – Valkyrie Deep Dive Bundle
NOW AVAILABLE Battlefield 2042 – Bleed Purple Bundle
NOW AVAILABLE Black Desert Mobile – Prime Relic Fragment Chest
NOW AVAILABLE Brawlhalla – Fangwild Bundle
NOW AVAILABLE Call of Duty Mobile – Epic Pharo – Tiger's Eye
NOW AVAILABLE Destiny 2 – Tip of the Spear Exotic Bundle Drop
NOW AVAILABLE Fall Guys – Don + 3 Crowns
NOW AVAILABLE FIFA 22 – Prime Gaming Pack
NOW AVAILABLE Madden 22 – Prime Sugar Rush Pack
NOW AVAILABLE New World – Holy Vanguard Pack
NOW AVAILABLE Overwatch – 2 Legendary Loot Boxes
NOW AVAILABLE PUBG: BATTLEGROUNDS – PUBG Dacia Spray, Silver G-Coin Box, Contraband coupon x 10 and Polymer x 30
NOW AVAILABLE Rainbow Six Siege – 5 Day Renown Booster
NOW AVAILABLE Roblox – Virtual Nomad Bundle
NOW AVAILABLE Splitgate – Nebula Shotgun, Nebula Carbine, Nebula Plasma Rifle, Zeus Pistol
May 1 Amazon Luna April Prime Gaming Channel Titles – Ghostrunner, Ride 4, Monster Truck Championship and Metal Slug 3
May 2 Last Chance to Claim The Elder Scrolls IV: Oblivion – Game of the Year Edition Deluxe, Plants vs Zombies: Battle for Neighborville, Monkey Island 2 Special Edition: LeChuck's Revenge, Nanotale – Typing Chronicles, Guild of Ascension, Turnip Boy Commits Tax Evasion, Galaxy of Pen and Paper and House of 1000 Doors: Family Secrets
May 2 Free Games With Prime – Dead Space 2, The Curse of Monkey Island, Out of Line, Mail Mole + 'Xpress Deliveries, Cat Quest and Shattered – Tale of the Forgotten King
May 2 Lords Mobile – Warlord Pack
May 3 Call of Duty: Vanguard / Warzone – Safari Shock Bundle
May 3 Grand Theft Auto Online – GTA$100k weekly
May 3 Lost Ark – Relic Rapport Pack
May 3 Two Point Hospital – Jukebox Bundle
May 5 Grand Theft Auto Online – GTA$200K, additional GTA$100K for GTA+ subscribers
May 5 Paladins – Bossfight Koga
May 5 SMITE – Super Shredder Ravanna skin
May 5 Wild Rift – Random Emote Chest
May 9 Red Dead Online – Free Flex Emote, Free Espinal Double Bandolier Tint 010
May 10 Dead by Daylight – Meg Anniversary Outfit
May 10 Valorant – CTR TV Gun Buddy
May 12 Grand Theft Auto Online – GTA$200K, additional GTA$100K for GTA+ subscribers
May 17 Warframe – Verv Sentrex Sentinel pack
May 17 Two Point Hospital – Bone Monster Bundle
May 19 Grand Theft Auto Online – GTA$200K, additional GTA$100K for GTA+ subscribers
May 19 Legends of Runeterra – Rare Prismatic Chest, Epic Wildcard
May 26 Hearthstone – Random Guaranteed Legendary Card
May 26 Wild Rift – Random Champion Pose Chest