Loaded with content, including a pair of new (old) modes, more Zombies, more Outbreak, and just… more, Season 5 of Cold War is almost here.
Getting Cold in here
Yes CoD fans, it's almost time once again for a fresh infusion of content. And man, is Season Five loaded up. Not only does the new pack include Zombie, a new Outbreak "World Event" and loads of Warzone stuff (including Judge Dredd!), but there's also a pair of returning favorite modes.
Both Black Ops' Zoo and Modern Warfare 2's Demolition have been brought back for your runnin' and gunnin' pleasure. But again, there's a lotta 'new' in this one, so scroll down and have a peek and the loadout in full.
Season Five of Call of Duty: Black Ops Cold War kicks off on September 9th.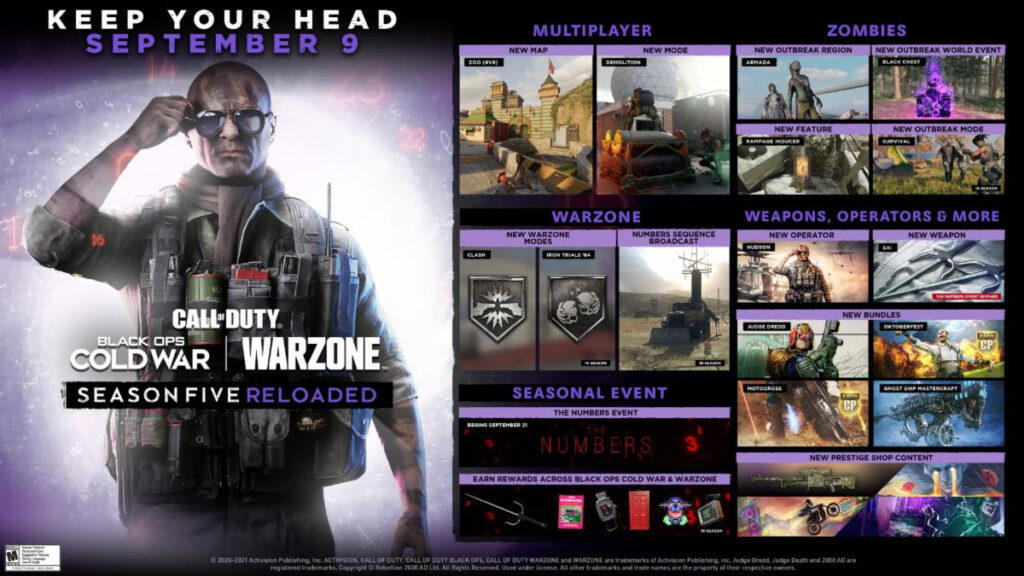 Black Ops: Cold War Content:
Zoo arrives in Multiplayer

First seen in the original Black Ops' Escalation DLC pack in 2011, Zoo is a medium-sized map specifically designed for 6v6 game modes in Black Ops Cold War, trimming the playable space down to its main animal exhibit and park area for Multiplayer. 

Demolition returns to Multiplayer

First introduced in Call of Duty: Modern Warfare™ 2 (2009), this game mode is akin to a respawn-enabled, amped-up Search and Destroy. In Demolition, one team of attackers attempts to destroy a pair of bombsites while defenders must prevent the detonations. 

New Zombies Outbreak Region: Armada
New World Event in Outbreak
Rampage Inducer in Round-Based Maps
New Onslaught Content and Weapon Blueprint Reward (PlayStation)
Warzone Content:
New Warzone Mode: Clash

Clash takes select areas from this massive map and pits two teams of 50 v 50 against each other in an unlimited respawn fight to 500 points. This is Team Deathmatch on an epic scale, with all your loadouts accessible, along with the Ping and Armor System, Cash, Buy Stations, and Vehicles from the regular Battle Royale and Plunder modes.

New Warzone Mode: Iron Trials '84

Only the strongest survive in the toughest Battle Royale mode to ever come to Verdansk! Flex your mastery over the entire arsenal of weapons, prove you can handle any firefight with any type of armament, and earn an exclusive Calling Card to prove your mettle. 
Cold War and Warzone Content:
The Numbers Event – Embrace Perseus' Broadcast and Be Rewarded (In-Season)
The Sai – Unlock a New Melee Weapon Through the Numbers Event
New Limited-Time Outbreak Mode for Hardcore Agents: Survival (In-Season)
New Operator – Hudson
He is the LAW – Judge Dredd Operator Skins for Beck Available for Limited Time (In-Season)
More in Store – New Pro Pack, Mastercrafts, and Tracer Packs
For more Season Five Reloaded info, head to the Call of Duty Blog: https://www.callofduty.com/blog/2021/09/The-Numbers-Are-Coming-in-Season-Five-Reloaded-Heres-What-They-Mean