Remember what happened to actor Samuel L. Jackson's Ray Arnold in the original Jurassic Park? Well, Mattel does, and it has a wicked set on the way.
Hold onto your butts
Yes, Mister Arnold was a pretty memorable character from the original Jurassic Park film. Not the least of the reasons for that was the performance from Sam Jackson, and the fact that he had one of the more bloody deaths in the movie. Not that we actually saw said-death happen.
While some characters in JP became dino-chow in front of our eyes, Arnold had much more of an implied fate. If you don't remember, or never saw the movie, it was also a particularly effective scene.
Arnold went to check on the Park's computer systems to assist with the computer reboot in the wake of Denis Nedry's betrayal (and death). When he did, he just kind of vanished. Well, it turned out that there was a good reason for that, since there were apparently some voracious raptors waiting for him in the facility.
When Dr. Sattler found herself in the same place, Arnold's arm fell onto her shoulder from behind some equipment. And it was, uh, just his arm. And that friends, is the focal point of Mattel's latest MattelCreations exclusive.
Need a hand arm?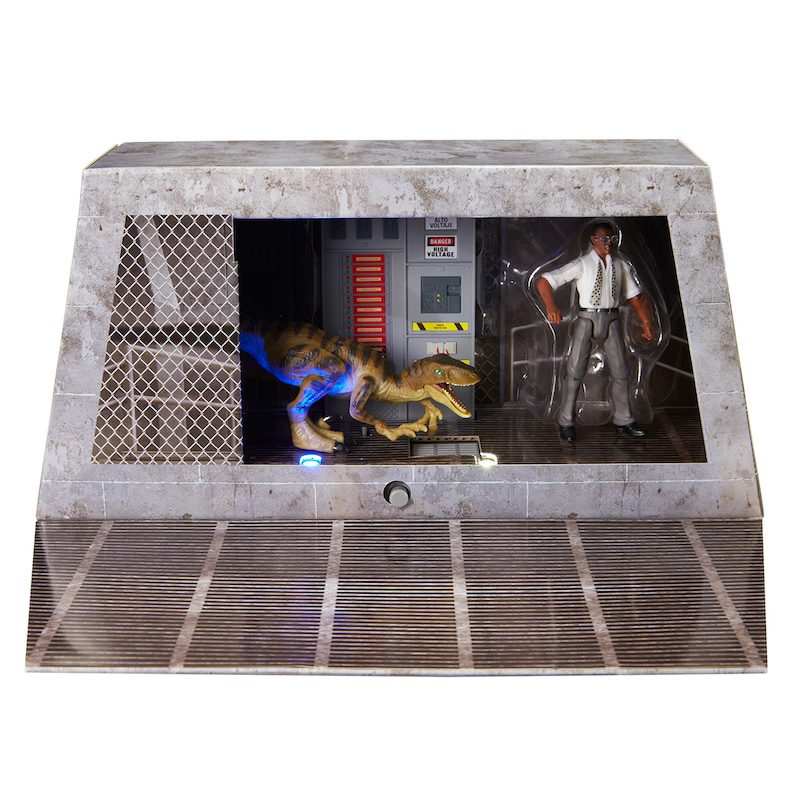 As you can see, the new boxed set includes Arnold as well as his killer, a vicious velociraptor. Both are in 3.75″ scale, so they should fit right in with what's become Mattel's largest collection of dinosaurs and humans from the films to date.
Pretty slick packaging there too. You can actually set up how you've always envisioned the unseen-scene to play out. And to assist with that depiction, the box also comes packed with a severed arm as well, though it also appears that you can swap that out to show Arnold in his more living form.
Here are the bullets from the press release, as well as how to get one of these for your collection:
Fans would give their right arm for this special collector pack. It imagines the memorable moment viewers never got to see in the Jurassic Park movie — as Chief Engineer John Raymond 'Ray' Arnold heroically heads to the maintenance shed to reboot the power.
Capturing this tragic moment that lives only in the imagination, the pack includes a highly posable 3.75-inch (9.5-cm) action figure of Arnold with removable arm within the maintenance shed setting.
The 2.4-inch (6.1-cm-cm) tall and 7-inch (17.8-cm) long ferocious-looking Velociraptor figure reminds us how Arnold dies, losing his arm in the process. Sounds and lights heighten the suspense and even the packaging reflects the authentic setting of the scene. Makes a great gift for collectors, especially Jurassic Park fans! Colors and decorations may vary.
Product will be for sale on Mattel Creations, Mattel's collaboration and direct-to-consumer platform, on Thursday, July 22 at 9am PST / 12pm EST