The mobile multiverse is converging and only the most colorful of capes are here to save us. Netmarble and Marvel first announced MARVEL Future Revolution at PAX East in March of 2020. True believers are now free to fly to Google and Apple stores for pre-registration. Those who do so will be rewarded with a unique costume.
What is it?
Marvel Future Revolution is the first open-world mobile game from the Marvel comics. It's being developed by Netmarble and written by Marvel Comics writer Marc Sumerak. Despite acting as a successor to Marvel Future Fight, also by Netmarble, Future Revolution is the first of Marvel's games to feature multiple levels with full-on exploration as well as squad-based combat.
What's it about?
From what's understood so far, the story of Marvel Future Revolution goes a little something like this. Planet earths from across separate dimensions in the Marvel universe are converging, causing massive chaos in the process. Unfortunately, our mightiest heroes were not enough to prevent such calamity. In his last act of heroism, the android Vision using his powers sacrifices himself and manages to fuse the two colliding planets into a single entity. Thereby creating a singular "primary" earth. In the aftermath, Tony Stark and Hank Pym create the Omega Flight. A collaborative effort that seeks to unite heroes from all dimensions and prevent any further destruction. This is where you come in. Players can control one of many popular heroes like Captain America, Black Widow, and Spider-Man. Using their powers to combat the multitude of villains trying to take advantage of the chaos.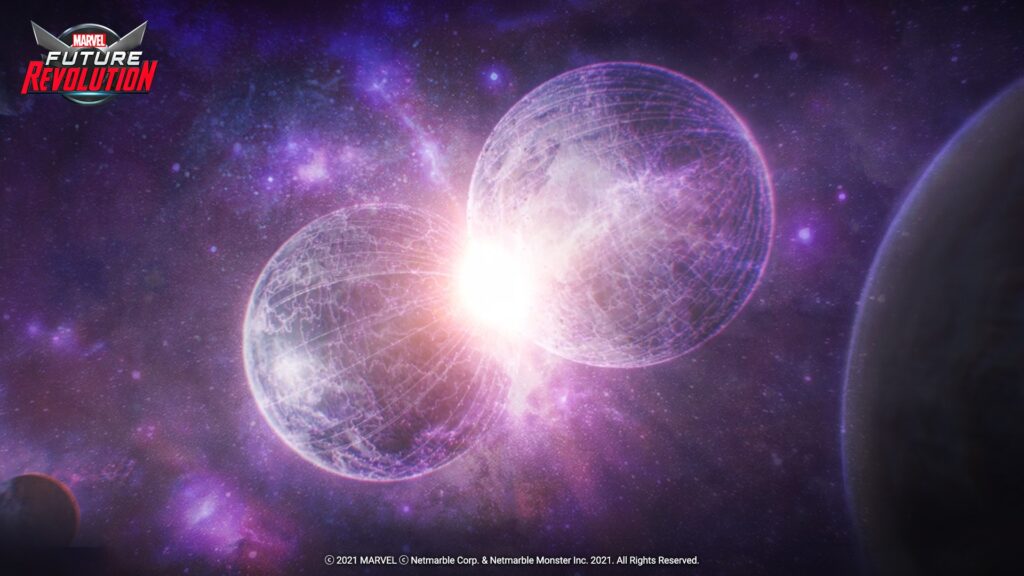 How does it play?
From jump street, players will have nine different marvel characters. All of whom can be leveled up and have their skills and playstyles customized. With more heroes to come in the future. What's really interesting is that each character will be fully customizable. Four segments of a character's costume can be swapped out for any unique alteration. For example, you can play as Spider-Man with his "iron-spider" torso and his rock-star jeans. The possibilities are so wide that Marvel touts at least 400 million costume combinations. Chew on that true believers. Here's who you can expect to play as on launch day.
Captain America
Spider-Man
Black Widow
Storm
Dr. Strange
Iron Man
Black Panther
Star-Lord
Captain Marvel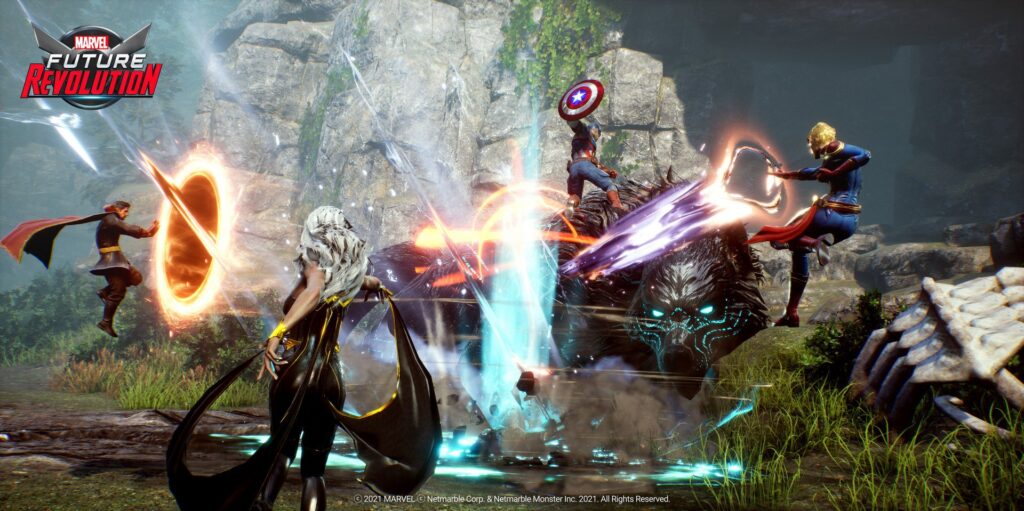 Of course, no hero is complete without their villains. Players can expect to square off against Thanos, MODOK, Ultron, Red Skull, and Loki just to name a few. In a gameplay highlight video hosted by Marvel, we saw Spider-Man square off against long-time foe the Green Goblin.
Each character will come with their own unique power set and that shouldn't be anything new to Marvel fans. Spider-Man swings, Iron-Man soars, Black Widow shoots. All of them will play differently but adhere to the same combat staples like combo chains, dodge mechanics, and super attacks. Players will use these characters to traverse across five brand new locations. Locations like:
New Stark City – Your starting location and the futuristic hub for dimensional superheroes. Built by Tony Stark and Hank Pym's Ultron.
Hydra Empire – An alternate timeline where Captain America lost WWII.
Sakaar – An irradiated wasteland ruled by the Tyrant Maestro.
Xandearth – Following the decimation of Xandar, the survivors of the Nova Corps rebuilt their society on Earth.
Midgardia – Also on earth, the new home for Asgardians after Ragnarok.
Omega Flight Headquarters

New Stark City

Hydra Empire

Midgardia

Xandearth

Sakaar
Game Modes
Right away there's going to be a lot of content for players to sink their teeth in. There's going to be a single-player mode for sure but remember Marvel wants this to be the biggest MMO on mobile to date. So there's a lot of ways you can connect with your friends and other players to battle the forces of evil and each other!
Omega War – A 4 vs 4 PVP mode where players pit their teams against one another.
Dimensional Duel – Standard 1 vs 1 match
Dark Zone – A free for all reserved for high-level players
Blitz – A team of four must work together to defeat iconic villains.
Hero Competition – Who's the better hero? Work with your team against another to save humans and defend your base.
Webbing it all up
If you're still reading and are interested in the bounty of content this game has to offer, then we suggest you make your way to your nearest app store and pre-register. Eager beavers will be gifted with a unique costume if they pre-register before launch day. Benefits are restricted to one per download/player. No official release date has been announced.