A desktop mic designed for just about every kind of home studio, MOVO's UM700 seeks to offer would-be talent quite a bit for not a lot.
A mic for all seasons
I have to admit right off the bat, I'm no expert when it comes to microphones. Sure I've reviewed a ton of headphones and headsets here on BG, so I have plenty of experience there, but as for something that solely provides audio-out? Nope.
That's not to say though, that I have no experience with them at all. I've had a handful of mics personally over the years, and used several during a short stint as voice talent. Bottom line; I do have an idea of what a good one should provide.
So when the opportunity came up to take a look at what MOVO was offering, I felt like I had to take it. How many mics come across our collective desk here at BG anyway? None, would be the correct answer.
Now, I'm even less versed in MOVO than I am in mics overall. But oh my, is it an impressive company. MOVO has been featured in a ton of high-profile publications, and makes a wide array of product aimed at content creation. That includes not just audio, but also video, still photography, and even smartphone equipment and accessories.
So there's a lot to MOVO as a company, but the MOVO UM700 is actually a slim and trim, no fuss and/or muss offering. What do I mean? Scroll down.
Ready to record
The UM700 pops right out of the box ready to roll. There's the mic itself, a USB cable, and the instructions. That's it, and that's not a bad thing in my estimation. No, there aren't a hundred different ways to connect the UM700, but you're getting a mic that's specifically made for ease of use. And easy, this is.
To get the UM700 rocking and rolling, all you basically have to do is to plug it into your PC or Mac. I tried it on my Mac, and it immediately recognized it and made the mic ready for use.
There is no power needed, as the mic works right off of the USB connection. You will find a port (right on the bottom) for a pair of headphones though, which is a nice little option.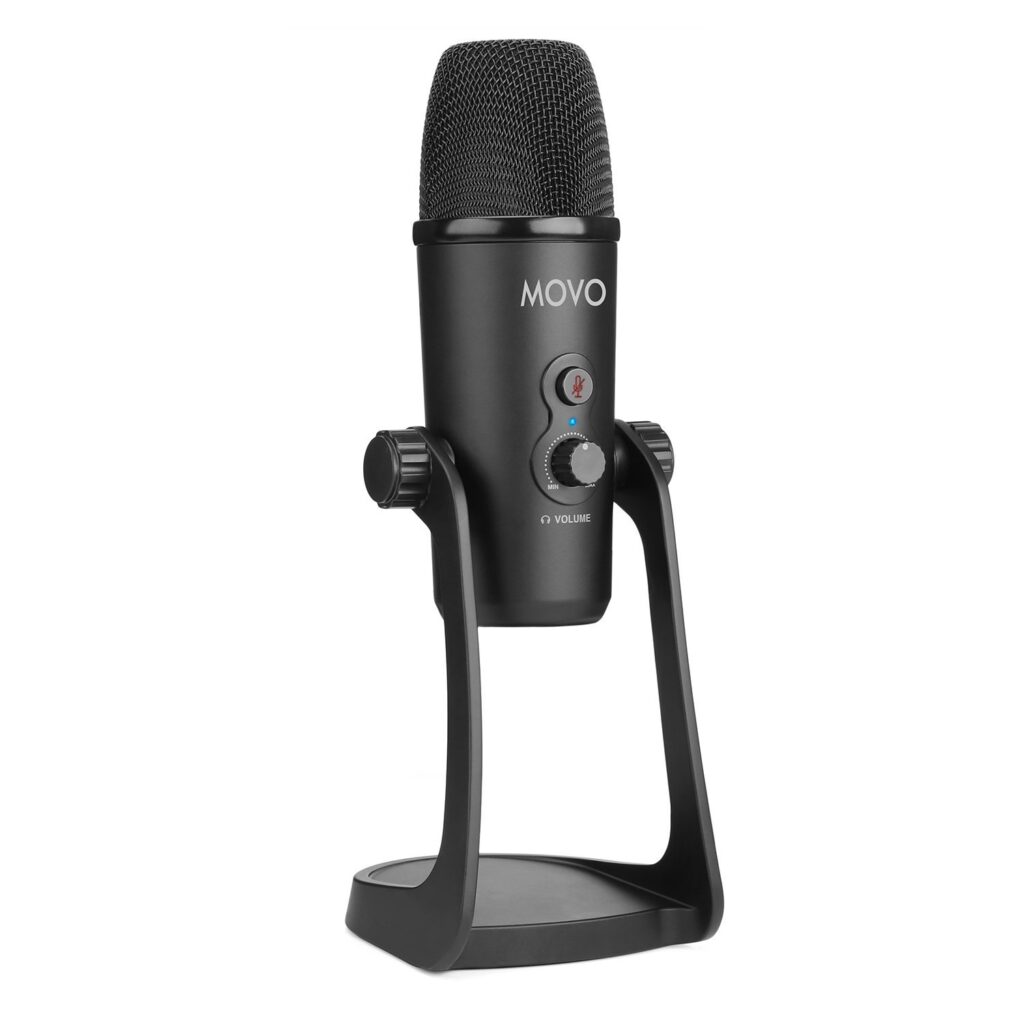 Once you've got everything going, there are a number of options that you have. These are all to give you the optimal virtual environment for whatever it is that you're doing. MOVO's UM700 offers quite a bit in that way, and that's what we'll be digging into next.
Fully functional
So when you're looking for a mic, you're typically looking for something that does what you need it to do. In other words, it doesn't have to do a hundred things, since you only likely need it to do one or two things, and do them well.
As an example, when I was recording for VO I needed something Cardioid, meaning a mic that could pick up sound right from me and only me. So a mic that's capable of picking up sound in really just one position, and cuts incoming audio from anywhere else. You'd also want a whole mess of soundproofing around you to kill ambient noise, but that's another story.
Getting back to the UM700 though, it does have that feature… but it's not a Cardioid mic. Well, to clarify, it's not only a Cardioid mic. This little puppy has multiple modes, and is pretty darn impressive in what it can pull off. Not only do you get the above, but it also has bi-directional, omnidirectional, and basic stereo modes.
Whether or not all of that is necessary is up to you, but it's pretty awesome having the options. You'll also find a mute button (which illuminates when pressed), and gain and headphone-volume dials.
The complete package is a sleek one, and I have to say it looks pretty darn cool. It's also nice and heavy. The UM700's body is all black metal, and that includes the desk stand. Let's put it this way – it's not going anywhere once you place it. I mean you'd have to give this thing a serious crack in order for it to tumble off your desk.
On target
While all of the features are nice, it's pretty easy to assume that this is a case of Jack of All Trades situation. But while the UM700 is something of one, it's definitely not a Master of None.
The mic performed beautifully across several online meetings I attended, in Cardioid mode. The sound was nice and crisp, and nobody even heard my dog barking downstairs. So good stuff there. I think that's likely the function that most would be buying this for too, so the UM700 coming through there is a big plus.
As for the bi-directional mode, that captures front and back and is meant for interviews and the like. I did test that as well, and it definitely does kill off minor surrounding noises. In a way, it's the Cardioid mode split in two.
I did find that the stereo and the omnidirectional modes were pretty similar. To be fair, they are meant to be along the same lines, though there are a few differences.
For one thing, the omnidirectional mode shifts out sounds like wind and mic-handling, and it also records from all sides. On the flip, the stereo mode records from the left and right sides of the mic only, and is meant to give you a more natural sound. I can't say either one sounded bad, just that they were similar.
Overall
A mic for all seasons? Yeah, it kind of is. The UM700 presents excellent quality of sound, with a feature set that seems pretty rare when you're taking about a USB microphone.
Whether you want something for a podcast or YouTube show, or to take with you to interview at cons (they're coming back you know), it ranks pretty high on my cool-stuff meter. This one's a definite recommend.
A sample unit was provided for this review by MOVO
MOVO UM700 USB mic
Release date: November 21st, 2019
Manufacturer: MOVO
MSRP: $99 USD
Feature packed
Ease of setup - 95%
Utility - 92%
Proficiency - 85%
MOVO's UM700 offers a feature set that you don't find in every mic. With 4 modes of recording and a ridiculously solid construction, it might fit the bill for just about anyone, looking to record just about anything.