High-end collectible company Hot Toys is rolling with the Iron Man 2 theme, continuing their line with their spectacular War Machine figure.
This time baby
Did you miss out on Hot Toys' War Machine the first time around? Well, if you did then you'll be happy to know that the figure is back. Landing this time in the midst of the company's Iron Man 2 figure-onslaught, Jim Rhodes is just as great as the first time his figure saw release.
Of course, if you know Hot Toys' movie stuff, then you already know that they shoot for maximum authenticity. As such War Machine is looking like he just stepped off the silver screen. And yes, that includes a pretty fantastic head sculpt of actor Don Cheadle, as he appeared in the role.
Past that, War Machine has an alt-head (with closed visor) that lights up and interchangeable "battle damaged" parts. So you can create whatever look you like from the film. Leaning more towards the damaged parts too, there's an awesome-looking base included that mimics the landscape from the final battle with Whiplash.
Here are the details: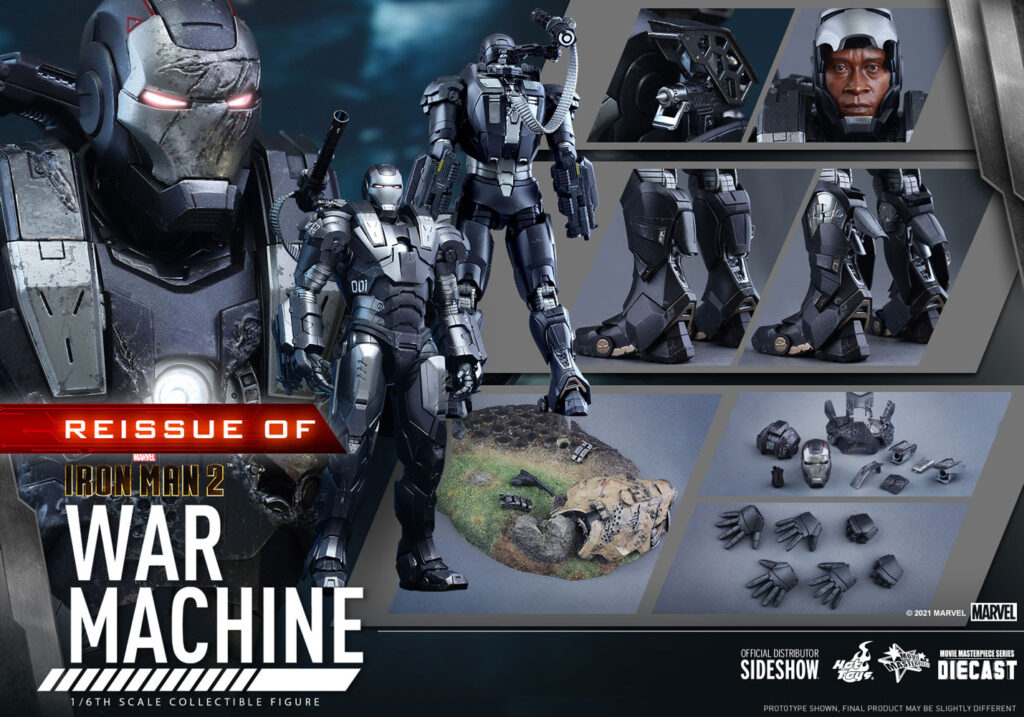 Individually hand-painted helmeted head sculpt with the likeness of Don Cheadle as James Rhodes in the movie, Iron Man 2
An interchangeable helmeted head with LED light-up function (battery operated)
Movie-accurate and highly detailed War Machine armor with die cast elements
Over 30 points of articulation
LED lit Arc Reactor on chest (battery operated) 
Detachable chest and shin armor elements to reveal interior mechanical parts
Two interchangeable face masks (normal and battle damaged)
Two interchangeable right shoulder armor pieces (normal and battle damaged)
Two removable chest armor pieces (normal and battle damaged)
Two interchangeable articulated back boosters (normal and battle damaged)
Two interchangeable shoulder blade armor pieces (normal and battle damaged)
Six interchangeable hands including:
One pair of fists 
One pair of hands with articulated fingers and light-up repulsors (battery operated)
One pair of repulsor-firing-palms (battery operated) 
Increased articulation within the waist armor, allowing for more flexible movement
One articulated back-mounted machine gun
One interchangeable battle damaged back-mounted machine gun barrel
Hidden compartment revealing detachable rocket on left shoulder
Hidden compartment revealing mini-missiles on right shoulder
Sub-machine guns mounted on the arms
A specially-designed diorama display base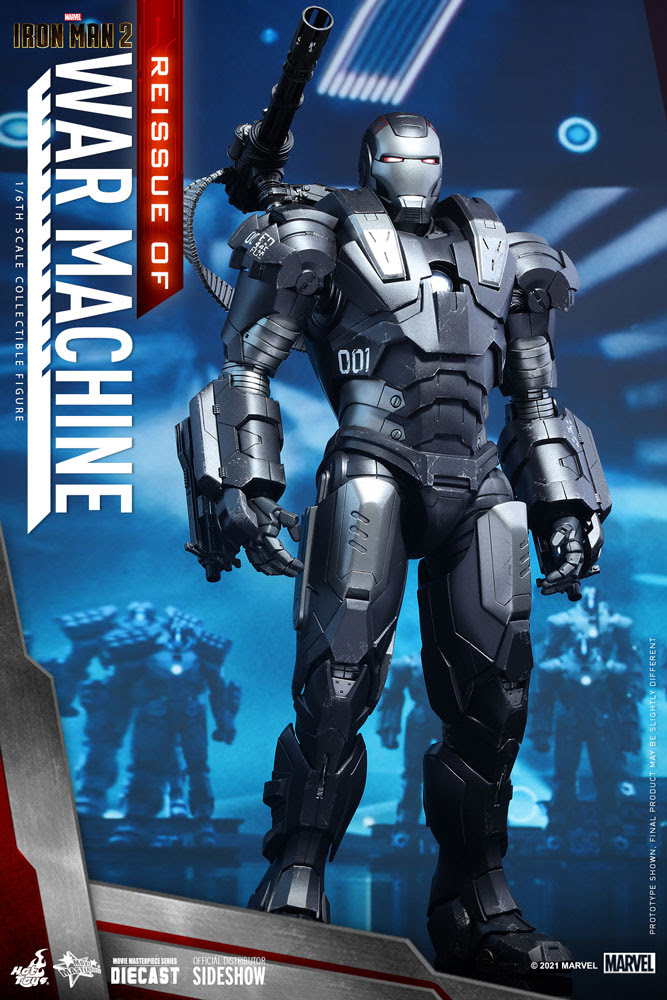 War Machine is set to ship out just about a year from now, in the July/August 2022 timeframe. He's priced in at $375 USD, and is ready for pre-order now.
The action continues
Want to make a whole Iron Man 2 shelf? Maybe a super-detailed diorama or two? Then you'll be pleased as punch to know that Hot Toys has a full lineup ready to go.
That includes Tony Stark, as featured in his 'suit up' scene on the race track and Whiplash from that same movie-moment. On top of them, there's also the fully suited-up Iron Man Mk.5 armor.
All of the above are on the calendar and ready to be pre-ordered now from Hot Toys parents at Sideshow Toys. Well, that is to say excepting Whiplash. He's actually available right now, so you can add him to your collection ASAP. Hit the links above to check 'em out.