He's back, and this time Mezco's take on the classic blue and yellow suited Wolverine might be the best yet. And that's not even mentioning the stand.
The best at what he does
Mezco has produced a few Wolverines over the years, but the pinnacle might be their iconic blue and yellow edition. Released as a convention exclusive years ago, the figure sold out in seconds and remains nearly impossible to get ahold of. Well, he was anyway.
The toy company is back at it with the best-loved look for Logan, and this new version could easily be the best version of the character they've produced. Or maybe I should say 'versions', since this figure allows fans to re-create multiple eras.
Logan comes complete with first-appearance heads, as well as the more familiar ones from the Giant Sized X-Men through Jim Lee years. On top of that, he also includes both metallic claws and bone ones. So if you dug the bone clawed Wolvie from the aftermath of his run-in with Magneto, you can make that version too.
He's also stocked with a whole bunch of effect-pieces. These are made to mimic the comic-book effects of the hero's claws slashing through the air. Then to really knock this one over the wall, there's the base.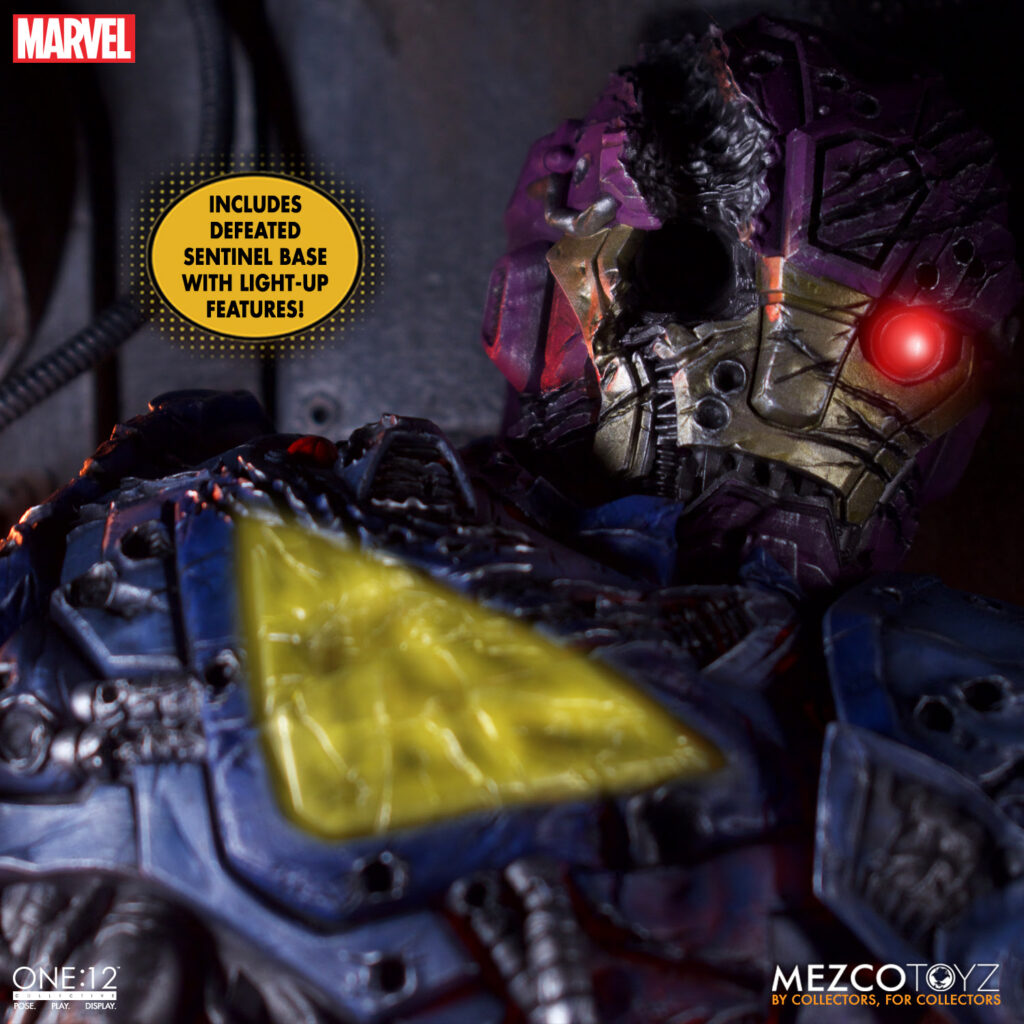 This has to be Mezco's most ambitious display-type piece yet, and is a defeated Sentinel. The right eye is removable so you can customize the amount of damage Wolverine did to it, and it even lights up. Yeah, that's awesome.
The piece is available right now for pre-order, and will run you $155 USD. It's set to arrive some time in quarter 4 of this year. Click here to check that out, or scroll down for the full details.
THE ONE:12 COLLECTIVE WOLVERINE FIGURE FEATURES: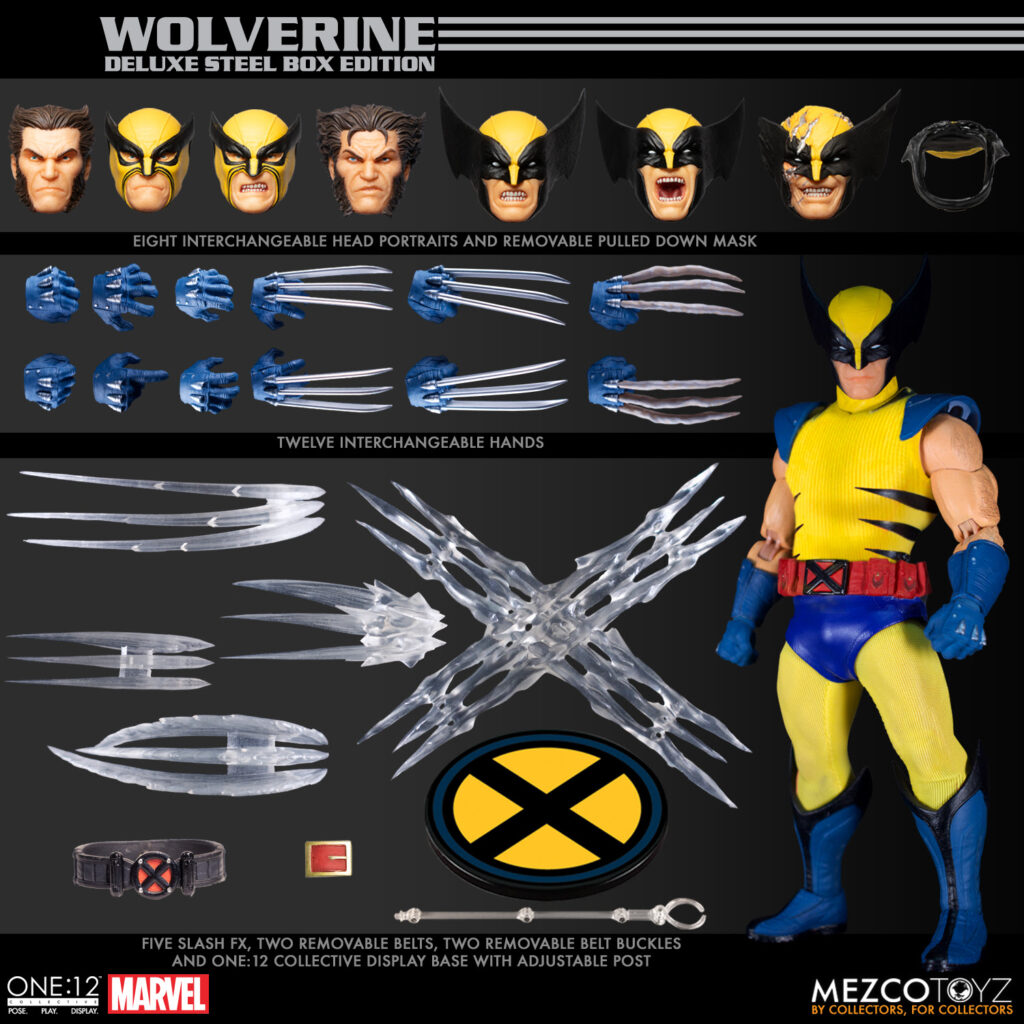 One:12 Collective body with over 30 points of articulation
Eight (8) head portraits
Hand painted authentic detailing
Approximately 16cm tall
Twelve (12) interchangeable hands

One (1) pair of fists (L&R)
One (1) pair of clawed fists (L & R)
One (1) pair of clawed posing hands (L & R)
One (1) pair of bone clawed fists (L & R)
One (1) pair of holding hands (L & R)
One (1) posing hand (L)
One (1) pointing hand (R)
COSTUME:
X-Men issued suit
Shoulder armor
Wrist gauntlets
Combat gloves
Belt with interchangeable buckle (removable)
Belt with X-Men insignia
Knee-high boots with shin guards
ACCESSORIES: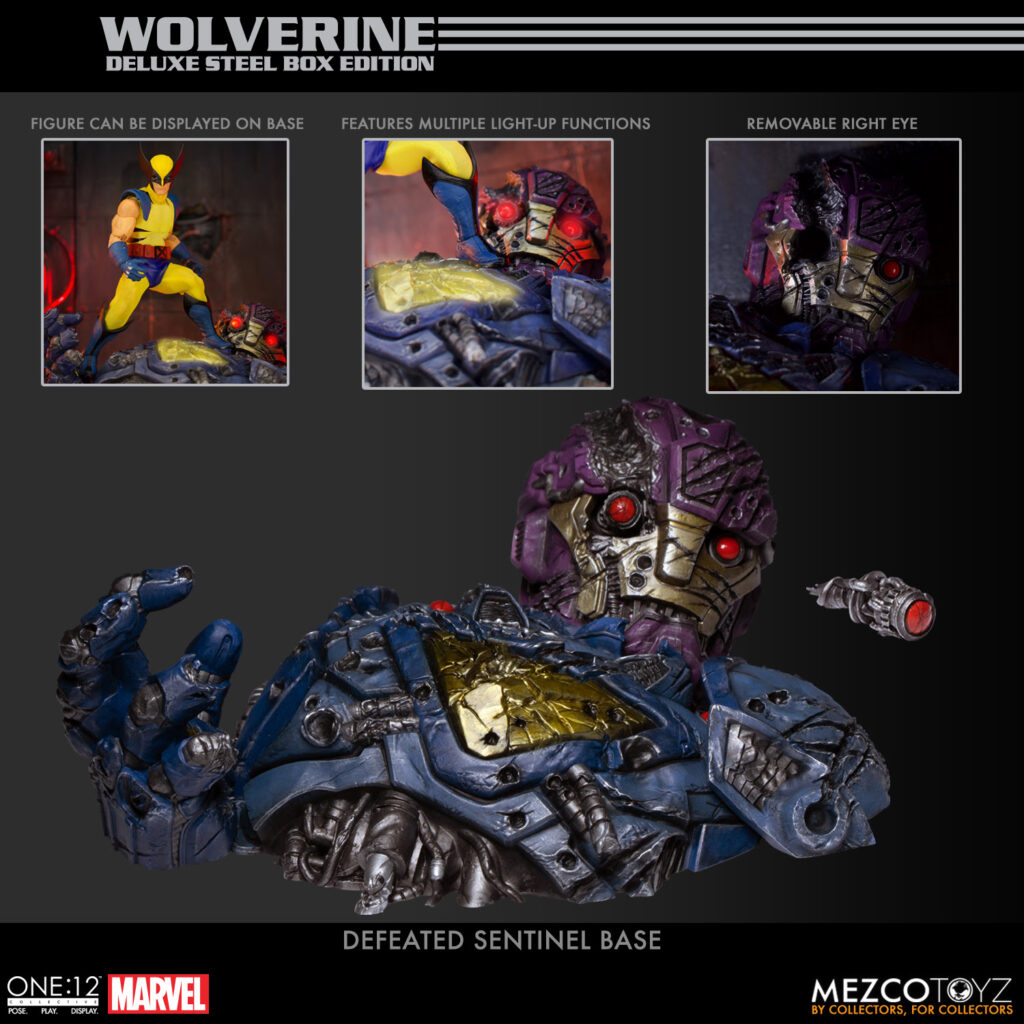 One (1) defeated Sentinel base with removable eyeball
One (1) pulled-down mask
Five (5) slash FX (fits onto claw hands)
One (1) small slash FX
One (1) small strike slash FX
One (1) medium strike slash FX
One (1) long slash FX
One (1) "X" slash FX
One (1) One:12 Collective display base with logo
One (1) One:12 Collective adjustable display post
Each One:12 Collective Wolverine figure is packaged in a collector friendly tin, designed with collectors in mind.

Mezco