The movie version of the Dark Knight is back and coming to life for an exclusive new McFarlane action figure for Entertainment Earth.
Mask-free
Have you seen Zack Snyder's Justice League on HBO Max yet? If you have, then you might be itching to add a new Batman figure (or two) to your collection. McFarlane Toys has one on the way of course, along with the rest of the film's League, but there's second one too.
An exclusive figure that'll only be landing for web-retailer Entertainment Earth, this one's sans-cowl. The figure looks like the same tactical-suited version of the character that's coming as a part of the Justice League wave. Of course, there's a big difference in that this one isn't wearing his iconic cowl (or goggles).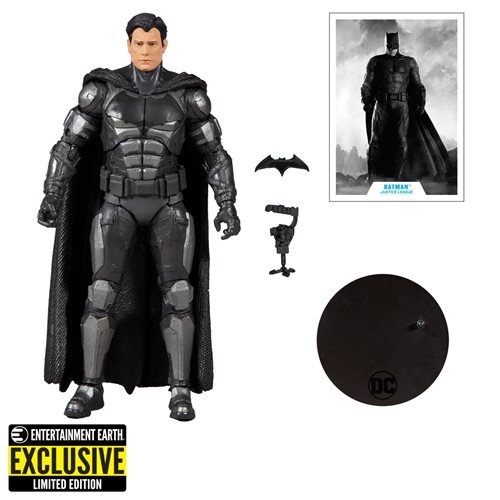 So does he have a Ben Affleck sculpt? Uh, kinda? The exclusive face-sculpt doesn't not look like the Batman actor, but he doesn't look spot-on either. Still, as a 'Bruce in the cave' kinda figure, he's still pretty neat. And of course, if you want the full collection, you're gonna need this guy.
As for the specifics, the Batman will clock in at the 7″ scale, so he'll fit right in with the rest of McFarlane's DC offerings. And he'll be right there with the company's articulation-push too, with "up to 22 points of articulation". As for accessories, there's no mask for him to hold, but you do get a batarang and a grapnel gun (plus a stand and a collectible card).
The figure is ready for pre-order now, and will officially launch in June. It's priced in at $22.99 USD. You can use this link to get yours, and if you do BG will receive a small commission from your purchase.