If you missed the announcement last week, then you're going to love what Hot Toys has on tap. The Mandalorian's Dark Troopers are on the way.
Dark Troopers are no longer suits
If you watched The Mandalorian season 2 then you know that, among all of the other awesome stuff that was included, the Dark Troopers became canon. Originally from the classic Star Wars Dark Forces video game, the live action versions were pretty different. Though, in a cool nod to the past, it seems the Dark Forces ones might have existed as well.
In the show, the Dark Troopers are third-generational. So these specific Stormtroopers have been through a few revisions already by the time of The Mandalorian. It's even mentioned that the humans have been factored out of the equation, leaving the Troopers as super-powerful droid soldiers.
And that's just what toy-maker Hot Toys has in store. Clocking in at the usual Hot Toys 12″ scale, the Dark Troopers will come complete with a bunch of display options, as well as light-up features, and 25 points of articulation.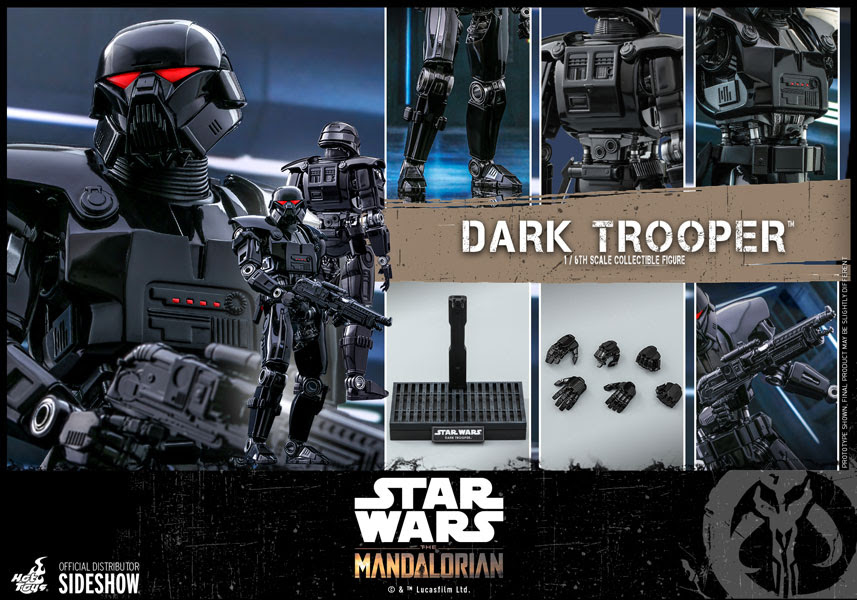 Each Dark Trooper 1:6 scale collectible figure features:
An authentic and ultra-detailed likeness of the Dark Troopers as seen in Star Wars: The Mandalorian™
A finely crafted Dark Trooper helmet, with LED light-up function (battery operated)
A newly developed exoskeleton body, with detailed mechanical design, and over 25 points of articulation (stands approx. 32.5cm tall)
Realistic glossy black armor with metallic silver joints, and an LED light-up chest panel (battery operated)
Multiple interchangeable hands for a variety of pose and display options       
A blaster rifle
A figure stand with Star Wars logo and character nameplate
The Dark Trooper is set to launch in spring of 2022, and are priced in at $260 USD. While the figure is still a ways off though, you can lock up your edition right now with a pre-order via Sideshow Toys. That's something you can do right here,