A hit for IDW publishing last year, Teenage Mutant Ninja Turtles: The Last Ronin #1 is getting a Director's Cut edition this March.
Second Ronin
If you don't know, The Last Ronin is a story that's been a long time coming. TMNT co-creator Kevin Eastman has had the tale knocking around his head for "decades". With that in mind, it's easy to imagine that there's a ton of stuff behind this story.
The story starts way back in 1987, and was basically never finished. Eastman and the Ninja Turtles' other creator Peter Laird dreamed up the story from a conceptual standpoint, but that's where it stayed. Well, it did until 2020 that is.
It's then that IDW publishing, the current home of the TMNT, actually published it. The tale centers on the last surviving member of the foursome, and a path of vengeance that he sets himself on.
For fans of the story, the upcoming Director's Cut edition is going to be one to check out. The book will clock in at a massive 64 pages, and feature a ton of bonus content. Expect "character designs, script pages, and much more" in its pages.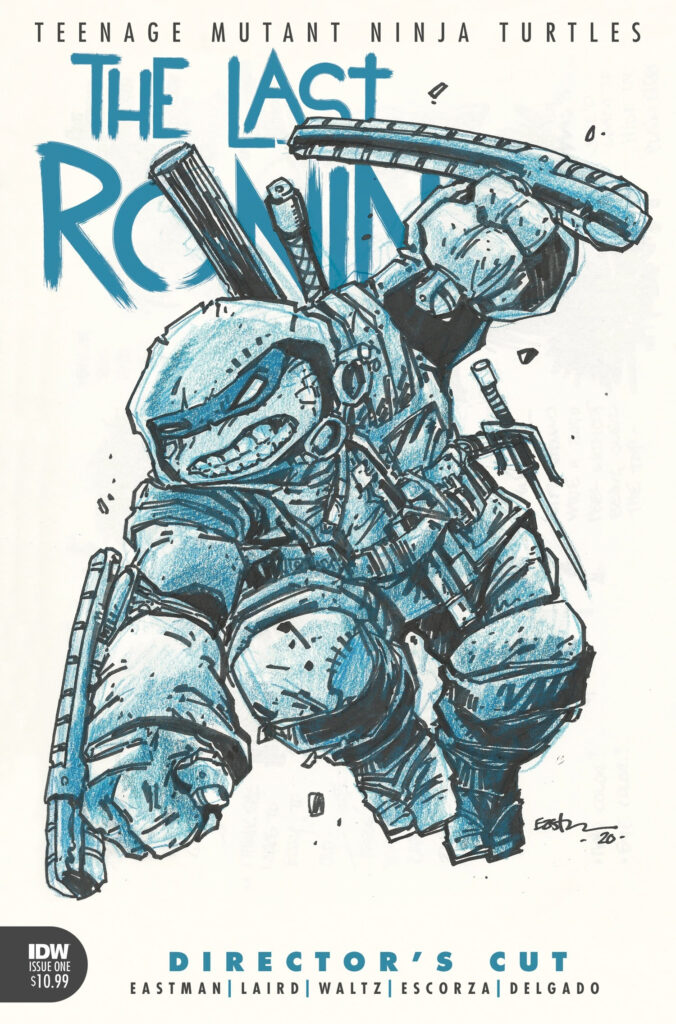 "The creation of The Last Ronin has been — and continues to be — an excitingly collaborative experience, with tons of creative designs and decisions happening behind-the-scenes and during production. The Director's Cut gives us a cool opportunity to intimately share with our many wonderful readers the creative process that's been driving this newest TMNT tale, all the cool extras that happen before we even get to the printer and into stores," says Tom Waltz, the longtime writer of IDW's ongoing TMNT series and scripter for The Last Ronin.

Tom Waltz
The story continues
The DC issue of The Last Ronin #1 is set to arrive in stores this coming March. So it won't be too long before you'll be able to really dig into how this one came to be.
But if it's just issue #2 you're looking for, then you'll be happy to know that that is coming even sooner. The dark tale about the future of the Teenage Mutant Ninja Turtles continues this February the 17th.
In addition to the news of issue #1's Director's Cut, IDW is announcing the revised on-sale date for the next eagerly-awaited chapter of TMNT: The Last Ronin. Issue #2 will be available on February 17th, with a story that reveals more dark secrets of The Ronin's past and sets him on a path alongside an unexpected new ally.

IDW