Ready for pre-ordering is maybe one of the best looking One:12 Collective figures ever. Marvel Comics' Ghost Rider ships out this coming summer.
"Tonight, the guilty shall suffer."

One of the coolest supernatural heroes of all time, Ghost Rider has had a storied history in Marvel Comics. While I don't think you could call him one of the publisher's premier characters, Ghost Rider has had multiple incarnations since his debut as Jonny Blaze back in 1972.
Blaze is probably the best-remembered version of the vengeful specter, though he had a smash-hit, monster-sized rebirth in the 90s with Danny Ketch in the lead. The new Mezco One:12 figure though, doesn't seem to be either one of those characters, nor is he the car-driving Robbie Reyes or one of the Rider's lesser known faces.
As the toy-maker does form time to time, this figure appears to be a melange of familiar looks, as well as a dose of originality. The result is an all-black clad, tee-wearing demon. There does seem to be a little nod to Ketch's bike in the front of his ride though. Oh yeah, that's right, he comes with the bike too.
Check him out:
Now, as you might imagine, a vehicle addition won't come cheap. Add to that that the bike actually lights up and makes sound, and you get the picture. Though for what looks like it might be the best action figure version of Ghost Rider to grace a collection, it might be well worth it.
The Ghost Rider figure and vehicle pack is set to ship out this coming summer (June through August 2021), and will run you $240 USD. Full details below, click here to check out the official sales page.
THE ONE:12 COLLECTIVE GHOST RIDER & HELL CYCLE SET FEATURES:
Ghost Rider

One:12 Collective body with over 32 points of articulation
One (1) head portraits
Hand painted authentic detailing
Approximately 19cm tall
Eight (8) interchangeable hands

One (1) pair of fists (L&R)
One (1) pair of holding hands (L&R)
Two (2) pairs of posing hands (L & R)

Hell Cycle

Hand painted authentic detailing
Approximately 23cm in length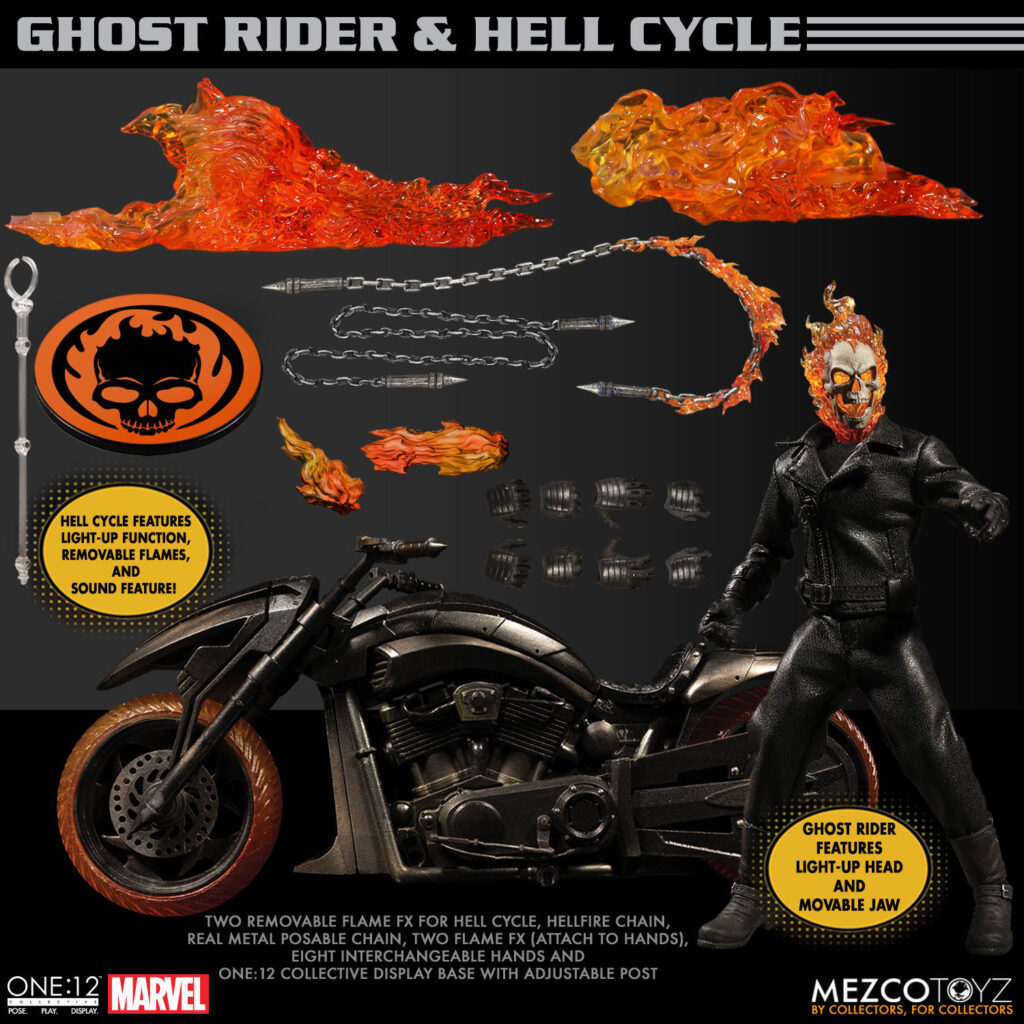 COSTUME:
Leather-like motorcycle jacket
Shirt
Leather-like motorcycle pants
Motorcycle boots
ACCESSORIES:
Ghost Rider

One (1) Hellfire Chain
One (1) real metal, posable chain
Two (2) flame Fx (attaches to interchangeable hands)
One:12 Collective display base with logo
One (1) One:12 Collective adjustable display post

Hell Cycle

Two (2) removable flame FX
Each One:12 Collective Ghost Rider & Hell Cycle Set figure is packaged in a collector friendly box, designed with collectors in mind.