Bethesda's Deathloop finally has a release date, and will be landing on the PS5 and PC in May of '21. Should you like to pre-order, those are open now.
Looping back around
Originally on track for a 2020 launch, Deathloop got the nudge into 2021 pretty quickly, with no release date in to. That left some would-be PS5 owners in the lurch, since the shooter looks pretty spiffy.
Now though, Bethesda has finally released said date, and it's May 21st. But while you now have a good long while to wait for the game, you can pre-up now by pre-ordering. And you might want to do just that, since there are some niceties ready for you if you do.
Pre-Order bonuses include:
"Storm Rider" Colt Character Skin 
One Trinket (equippable in-game buff) 
The Dishonored inspired Unique Weapon, Royal Protector Machete (PlayStation 5 Exclusive) 
The standard edition of Deathloop will run you the usual $59.99 USD, but if you want even more goodies than what's listed above then the Deluxe might be for you. That $79.99 USD edition will be a digital exclusive (PS5 Store and Epic on the PC), and will include: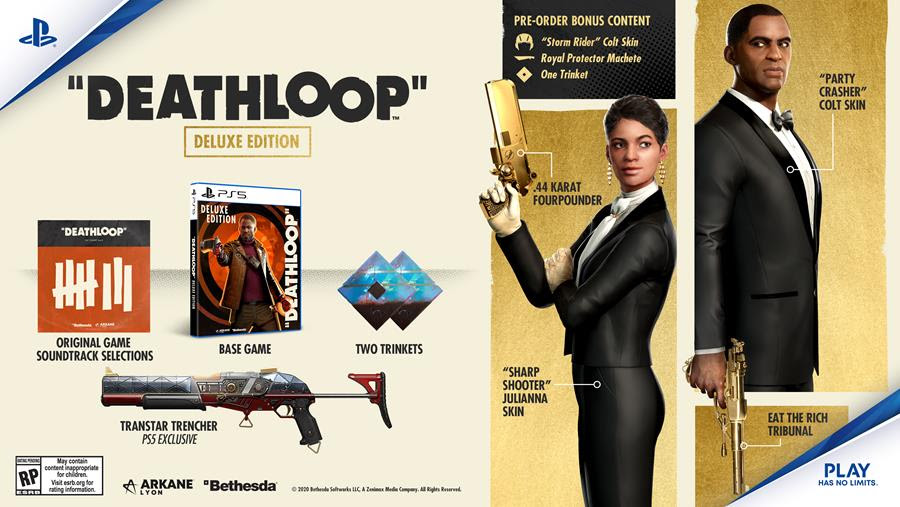 Includes all pre-order bonuses outlined above
Eat The Rich Tribunal Unique Weapon
.44 Karat Fourpounder Unique Weapon
"Party Crasher" Colt Character Skin
"Sharp Shooter" Julianna Character Skin
Original Game Soundtrack Selections
Two Trinkets (equippable in-game buffs)
The Prey inspired Unique Weapon, Transtar Trencher (PlayStation 5 Exclusive)