Are you a fan of Tactical RPGs? Wish your characters would have a bolder opinion, stealing some comments from your own imagination? Not afraid to bite their tongue? Then have I got the suggestion for you…Dungeon of Naheulbeuk!
Be aware that if you find off-colored language unseemly, this may not be the game for you. F-bombs have been known to appear in dialogue between team members. Though if this does not send you away, then you may have a good laugh.
The Dungeon
Anyone who's ever played a RPG knows there is an over-arching quest to determine what is going on. That splinters off into dozens of side quests, either satisfying your curiosity or filling your pouch with coin. This is what makes the Dungeon of Naheulbeuk familiar.
Where it differs from most is the characters themselves. Sure, we have a ranger, barbarian, wizardess and a dwarf. These are classic RPG classes and we are glad to have them. What sets ours apart however, is their attitude.
I do have to say, I love how the Dungeon of Nauhalbeuk is able to take the entire RPG genre, and hold it sufficiently tongue-in-cheek, while still being true to the details that make classes and races great. Great wizards scandalously pawning off the artifacts of their friends, just to save their own hides. Who doesn't love that? The teams at Dear Villagers and Artefacts Studio deserve a pat on the back for this one.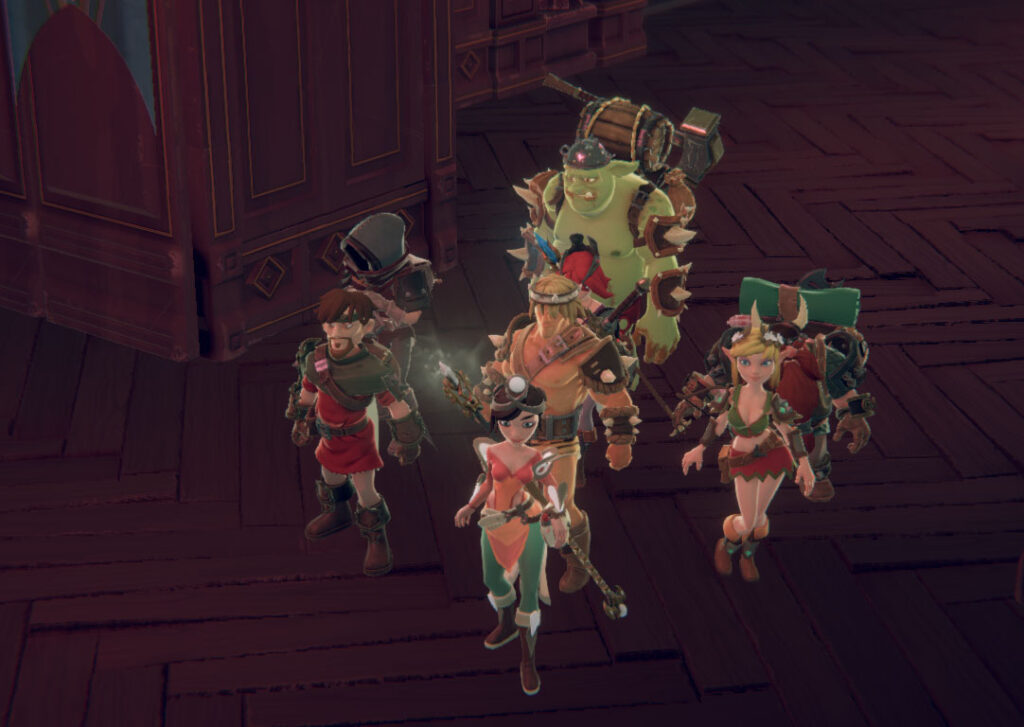 The Story
Did you know that cheese can be a source of magic in this mysterious land? Or that a rare loaf of bread will cause a battle with rats in a working kitchen? How about that demons can be imprisoned? Perhaps that Ogres tend to wear pots and pans for armor? Early on we discover a goblin who gifts your party with a cursed artifact. This only helps to drive the storyline.
"By the power of stubbing your toe on the coffee table!"

in-game quote
The goblin with a cursed artifact, leads us to learning the name of a great wizard named Zangdar who is behind all the twists and unlucky turns that befall our heroes in the dungeon. On top of that, there is a demon confined to a room in the castle, which just makes for more fun. And if wizards and demons arent't enough to keep this multi-layer casserole going…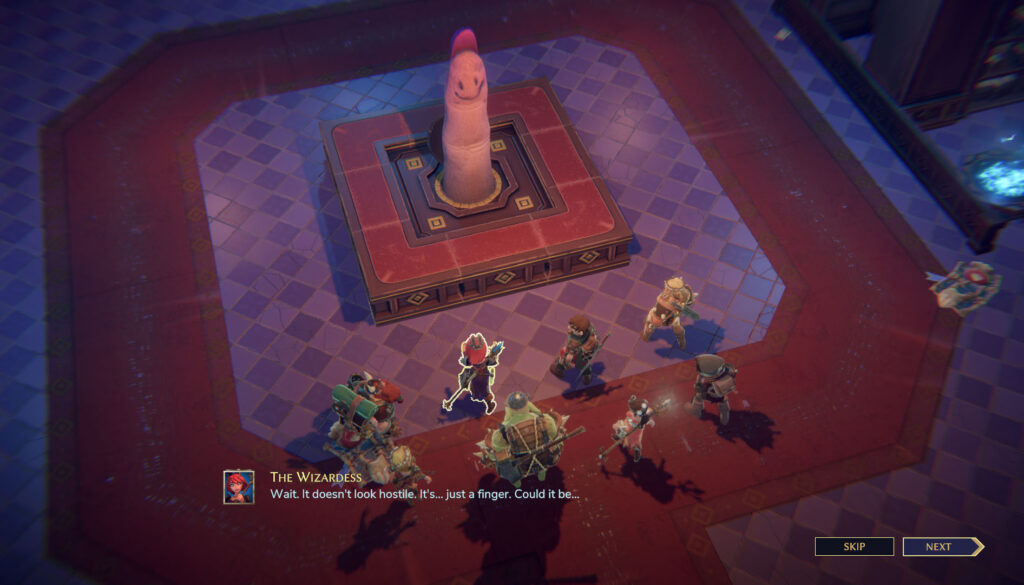 We find ourselves in the underworld in a Great Library, overseen by the Great Index itself!
Twists & Turns
After all of this, I am only 15 hours in, and only at level 5, so I can only imagine the pitfalls and tribulations that lay ahead. I do however, expect that I will continue to be amazed, suprised and even perplexed at the things I encounter. I have seen flying books and rats with chefs hats, what's to say I won't encounter bookshelves or sinks with ill intentions?
Final Thoughts
With such a wild, open-world to explore, there is no doubt that I am truly only getting started unfolding the layers of the onion that is the Dungeon of Naheulbeuk. There are some impressive character abilities here, though I need to work on building my stats so I can take better advantage of them.
Who wouldn't want to take advantage of the giant, two-handed barbarian enacting a three-swing attack on his enemy; potentially smiting the offender in one turn. I do however think I will leave the amulet of Useless Knowledge behind, as it simply does not offer enough of an advantage to take up the quarter of a pound in your limited inventory.
The Dungeon of Naheulbeuk
Release Date: September 17th, 2020
Platform(s): PC (reviewed), Xbox One, PS4
Publisher: Dear Villagers
Developer: Artifacts Studio
MSRP: $34.99 USD
Out of this World
Story - 95%
Artwork - 91%
Gameplay - 86%
The creative artistic style and one of a kind story make this a must, for the RPG enthusiast out there! The ogre's belches and barbarian's mighty sword are ready to guide you to victory!