One of the first Neo Geo Pocket releases to get ported to Nintendo's Switch, Samurai Showdown! 2 is a solid (though very cute) fighter.
Draw swords
Do you remember the Neo Geo Pocket? No? Well, I doubt you're in the minority on that one, since the tiny handheld wasn't that long for this world. That's not to say that it didn't have some solid games released for it, just that it didn't catch on.
Despite hosting games like King of Fighters, Samurai Showdown, and even Sonic the Hedgehog, the console was only around for a handful of years. You can't say that SNK didn't give it a good shot though, as it even had a revision into a full color portable in that time.
The main issue was, naturally, that it was up against a Nintendo machine in the GameBoy Color and then the Advance. You can guess how that went.
In any event though, the little machine is getting a second crack at life. Instead of a new console though, this time it's seeing its original games ported onto the Switch. Do they hold up? Let's find out with Samurai Showdown! 2.
Premise
Samurai Showdown! 2 (yes, the exclamation point is supposed to be there), is a one on one fighting game. If you've played anything in that genre before, you already know what to expect.
Where SS!2 does differ from most though, is that it's cute. Like other fighters on the NGP, SS!2 eschews any sense of a realistic look for a more cartoony one. It also eschews a deep roster, with only 5 playable characters present.
As for the modes offered, the game stocks a 1 player 'arcade' mode, as well as 'Survival', versus, and a 'Collection' option. That's a card system, where you're rewarded with cards as you play, and can then apply those cards to the fighters. There's an option to trade cards as well, though that's deactivated for this port.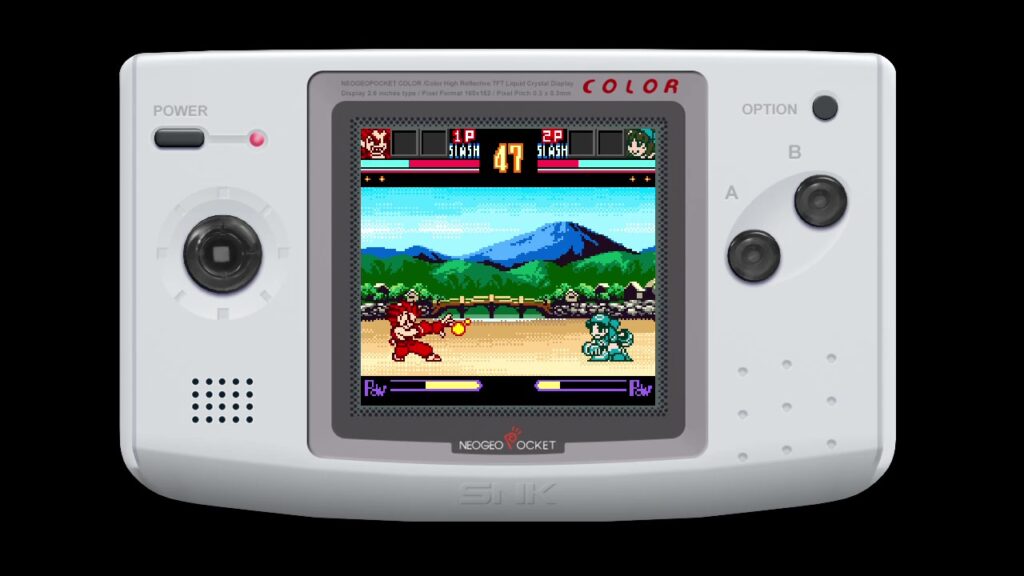 Gameplay
Press 'up' to leap into the air, press 'B' to swing your sword… The game does feature Burst or Slash play styles to mix things up, but even so, Samurai Showdown! 2's controls are going to feel very familiar.
Yes, this is Showdown, though a slimmed down one, meant for a late-90s handheld. As such it still holds over much of what makes the series a fan-favorite, including special moves and supers.
It plays shockingly well too, and you can even use the Switch's touch-controls if you want. I don't recommend that in any way, since the buttons are (obviously) far superior. It's just a really cool little bonus that you get.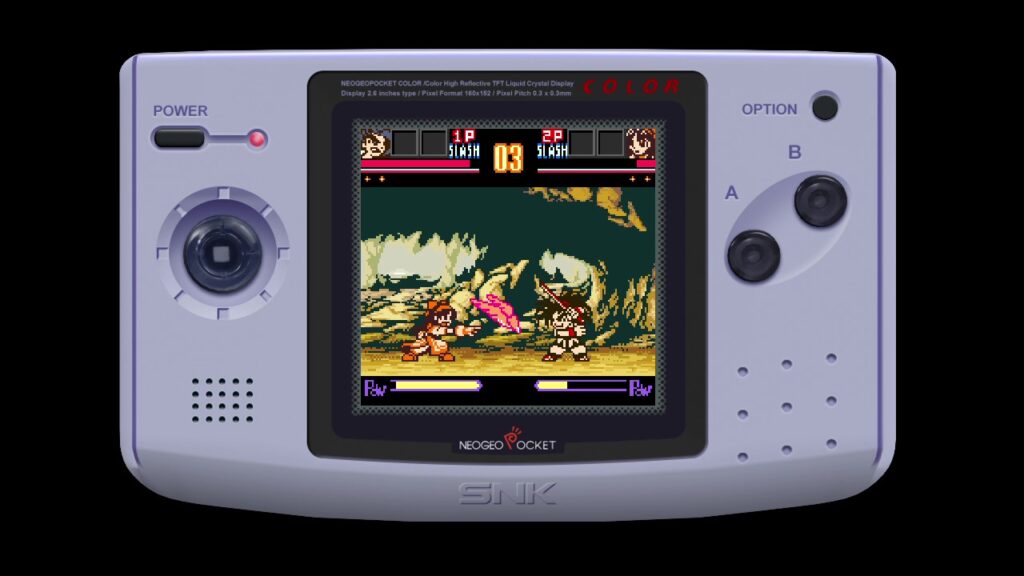 I also have to mention that there's also a rewind feature. And yes, that's what it sounds like. You are free to 'cheat' if you like and undo deaths and mistakes in battle.
Presentation
So we've gone over this already to some degree, but this is a cute little fighting game. Characters have gigantic heads, smaller bodies, etc. Basically, if you're looking for a hardcore, realistic fighter loaded with blood and gore, look elsewhere.
Yes, it's simple, but the graphics are nice and clean, and have a great colorful look to them. They're retro for sure, but in all the right ways, and there are some cool highlights in the form of special effects on the super moves.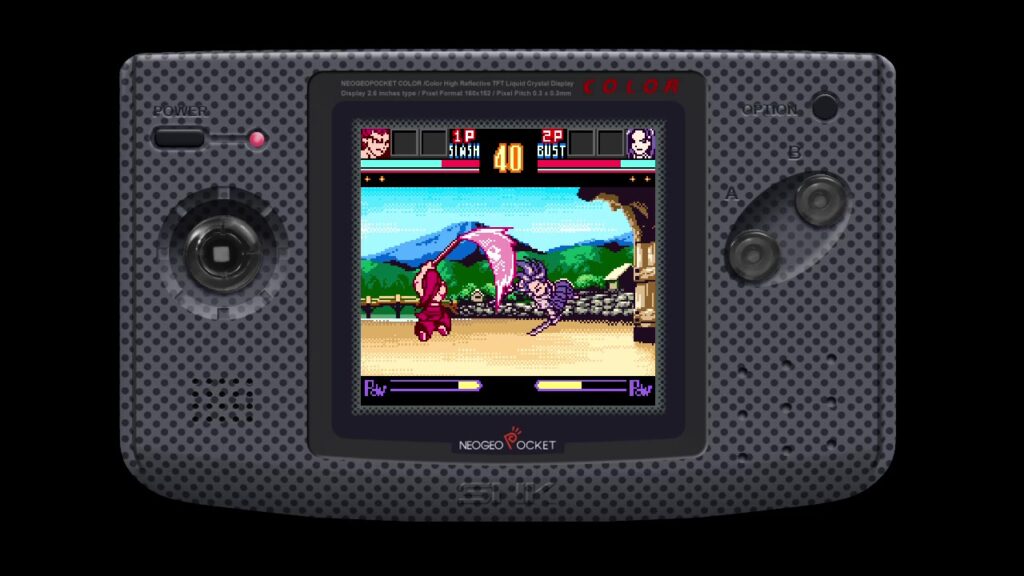 Also, the animation is excellent. I was actually taken aback a bit by how good it is. I had this game on the Pocket, and it seems much better than I remember. That has to be my imagination, since this is a fairly straight port, but it's true. Samurai Showdown! 2 looks great in action.
Another really cool little bonus is that Code Mystics has placed a virtual Neo Geo Pocket in the middle of the Switch's screen. Yes, that makes the screen really small, but you don't have to use it if you don't want to, and can zoom the action in to fit if you prefer.
So why's it cool that there's a little Pocket on there? Because you can change the skin on said Pocket to any of the ones that were available (found mine). Yeah, it's a small thing, but those little details are the things that can make a retro series stand out.
Overall
If you are in the market for a simplified, classically styled fighting game, then Samurai Showdown! 2 should fit the bill nicely. However it is not perfect by any means.
The roster is limited and of course the look is an acquired taste. But even with those knocks, it's hard to deny that this isn't a quality handheld fighter in almost every way.
A copy of this game was provided by the publisher for review
SAMURAI SHODOWN! 2
Release Date: August 7th, 2020
Platform: Switch
Publisher: SNK
Developer: Code Mystics
MSRP: $7.99

Premise - 70%
Gameplay - 82%
Presentation - 70%
Samurai Showdown! 2 is basically a scaled back, cutesy, portable version of the series that you know and love. It looks and plays great, but with a limited roster and unique style, it might not be everyone's cup of tea.