AtGames' standup arcade cabinet had its run cut short by Covid. Now at the tail end of summer 2020 though, it's poised to get another shot.
Back to the arcades
You know 'em, you love 'em, and at home arcade standup seem here to stay thanks to a few different companies out there. One of the more impressive units to see the light of day recently was from a name that's been around for a long while: AtGames.
AtGames standup cab first saw release in Q4, 2019. An impressive arcade cabinet, the Legends Ultimate Arcade boasted a number of features that other machines don't. One of the coolest was the fact that it was expandable, and could even download games from AtGames' own digital service.
According to the company, the cabinet faced some serious problems however, here in 2020. Yes, just like everything else, this year wasn't good to the LUA. However, it's just about set to get a second chance.
New wave
AtGames announced today that the Legends Ultimate Arcade is coming back to retail shelves. The unit will be reintroduced at the end of this month, and in enhanced form.
"We have been thrilled with the unprecedented demand for the Legends Ultimate," said Dr. Ping-Kang Hsiung, CEO of AtGames. "Due to the pandemic and related supply chain disruptions, we have been unable to meet that great demand. Now, with the supply chain restored, we can bring this incredible, ever-evolving platform to even more families."

Dr. Ping-Kang Hsiung, CEO of AtGames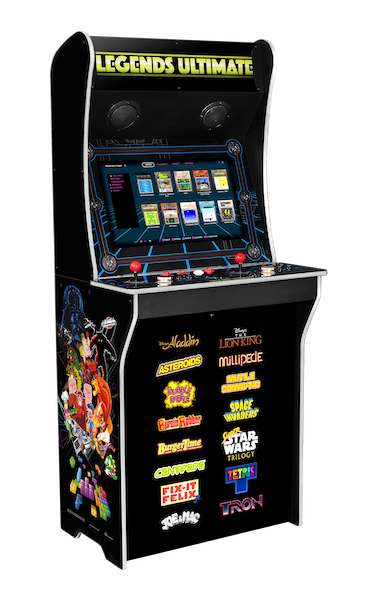 A full-size arcade unit, the LUA is "over 66" tall and 29" wide, features premium two-player controls, a 24" HD LCD monitor, down-firing stereo speakers, and Wi-Fi connectivity." That's pretty impressive given what the rest of the market has to offer. The amount of built-in classics is equally nice, as the LUA packs 300 games out of the box.
That's a lotta games
The likes of "Atari, Data East, Disney, Jaleco, Taito, The Tetris Company, and more" are all on board with the unit. And lest you think that some of these games might ba hampered by the control options, think again. The LUA stocks "authentic arcade-style control panel, which includes two joysticks, six action buttons per player, a high-performance trackball, and two spinners". That's pretty much everything shy of a light gun… which is actually an optional add-on.
Then there's BYOG – Bring Your Own Game. A built-in streaming ability, BYOG allows gamers to stream their own games from online streaming platforms (including AtGames'), or their own PC's. So you can conceivably use this bad boy to play brand new stuff for years to come.
Interested? The Legends Ultimate Arcade is set to become available on August 31st, and will be carried by GameStop and Walmart, among others. Get the full low down on the unit here, on AtGames' official page.