With SDCC's cancellation this past weekend, McFarlane Toys had its own little virtual 'Con'. And oh my was it packed with new DC announcements.
Enter the multiverse
While McFarlane's initial waves of DC Multiverse figures might have been hit and miss, what they revealed this past weekend was flat-out awesome looking. It includes a selection of new figures based on DC's Metal event, as well as some two packs based on the many versions of DC's universe.
Metal expands with the company's first DC Comics build-a-figure wave. Yes, first, remember the last wave had a build-a-Batmobile, not a figure. It's great to see this, since it's really become an industry staple, and one that fans seem to love.
The B-a-F is a nice chunky one too, with The Merciless. For the unfamiliar, that's a Batman from an alternate 'dark multiverse' world that took on the mantle of Ares, the Greek god of war. Needless to say, he's not a nice guy.
The Merciless is joined by a second version of arch-villain The Batman Who Laughs (this time with wings!), as well as a new Batman, an "infected" Superman, and three different Robins to create TBWL's pack. All in all it looks like a great wave, and one that fans of Metal will definitely want to check out when it lands at retail this fall.
DC Comics Multiverse wave
Aside from Metal's focus, there's also a more general wave of DC characters inbound. Much like the initial assortment from McFarlane, this new wave includes a selection of characters from different versions of DC's properties.
There's Flash and Joker from the comics, as well as Azrael from White Knight, and -surprisingly- Cyborg from the Teen Titans cartoon.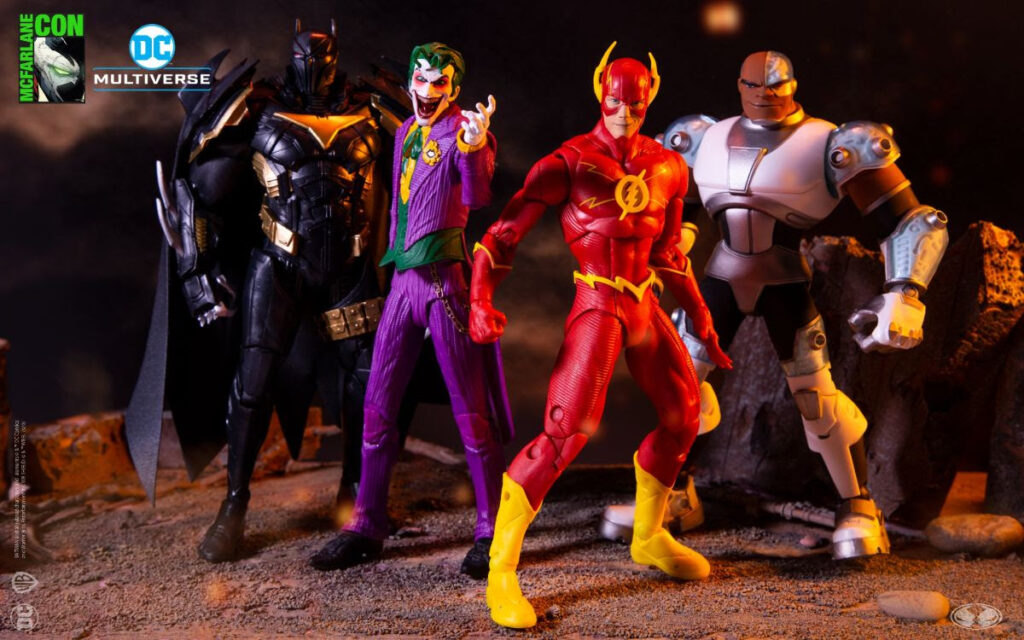 Look for the above to also ship to stores this fall.
2 packs
Yes, that's a bunch of single carded stuff, but McFarlane will also be bringing a selection of new 2 packs to stores. Those will include more Metal, but also a few more general DC figures.
Starting with the Metal stuff though, fans will get a second version of Flash, and his evil "Bat" opposite, Red Death (who's looking awesome). Speaking of the the Bat, the second 2 pack is all about his sidekicks. Or, former sidekicks actually. Included there is a great looking Red Hood and a red version of Nightwing.
Past those packs, McFarlane is also heading back to the Arkham-verse for a pack that splits the difference between Arkham Origins and Arkham Knight.
The Dark Knight himself is depicted here in his armored "Knight" look, while Deathstroke is included as he appeared in Origins. Kind of a cool idea happening as this sub-line expands.
Expect the Batman Arkham pack to arrive this fall as well, though there's no date on the other ones. McFarlane simply says "coming out soon".
So where does Flashpoint figure in?
Yes, there was a Flashpoint tease with the Thomas Wayne Batman. No, there were no details or release dates or anything. So all we get is one image, though to be fair it's an awesome image.
Enjoy the tease.