The One:12 Collective will soon have another Wonder Woman figure, with this week's announcement that the Themysciran battle suit version is up for pre-order.
Call to arms
The One:12 already has a few Wonder Woman figures, all of which are pretty cool in their own right. There's a comics version, which we reviewed not too long ago, as well as a movie edition. This one though, also kinda/sorta based on the comics, might be the coolest yet.
Complete with a Themysciran battle suit, Mezco's newest crack at the demigod is sporting armor, as well as the weapon assortment from the previous release.
Wise as Athena, stronger than Hercules, beautiful as Aphrodite, and swifter than Hermes, Princess Diana of Themyscira has made it her duty to lead by example and fight for peace. Wonder Woman stands as a symbol of truth, justice, and equality to people everywhere.


Mezco Toyz
Unlike some recent releases, this figure won't be ready to ship for a little while yet. Wonder Woman won't actually arrive till this coming winter (2021), though of course you can place your order now.
Clocking in at the usual One:12 price of $85.00 USD, you can find Wonder Woman here on the Mezco online shop.
Full details below.
THE ONE:12 COLLECTIVE WONDER WOMAN FIGURE FEATURES: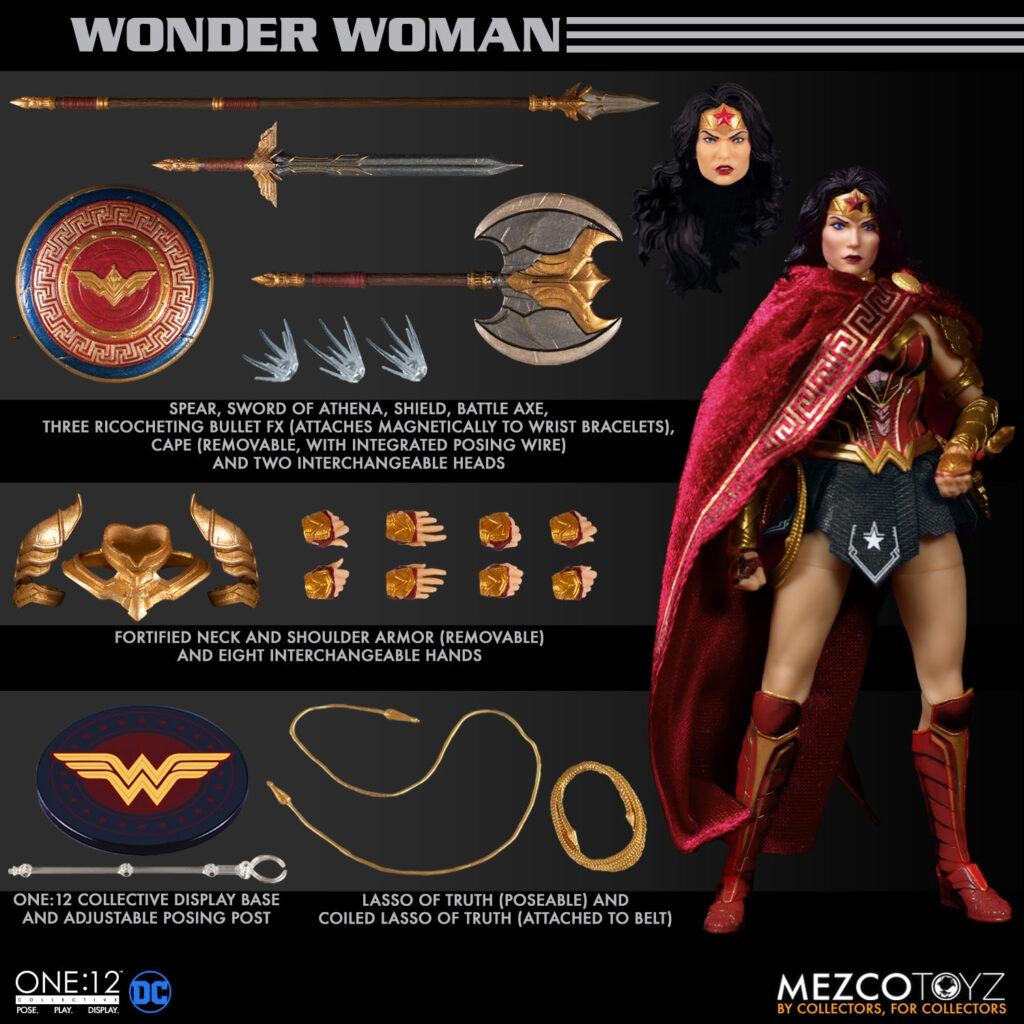 One:12 Collective body with over 30 points of articulation
Two (2) head portraits
Hand painted authentic detailing
Approximately 17cm tall
Eight (8) interchangeable hands including

One (1) pair of fists (L & R)
One (1) pair of lasso holding hands (L & R)
One (1) pair of sword holding hands (L & R)
One (1) pair of posing hands (L&R)
COSTUME:
Royal Tiara
Fortified neck and shoulder armor (removable)
Reinforced torso armor
Wrist bracelets
Cape (removable, with integrated posing wire)
Belt with 'W' insignia
Skirt • Shin armor
Combat boots
ACCESSORIES:
One (1) Lasso of Truth (poseable)
One (1) coiled Lasso of Truth (attaches to belt)
One (1) Sword of Athena
One (1) battle axe
One (1) spear
One (1) shield
Three (3) Ricocheting bullet FX (attaches magnetically to wrist bracelets)
One (1) One:12 Collective display base with logo
One (1) One:12 Collective adjustable display post
Each One:12 Collective Wonder figure is packaged in a collector friendly box, designed with collectors in mind.