One of the most iconic Daredevil runs is as cheap as can be, thanks to Marvel Digital. You can grab Miller and Janson's Daredevil for 76% off.
The man without fear
Long before the dubious storylines from recent memory, and decades before the superhero landed on Netflix, there was Miller and Janson's Daredevil. It was a run that still stands as one of the hero's very best, and a key piece of writer Frank Miller's history.
First landing on the racks in 1979, Miller and artist Klaus Janson's teaming ran through 1983. While the tales were top notch, they also introduced many of the biggest and most lasting elements that make old horn-head such a beloved superhero.
Frank Miller and Klaus Janson's transformative work on the title elevated Daredevil into the recognizable Marvel icon he is today and cemented their place as two of the most acclaimed creators in comic book history. This seminal run introduced the beautiful and deadly assassin Elektra who went on to become one of Marvel's leading female characters. Miller and Janson also established criminal mastermind Kingpin and mad marksman Bullseye as Daredevil's greatest foes. The creator's bold storytelling choices and dark depiction of Hell's Kitchen make their take on the Man Without Fear one of the more influential comic book runs of all time and went on to inspire the hit Marvel's Daredevil television series. The classic issues contained in these collections feature other industry greats such as writers Bill Mantlo, Roger McKenzie, David Micheline, Marv Wolfman, and Mike W. Barr as well as artists John Buscema and Bill Sienkiewicz. Don't miss your chance to add this comic book masterpiece to your digital collections today using the DAREDEVIL BY FRANK MILLER SALE on the Marvel Digital Comics Shop and be on the lookout for more great digital sales in the coming weeks!


Marvel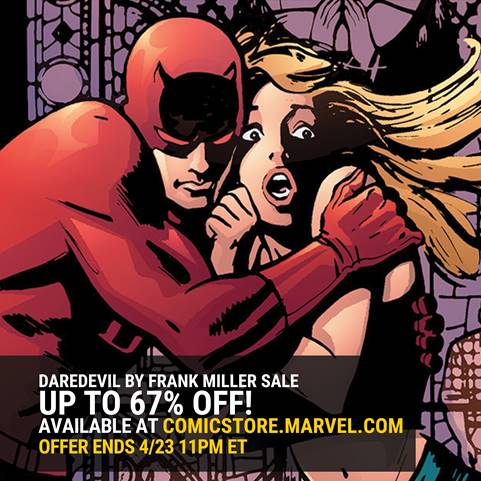 A trio of collections
As you can see, there's a lot to this set of stories. Marvel has divided them up into a total of three "collections".  DAREDEVIL BY FRANK MILLER AND KLAUS JANSON VOL. 1, 2, and 3 holds the "entirety" of the run, according to the publisher.
Listed as inclusions, are:
Daredevil #158-161
Daredevil #163-191
Peter Parker, the Spectacular Spider-Man #27-28
Daredevil: Love & War
What If? #28.
As you can see, all of the above is on heavy discount right now too. Up to a whopping 67% off can be had, though not for long. If you are looking to add any (or all) of this to your digital comics collection, you'd best act fast.
The sale wraps up on the 23rd of this month.