Super7's Toxic Crusader figure isn't even out yet, and it's getting an exclusive variant. This one is pretty awesome too; it glows in the dark.
Toxo-glow
If you know Super7, then you know what a cool line they've got with their 'Ultimates'. While they're not cheap, the 6″ figure series is loaded with accessories, sports some great sculpts, and has some awesome licenses.
Troma's Toxic Crusader is a part of that, with a one-off figure coming up pretty soon. Well you can add one more figure to the line (at least), with the new exclusive that'll be limited to retailer Entertainment Earth.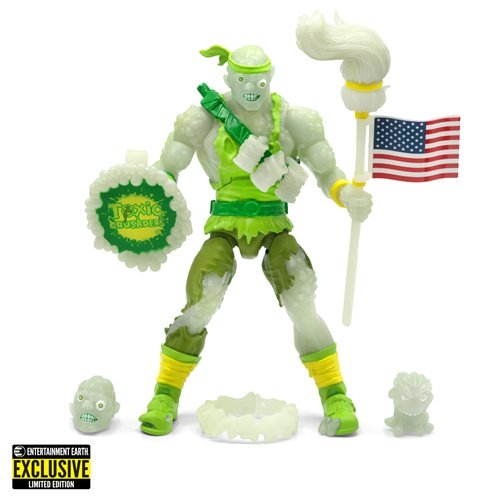 Entertainment Earth Exclusive! Based on the hit 1990s cartoon and toy line, this awesome 6-inch scale Toxic Crusaders Glow in the Dark Toxie Deluxe 6-Inch Action Figure – Entertainment Earth Exclusive is ready clean up this town all day and all night. Complete with Blobbie, a flag map, an alternate head, a shield, and a whole suite of accessories, the glowing green mutant is here to save the world while also making it just a little bit cleaner… and brighter, because Toxie and his gear are cast in glow-in-the-dark green plastic! This is an exclusive, so it will sell fast. We suggest that you get your order in now so you don't miss out!

Entertainment Earth
The above will be shipping out this July, and will run you $44.99 USD. You an pre-order one for yourself right here on EE, and if you do BrutalGamer will get a small commission from the sale.