TMNT, Defenders of the Earth, DC replicas, horror icons, Back to the Future, Godzilla… am I forgetting anything? NECA's TF20 was pure awesome.
What a show
Do you like cool stuff? Then you will want to see what NECA showed off at Toy Fair. While sometimes collecting NECA toys can be frustrating, like with the Target exclusive TMNT line, there is no arguing whatsoever with what they actually make. It's almost always flat-out impressive.
And that's exactly what NECA's Toy Fair 2020 showing was – flat-out impressive. From the sheer number of items shown off, to the awesome use of their licenses, to the excellent execution, NECA might very well have stolen the show yet again. Yeah, Hasbro's reveals were good, but NECA's were amazing.
TMNT
Possibly NECA's greatest claim to fame at the moment, their various lines taking advantage of the heroes on the half shell are all home runs.
NECA has what really amounts to three lines of Teenage Mutant Ninja Turtles right now. They've got the animated line (which plays off of the classic cartoon show), the movie line, and the video game line. Once again, all of them are great looking, and all of them had new offerings on hand at Toy Fair.
I marvel at how they're getting this done, but the movie line is expanding again with Super Shredder (a deluxe figure), Casey Jones, Raphael in disguise, and the twin terrors of Tokka and Rahzar. All of these are from the movie sequel, Teenage Mutant Ninja Turtles 2: Secret of the Ooze of course.
As for the video game lineup, that's growing as well with Leatherhead, Slash (who's hitting now), and some new Foot Soldiers.
But even with all of that, the coolest stuff is yet to come here. NECA's incredible TMNT cartoon lineup looks set to absolutely explode with new stuff. If you're a long time Turtles fan, then this is can't miss. NECA's display was packed with both brand new items, and previously announced stuff that's finally set to hit retail.
Maybe the coolest thing of all though, was Krang in his huge, hulking android body. This figure fits right in with the rest of the line, adhering to the classic toon designs.
Alien and Predator
An iconically 'NECA' line, the toy company has been producing Alien and Predator toys for years. They have the collection to show for that time, with dozens of awesome figures from both properties.
This year's showing included more of what fans have wanted from the company, including fresh designs based on the films, and more 'Kenner'-style figures. Those, if you don't know, are figures made with modern sculpting and scale, but using the designs that toy-maker Kenner did way back in the 90s. In-particular, the rhino Alien is a flat-out stunner.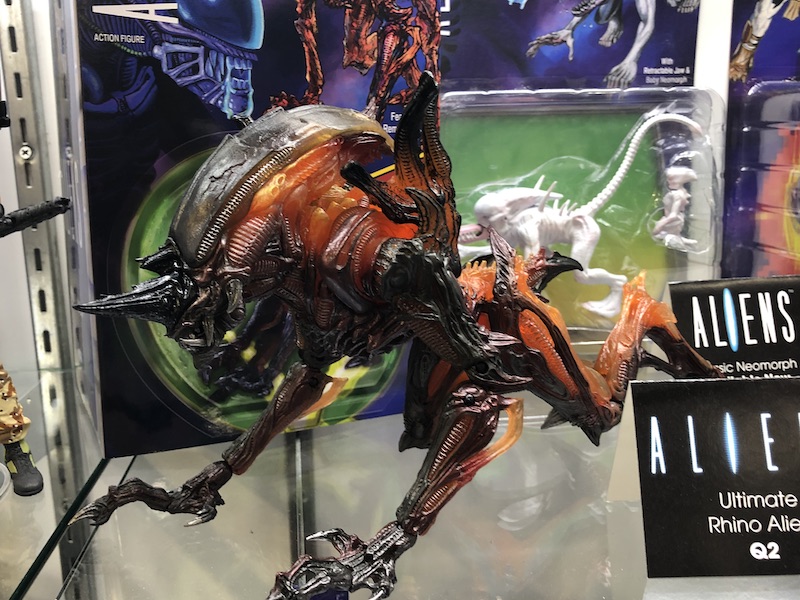 Horror
Kinda/sorta fitting in with the above is NECA's expansive horror-themed offerings. Even if you're not really a horror movie fan, you have to be impressed by the huge licenses, and the incredible execution that NECA brings to their horror stuff.
That runs from realistic depictions of the movie characters themselves, to decidedly more cartoony fare. As you'll see, the Toony Terrors line is expanding once again, and actually includes an Ash figure from Evil Dead 2!
The mixed media figures, featuring cloth outfits, are growing in number once more too, and will include Roddy Piper's John Nada from They Live. I have a feeling that one is going to bring some buyers in that normally wouldn't be into horror stuff.
Replicas
Something kind of new for NECA, are replica items. This is no comic book-based stuff though, as the replica series from the company will feature items ripped from DC Comics' entertainment properties.
As you'll see in the gallery, that mainly means Batman: The Animated Series, but also includes Batman '89, Batman Beyond, and the Arkham series of video games.
The best of the rest
Of course, NECA had quite a few smaller lines and one-off figures on display too. There were actually quite a few notable things mixed in as well, like the stunning appearance of the Back to the Future animated show and movie figures, and Defenders of the Earth.