Del's food truck is one of the biggest sets from the now-playing Playmobil: The Movie, and it's an impressive one, loaded with features.
Food (truck) from art
Did you know there was a Playmobil movie? Well it actually hit theaters a little less than a month ago and might still be out in some places. I know, there wasn't a heck of a lot of press on it. With a solid cast that includes the likes of Daniel Radcliffe though, there probably should have been.
Regardless of the performance of the film though, with a 'toy movie' being out there, there are some tie-in… toys. One of the largest sets from the feature is a food truck vehicle, and that's just what we're checking out here.
Build Quality
Playmobil is an iconic name in toys. There's no way around that, the company is a legend. Yes, it might be more known for being 'for kids' than collectors, but it's been around since 1974 and there's a reason for that.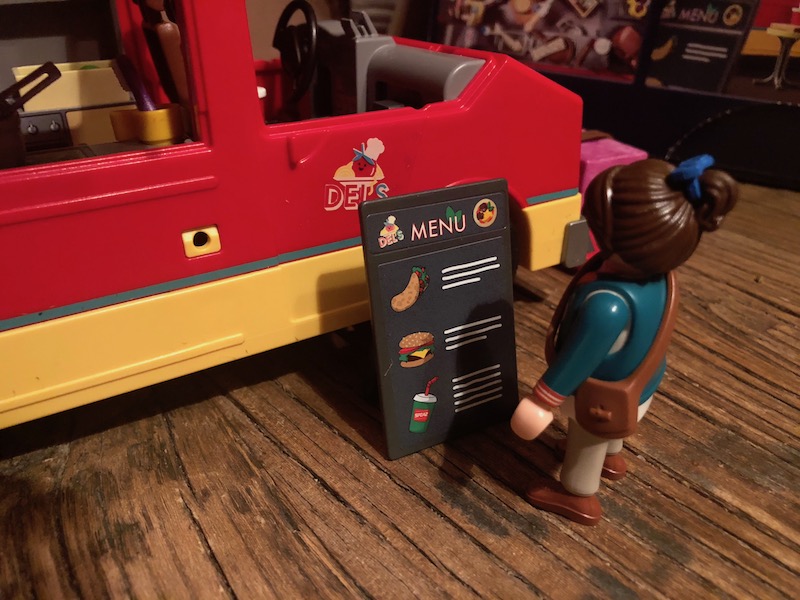 There are probably a few reasons actually, one of which is quality. Playmobil sets are only kinda/sorta building sets, and that's one of the things that gives them such a high level of playability. Yes, I know, LEGOs are everywhere and everybody loves them. But LEGO sets are not going to survive long in their intended forms when it comes to kids playing with them. I remember that pretty clearly, and I was playing with them long before they had the incredibly intricate sets they do now. An X-Wing isn't gonna look like an X-Wing for very long in play, it's just not.
Playmobil is the opposite. Not that the sets are going to survive someone who's actually trying to break them, but I'd say they're pretty much as tough as most other toys out there that have less assembly needed. Del's Food Truck here is right there with what they normally offer too.
The kit is solid and well-made, and also comes with a ton of accessories (which we'll talk about later). It's big and chunky, stocks a pile of playability, and should stick around for a while in regular play-rotation.
Aesthetic
This thing looks awesome. And I say that while totally understanding that a food truck might be a somewhat mundane 'real world' thing to translate into a toy. Though this one manages to be both interesting and great looking.
Del's Food Truck has oodles of detail, in just about every facet. The truck itself is, as I mentioned, big and chunky compared to the figures that come packed with it. It basically looks like an animated version of what it's supposed to be.
That's the outside, but the inside is doubly impressive. The cab is the cab, looks good enough, and leads right into the greater interior of the truck. And that is most definitely where all the action is.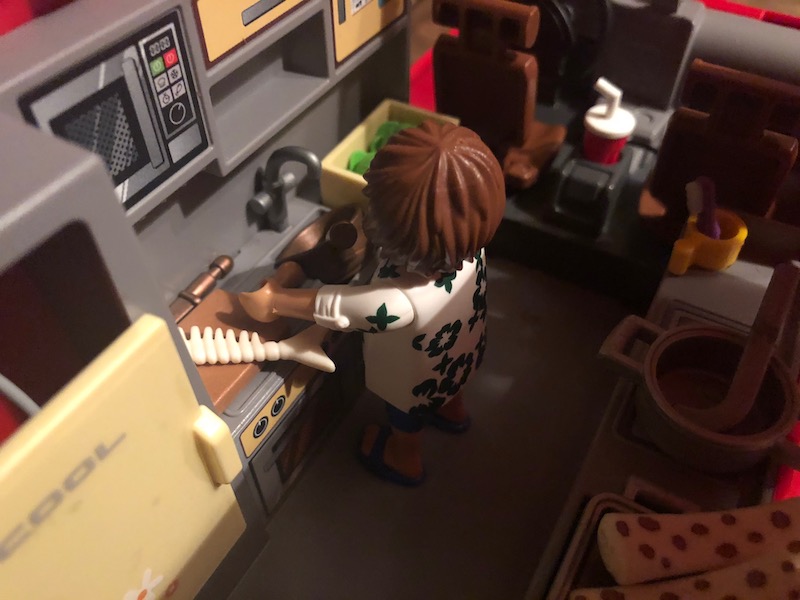 Inside you'll find a fully featured (though somewhat cramped) kitchen, with a stove, sink, fridge, storage and more. All of this has a nice cartoony look to it as well. There's a serving window built in too, where Del can deliver food into the hands of his patrons.
Speaking of the window, that leads out to a space you can make for guests. The kit comes with a sandwich sign, as well as a little cafe table. No seating though, since you don't want people hogging the table all day.
Oh, and the figures are excellent. I have only seen a few Playmobil sets where the figures have the personality that these do. They usually have a very plain, smiling face. These though, have incredibly expressive painted eyes and features like rosy cheeks. They look terrific.
Extras
Another category where this set knocks it out of the park is in the extras. With a full kitchen you might've expected this, but the Food Truck is chock full of accessories.
Tons of food, cooking utensils, tools, and more are in the kit. You even get a menu, in addition to the mentioned sandwich board, and a somewhat unsanitary looking toothbrush for Del. Really man, brush at home. Nobody wants you doing that next to their food.
It's a packed set, and once again all of this adds in playability for kids. That goes for those who just want to show off the set too, as it makes for a really cool shelf display with lots of options. I'm personally not familiar with a collector community for Playmobil toys, though I imagine they are out there. Actually, now that I think about it, the film itself might create one if it doesn't exist already.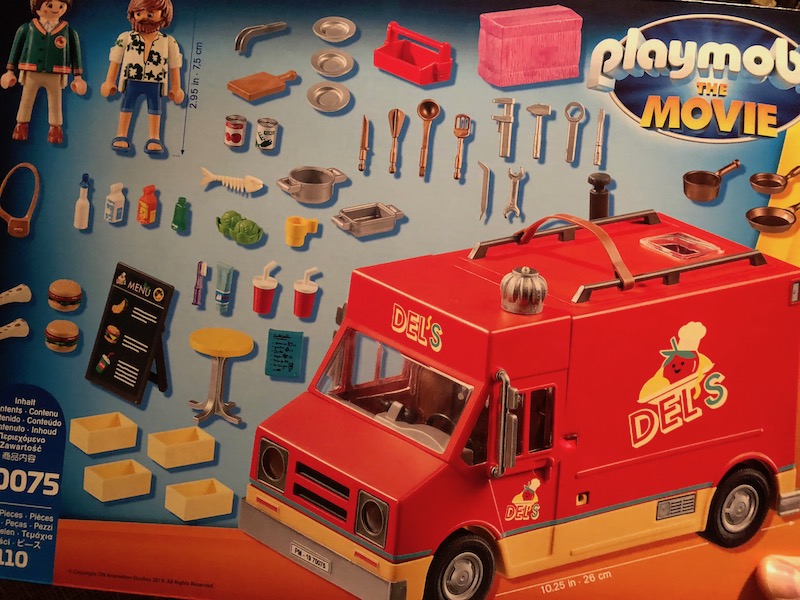 There's little to dislike about all the extras packed into Del's Food Truck, though I will add that I would have loved it if Playmobil had built in some electronic features. Light up headlights, and maybe even a horn sound effect or cooking sounds would have been fun.
Overall
Even with some minor gripes, it's pretty tough to find something to rag on here with Del's Food Truck. As you can see above, it's a great set with lots of playability and should be great fun for kids or someone looking for a little real-world movie memorabilia for their shelf.
A sample was supplied by Playmobil for this review
Del's Food Truck
Release date: November 2019
Manufacturer: Playmobil
Line: Playmobil: The Movie
MSRP: $39.99 USD
Build quality - 95%
Aesthetic - 87%
Extras - 93%
Del's Food Truck is an awesome set that should make fans of the movie happy. Actually, it should make anyone who like fun toys happy, since it packs in tons of playability and detail, has a great cartoony look, and includes some of the nicest looking figures yet in the Playmobil lineup.