The Modern Warfare universe returns to Activision's Call of Duty with a masterful installment from Infinity Ward. FPS of the year? Yeah, could be.
Heeding the call
It's been a while, but Call of Duty is most definitely back. And I mean that as a series. CoD has always shaken up the formula of course, with several different "universes" being contained within the overarching franchise.
One of the most popular of those has been Modern Warfare, not seen since MW3 in 2011. A "modern" take on military combat, Modern Warfare cast players in action that was somewhat grounded, though still very action-movieish.
Now after a hiatus that saw the debut of three more Black Ops games, Ghosts, Advanced Warfare, Infinite Warfare, and WWII, Modern Warfare has returned. From developer Infinity Ward, the game casts an unusual (for CoD) focus on the single player campaign. And oh what a campaign it is.
While it put off some fans who are generally into the brand for its wild multiplay, this is one FPS experience that hits all the right notes as far as I'm concerned.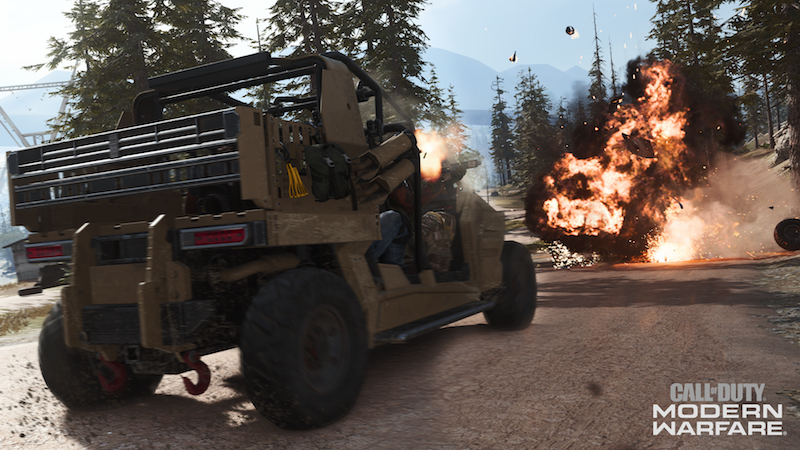 Premise
Despite the game not having as big of a focus on multiplayer as it has in the past, Modern Warfare is still two games at its core.
Campaign
MW's campaign sets players to task as various members of a black ops, special missions force. The team comes together throughout the course of the game, but serves to give the player more than just one vantage point on the state of Modern Warfare's world.
Actually, you get three pretty distinct views on it. Those who might be seen as simplistic villains get fleshed out nicely as well, and motivations (without getting overly spoilery) are well depicted. It's no spoiler to say that there are two main enemy forces in Modern Warfare, that being the Russians and an international terror group named Al-Qatala.
The story itself focuses on stolen nerve gas; deadly stuff that gets out in the open. Just where the trail to it leads is filled with twists and turns, and one major revelation that hit me like a ton of bricks right in the middle of a mission. It's very well done overall, and tackles some sensitive topics with an in-your-face style. There are no apologies in Modern Warfare, though you are given the option to opt out of doing certain activities if you prefer.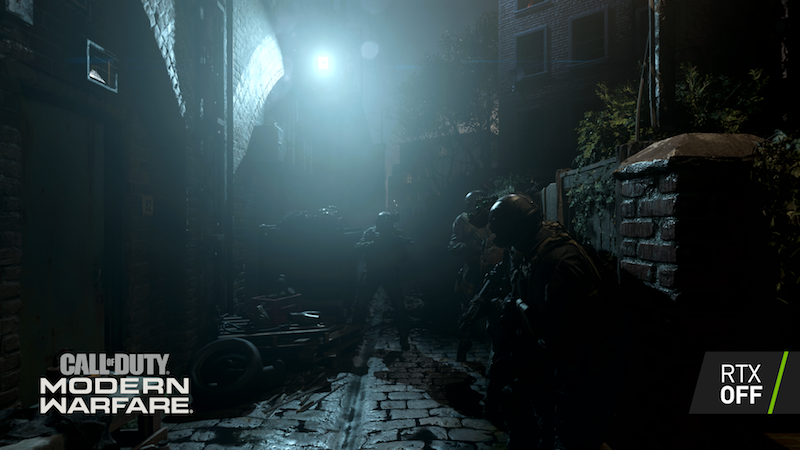 Speaking of variation, the missions are incredibly different from one another. No not all of them, so don't get the picture that you'll be doing something different every single mission. But Modern Warfare isn't afraid to shake things up quite a bit either.
Multiplayer
As for the multiplayer, what's to really say? It seems to me that if you've played Call of Duty multiplayer before, then you should dig this. Then again, I'm not a fan to begin with, so don't expect a detailed analysis on it from me.
But even so, I can say that multiplay seems like a fun addition to the main campaign. Ground War mode is a cool, 64 player addition to the suite of multiplayer options, which otherwise includes most of what you'd expect to find in a modern FPS.
Gameplay
Has first-person shooter gameplay been perfected with Modern Warfare? If not, then Infinity Ward has gotten it painfully close.
Modern Warfare controls as well as you'd hope, and feels excellently streamlined. If you're a genre fan, then the gameplay here is going to feel like an old friend, one that knows exactly how you like to play.
Firing, switching weapons, tossing frags (or returning them to sender), crouching and going prone… all of it is easy as pie and came as second-nature to me.
In addition to all that, you can also "mount" your weapon to objects that you're covering behind for easy pop-out attacks. It works for any firearm too, which I think might be something new for FPS'.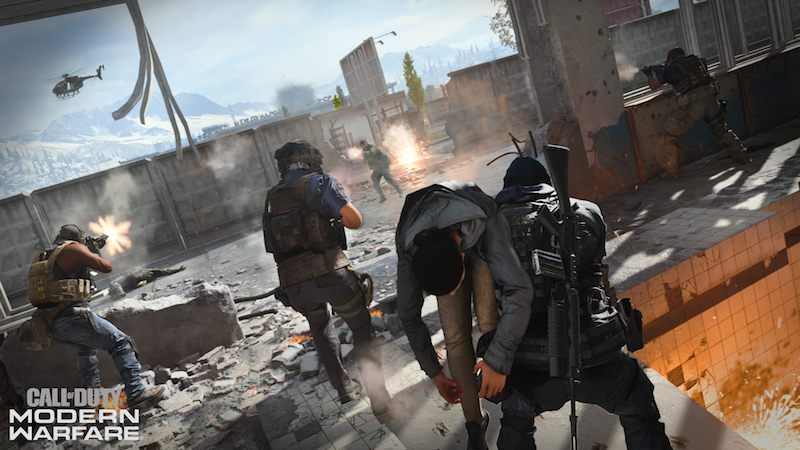 At its core though, Modern Warfare is exactly what you think it is. There's no true innovation as goes the gameplay. Honestly though, core fans won't mind that one bit, I certainly don't. It's tried and true, and that's a good thing.
If you're not a fan of the genre at all already however, then there's a good chance you won't find anything here to sway you. Well, other than the story that is.
Presentation
Holy cow is this game gorgeous. Expertly crafted and all around gorgeous, Call of Duty: Modern Warfare ups the ante considerably on how realistic an FPS can look in this late stage of the Xbox One/PS4 era.
The environments, which are almost as varied as the story elements, all look great. From the sands of the deserts to the buildings that you fight room to room in, and even cold and utilitarian military bases all look great.
Even better are the character models. Not all of them are jaw-droppers, but most are, and oh my does that includes the main characters. Series regular Captain Price, US asset Alex, UK Sargent Kyle Garrick, and Urzikstani rebel Farah are all incredibly real looking.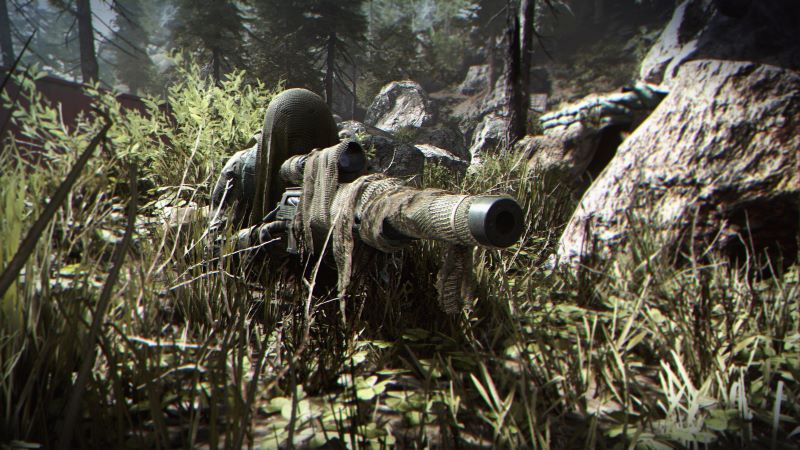 Part of how impressive Modern Warfare is, is definitely the graphics, but a comment also has to go in the direction of the sound and voice work. Though the music is unmemorable, the effects are fantastic and the cast is excellent at every level.
There is literally no actor present in this game who's iffy, or not that great. They're all good, and they all turn in top notch performances. Though Barry Sloane as Price is the highlight, Claudia Doumit is terrific as Farah and right there with him.
Again though, they're all good. It's a cast list that includes Elliot Knight as Garrick, Chad Michael Collins as Alex, and Rya Kihlstedt as station chief Kate Laswell, among others.
Overall
As you can see, it's tough for me to point out major issues with Modern Warfare's soft-reboot. Activision has brought the IP back to glory thanks to Infinity Ward, who continues to prove themselves as one of the best development houses in gaming.
I had a great time with this game, and I can't wait for the next chapter. Well, the next chapter of Modern Warfare anyway.
Call of Duty: Modern Warfare (2019)
Release date: October 25th, 2019
Platform(s): Xbox One (reviewed), PS4, PC
Publisher: Activision
Developer: Infinity Ward
MSRP: $59.99 USD
Premise - 92%
Gameplay - 90%
Presentation - 97%
Modern Warfare returns as a brand with what might be the strongest title in the line. The 2019 soft-reboot stars incredible graphics and voice acting, phenomenal action, and a campaign that has one of the best FPS story arcs in recent memory. If there's an Achilles heel, it might be the multiplayer, which is still fun, but isn't the focus that some might have been looking for. Still, if you're looking for a great FPS to keep you occupied and prefer things tilt more towards the single player, you're in for a treat with this one.