It looks like the year will be going out with a bang for Venom. Marvel Comics is teasing a tropical follow-up to Absolute Carnage.
Alas
Longtime fans will remember the classic Amazing Spider-Man arc where Spidey fought Venom in a 'final battle' on a deserted island. That, of course, was in the days of Venom still being a psychotic villain.
It was on that island that Spider-Man tricked his archenemy into thinking that he'd been killed. With no way off the island, Venom just kind of… retired there. It became a prison that Eddie really didn't even know he was in. Not that it lasted.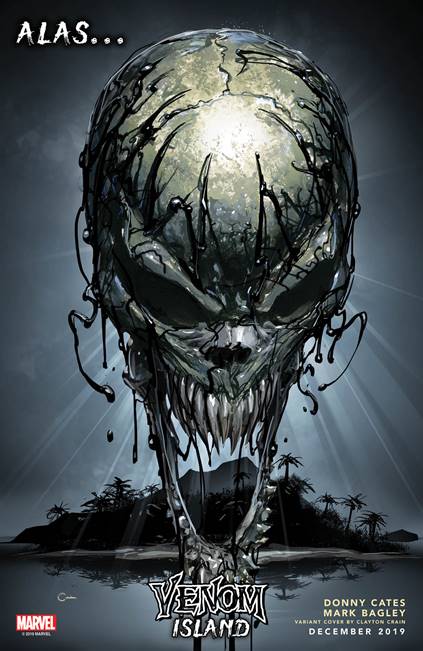 It wasn't long before Eddie Brock was back in action, collected by the wall-crawler himself thanks to Maximum Carnage. And that brings us to the current event series called Absolute Carnage.
While Absolute really just began, it seems like we might have a hint at where its headed. The image shared today by Marvel highlights "Venom island" and a venomized skull.
Could Venom be heading there to once again "retire" after Absolute Carnage? Or could he be exiled there once more, after a possible heel turn? Or, and this is probably more likely, is it something all together different?
We'll find out this December, when Venom scribe Donny Cates joins forces with legendary Spider-Man artist Mark Bagley for Venom Island in Venom #21.