Image Comics will of course be in attendance at SDCC this week, and they're bringing an impressive slate of exclusive items and panels to attend.
Image of a Con
When you talk Comic Con, you pretty much immediately think of a few of the biggest publishers in the industry. Those include Image Comics, which si still one of the bigger independent companies out there.
Image's collection of heroes might have dwindled a bit over the decades since its creation, but there's no shortage of books emerging from the publisher every month. A few of those are standout titles too, including the just-wrapped The Walking Dead and Spawn.
We told you all about Todd McFarlane's new initiative to bring Spawn merchandise back in a big way. That's actually what will make up a good deal of what you'll find at the Image Comics booth on the show floor. Still, there are a few other select goodies for you to pick up too…
LIMITED* CONVENTION VARIANTS SOLD AT THE IMAGE BOOTH (#1915):
*Quantities will be limited by customer and per day on a first-come, first-served basis. Please ask at the Image booth about availability.
SEA OF STARS #1 by Jason Aaron, Dennis Hallum & Stephen Green, $10 +tax
GUNNING FOR HITS hardcover by Jeff Rougvie & Moritat, $30 +tax
BAD WEEKEND jacketed hardcover by Ed Brubaker & Sean Phillips, jacket art by Phillips, $16.99 +tax
SPAWN #299 by Todd McFarlane, $10 +tax
SPAWN Orb T-shirt, S-3X, $25.00 +tax
SPAWN Parody T-shirt, S-3X, $25.00 +tax
SPAWN Logo Pin, SPAWN Parody Pin, SPAWN Triangle Pin, SPAWN Skull Pin, and SPAWN Orb Pin, from $10.00 – $12.00 +tax
The McFarlane Event Exclusive SPAWN Art Print featuring its own unique identification number and limited quantity of 250, $20.00 +tax
SPAWN BumBumz Vinyl Figure, packaged with an exclusive art card, in black or blue, $25.00
SPAWN Logo Lanyard, $10 +tax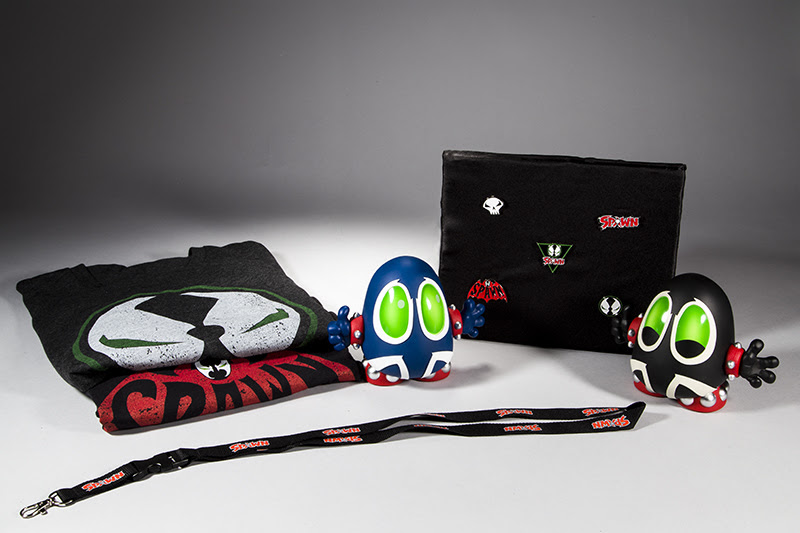 Panels galore
So you can buy some cool stuff at the booth, but what about panels to attend? Well, you best believe that the Con will be loaded with those. Check out the list below to see how they shake out.

Thursday, July 18
Image Comics: Bone-Chilling Insight into Bestselling Horror Comic Books, Thursday, July 18, 1:00 p.m. – 2:00 p.m., Room: 23ABC
Join W. Maxwell Prince (Ice Cream Man), Pornsak Pichetshote (Infidel), Dan Watters (Coffin Bound), Jeff Lemire (Gideon Falls), Kieron Gillen (Die), and Chuck Brown (Bitter Root) as they discuss their spine-tingling craft and share the secrets to creating some of the darkest, most thrilling comic book series on the market. Moderated by Chloe Ramos-Peterson (Library Market Sales Representative at Image Comics).
Skybound Presents: In Conversation with Robert Kirkman, Thursday, July 18, 3:00 p.m. – 4:00 p.m., Room 6A
Comic book creator, writer, and executive producer Robert Kirkman answers questions from fans and discusses his latest projects, including The Walking Dead, Invincible, Oblivion Song, and more.
Friday, July 19
Image Comics: Masterclass Artists Share Secrets & Inspiration, Friday, July 19, 12:00 p.m. – 1:00 p.m., Room: 23ABC Dustin Nugyen (Descender), Jen Bartel (Blackbird), Sanford Greene (Bitter Root), Stephen Green (Sea of Stars), Aaron Campbell (Infidel), and Mirka Andolfo(Unnatural) will share their craft insight on their breathtaking pencils, showstopping inks, and eye-popping colors—learn about sequential art from the best in the industry. Moderated by Eric Stephenson (Publisher & Chief Creative Officer at Image Comics).
What is the Best Superpower? Friday, July 19, 1:00 p.m. – 2:00 p.m., Room 25ABC When creating comic book heroes, it makes sense to give them the best superpower, right? So why do we have so many superheroes with a wide array of amazing powers? Perhaps because the debate on what is the best superpower is still raging. How sure are you that you know the best power? Could you be swayed by the opinions of these Comic-Con special guests? Panelists include Alitha Martinez (Iron Man, Batgirl), Joseph M. Linsner (Vampirella), Jonathan Hickman (Fantastic 4), Steenz (Archival Quality), Todd McFarlane (Spawn), and Katy Farina (BG Paint for She Ra and the Princesses of Power), along with moderator Amy Chu.
Are Girls Turning Into Killer Cats? Friday, July 19, 2:00 p.m. – 3:00 p.m., Room 29AB The creative team of the Eisner Award-nominated comic book Man-Eaters talk comics, felines, and feminist agendas. Featuring NYT bestselling writer Chelsea Cain (Man-Eaters, Mockingbird), Lia Miternique (Man-Eaters co-creator), Rachelle Rosenberg (colorist), and 14-year-old contributors Eliza Fantastic Mohan (writer), Stella Greenvoss (artist), and Emily Powell (Haiku-writer-in-residence).
Saturday, July 20
Image Comics: The Inside Scoop on Comic Book Storytelling,  Saturday, July 20, 12:00 p.m. – 1:00 p.m., Room: 7AB Bestselling, award-winning writers David F. Walker (Bitter Root), Skottie Young(Middlewest), Joe Casey (JesusFreak), Cullen Bunn (Unearth), Ed Laroche (The Warning), Charles Soule (new project TBA), and Scott Snyder (new project TBA) give fans the inside scoop on their storytelling techniques and worldbuilding craft. Moderated by Geoff Boucher (Genre Editor at Deadline Hollywood).
Todd McFarlane: Raw & Uncensored Saturday, July 20, 3:00 p.m. – 4:00 p.m., Room 6DE Todd McFarlane, Image Comics co-founder, creator of Spawn, co-creator of Venom, and McFarlane Toys CEO, talks about his 30+ years in the comics and entertainment industries. You'll experience Todd raw and uncensored—talking toys, comics, industry advice, and more! He'll also be talking about one of the biggest milestones in his career, Spawn #300, which will set the record for the longest-running creator-owned superhero comic ever! Bring your burning questions for a Toddfather Q&A.
Skybound Presents: Comic Books and Creators Saturday, July 20, 3:30 p.m. – 4:30 p.m., Room 8 Sean Mackiewicz (Gasolina, SVP and editor-in-chief at Skybound), Daniel Warren Johnson (Murder Falcon, Extremity), Brandon Thomas (Excellence), and Khary Randolph (Excellence) come together to discuss their latest published works. Moderated by Brian Huntington (Skybound's VP of online content).
Sunday, July 21
Image Comics: The Road to the Historic Spawn #300 and #301 Sunday, July 21, 1:45 p.m. – 2:45 p.m., Room: 5AB Join Todd McFarlane (president at Image Comics, creator of Spawn) and special surprise guests from the superstar creative teams of Spawn #300 and #301! This inside look at the creation of these record-breaking issues will jumpstart the celebration as Spawn becomes the longest-running creator-owned comic book in the world! Plus, new art reveals, giveaways, and more!
SDCC Networking Event – Comics, Coffee & Conversation Sunday, July 21, 2-4 p.m., Marriott Marquis, Santa Rosa Room Spend the last day of Comic-Con International: San Diego with creators Danielle Colman (The Unfinished Corner), Jason Lutes (Berlin) and Brian Schirmer (Fairlady); educators including John Shableski (UDON/Manga Classics); retailer Rachel Parker (SoCal Games & Comics); comics librarians including host Moni Barrette (Chula Vista Public Library) and fellow comics enthusiasts for fandom conversations over coffee! Topics will range from how graphic novels are used in education, how diversity is spreading in the comics community, and information about the new Graphic Novels & Comics Round Table of the American Library Association.
OFFSITE EVENTS:
[email protected] Panel – Reading and Raising Our Voices: From Comics to Community Organizing Thursday, July 18, 11:00 a.m. – 12:00 p.m., San Diego Public Library: Central Library – Shiley Special Events Suite – 330 Park Blvd. San Diego, CA 92101
Hear from creators who have tapped the graphic medium to record the history and experiences of marginalized peoples, to take control of their own narratives, and to inspire a new generation of activists, as well as from librarians crafting large-scale initiatives around comics that focus on historically underrepresented communities. With Henry Barajas, Ezra Claytan Daniels, Maia Kobabe, Candice Mack, and David F. Walker. Moderated by Chloe Ramos-Peterson.