The Cadence of Hyrule lands on the Nintendo Switch this week, along with a few surprises like the Contra Collection and The Secret of Mana.
Keep the rhythm
I don't think I'm the target audience for Cadence of Hyrule, but even I have to admit it looks pretty cool. The game is a spinoff of sorts for Crypt of the Necrodancer, but starring Link, Zelda, and the Hyrule crew.
Coming off of E3, it's a fairly large release for Nintendo, who had a few surprises this week as well. The collections of both Konami's Contra and Secret of Mana surfaced, though neither is on the official rundown of what's new here.
There is that trio of new NES titles for the Online virtual console though. All three are cool, though Double Dragon II is the clear headlining title.
Nintendo eShop on Nintendo Switch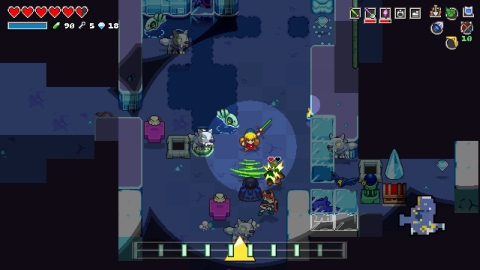 Cadence of Hyrule: Crypt of the NecroDancer Featuring the Legend of Zelda – In the Cadence of Hyrule: Crypt of the NecroDancer Featuring the Legend of Zelda game, each move you make – whether it's moving, attacking, defending, using items or more – must be timed to the beat of the music, which features remixes of familiar tunes from the Legend of Zelda series. Choose to embark on your as Cadence, Link or Princess Zelda, each with different powers and abilities, before adventuring through a randomly generated overworld map where classic areas like the desert or the forest will differ, meaning no two playthroughs will be the same.
Nintendo Entertainment System – Nintendo Switch Online*

Double Dragon II: The Revenge – Billy and Jimmy Lee, the Double Dragons, are back to avenge the loss of Marian. In their quest to defeat the evil Shadow Warriors, Billy and Jimmy must complete nine missions, facing deadly street gangs, ninjas and huge mutant fighters. Can Billy and Jimmy contend with the enemies placed before them and ultimately save the world?
Volleyball – Enjoy a game of volleyball as you spike for a point, slam a perfect serve and make a save that wins the game for your team. As captain, you'll lead your team through a fast-paced warm-up round, and then quickly move into the heat of real volleyball competition. The first team to 15 points wins the set, and the first team to win three sets takes the match.
City Connection – After breaking into an exclusive paint store in New York City, you're on the run from the cops! Carrying leaky 10-gallon cans of paint, drive over every mile of New York City highways before catching a boat to England. From there, you will go on a tour of the world, avoiding the police and leaking paint everywhere you go.
Nintendo eShop sales:
Save Up to 50% on Select Digital Games

Celebrate E3 2019 by checking out the savings on select digital titles in fan-favorite franchises—including Super Mario, The Legend of Zelda, FINAL FANTASY and more. Offer ends June 18 at 11:59 p.m. PT.

Nintendo eShop on Nintendo Switch, Nintendo 3DS and Wii U
Also new this week in Nintendo eShop on Nintendo Switch:
Also new this week in Nintendo eShop on Nintendo 3DS:
Also new this week in Nintendo eShop on Wii U: