It's been a tumultuous time for Bat-books, as writer Tom King has been removed from the flagship. But he'll be moving on to Batman/Catwoman.
The King era comes to an end
It's pretty easy to say that Batman is DC Comics' best-selling title. The comic ships two issues a month, and for all intents and purposes has been a perennial hit. But even with that being true, it's hard to ignore the sales drop. And it's tough not to connect that to its continually running storyline, from writer Tom King.
King had taken the reigns from Scott Snyder, a fan-favorite who told a whole string of (mostly) well received tales in the New52 era. Under Snyder (and artist Greg Capullo) Batman sold in excess of 100k issues a month. The bottom line being that that it was a tough act to follow. King did well with Batman though. He deserves a nod since he garnered acclaim from fans and critics… for a while.
Then came the infamous wedding in Batman #50. As fictional marriages go, this was a big one seeing Batman and Catwoman tie the knot. The issue with the event itself sold very well, even though it was spoiled just days before launch.
Fans likely still presumed the wedding arc would have some kind of payoff. But it didn't.
Careening
Not only did the nuptials not happen, they didn't happen in an incredibly uneventful way. After 50, the Batman book seemed to take on a different tone, with Bruce Wayne spiraling ever further down.
I'm all for Batman being broody and dark, but the book has to be fun at its core, and loaded with action. These are superhero comics after all. They can't ever be a chore to read. While we're at it, Batman also has to be true to the character, which I haven't found it to be for some time.
This past issue saw the Dark Knight at his lowest point yet. He belted Tim Drake for questioning him and seemed to be mentally "broken" by Bane. This is Batman we're talking about, remember.
Fans didn't seem to be crazy about it. Batman #69 saw the series land at a depressing 88 thousand-plus estimated units sold. The comic was even beaten on the Comichron charts by Immortal Hulk #16. That's a hot book, but beating Batman is mighty strange.
The rest of the top sellers were mainly event-type series'. War of the Realms and Symbiote Spider-Man number ones, and The Batman Who Laughs #4 were all present in the top 5 along with Hulk and Batman.
In the wake of this, DC has made the announcement that King will be gone as of issue #85. That issue will close out the City of Bane arc (a storyline that will reportedly see Batman sink even lower). Though off Batman, King will remain in Gotham for a while longer.
Changes to come
Starting in January 2020, the twice-monthly Batman will once again return to being a monthly title. Filling in the second slot will be King's new book – Batman/Catwoman.
A 12 issue maxi-series announced yesterday, Batman/Catwoman will be penciled by the talented Clay Mann. Could this move be to essentially give as many fans as possible what they are asking for?
Those who dig King's story will still be able to see it play out. Those who don't? They can grab a copy of Batman and read something new.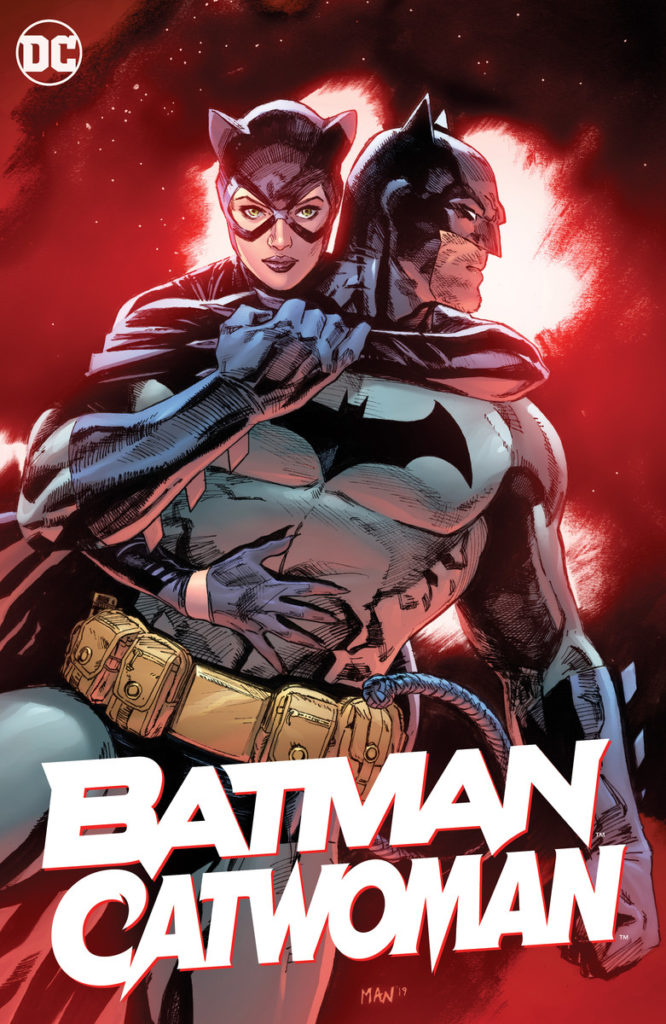 "Batman and Catwoman is a chance to do what Morrison and Quietly did in Batman and Robin: launch an ambitious, accessible, beautiful, thrilling new series that concludes years of stories and defines what Batman is, can, and will be," said Tom King. "This will be a comic about what the best Batman comics are always been about, how our greatest hero turns fear into bravery, pain into hope, trauma into love. It's the story I always wanted to tell, and I'm telling it with the man I consider to be the greatest artist in comics, my brother Clay Mann.

"It's tough to leave Batman," added King. "It's a gift and a joy to be on that book. But I'm leaving it to work on the biggest, most ambitious projects of my career, comics I get to make with the best collaborators in comics. And that's a gift and a joy too."

DC Comics press release
As to who's taking on the mantle of the Batman comic, that's not clear just yet. There's no one that I've seen rumored, though I think it's safe to assume DC has made a choice already. Maybe we'll hear something come July's SDCC.
So what's next?
Worth noting is that, past Batman, the other titles in the "Bat-family" of books won't see any changes. If you're a fan of Red Hood, Nightwing, or Batgirl, those aren't going anywhere. That's according to DC's Bob Harras.
"We're excited for fans to get more of what they love from DC," said Harras. "With Joëlle Jones continuing on CATWOMAN, a new creative team on BATMAN, plus titles like DETECTIVE COMICS, BATGIRL, NIGHTWING, RED HOOD: OUTLAW and BATMAN AND THE OUTSIDERS, our Gotham City protectors and the talent behind them will continue to offer great stories that cater to the tastes of as many Bat-fans as possible in 2020 and beyond."


Bob Harras