Have you ever thought you're really good at typing? Have you ever wanted to be an exorcist? Well, now you can be both in indie game developer MorbidWare's Textorcist!

Premise
Rome, 20XX. The Pope is dead. Ray Bibbia is an exorcist for hire and gets a call to help a possessed maid. However upon further investigation there seems to be a deeper meaning behind her possession and a rise in demons in Rome.
Gameplay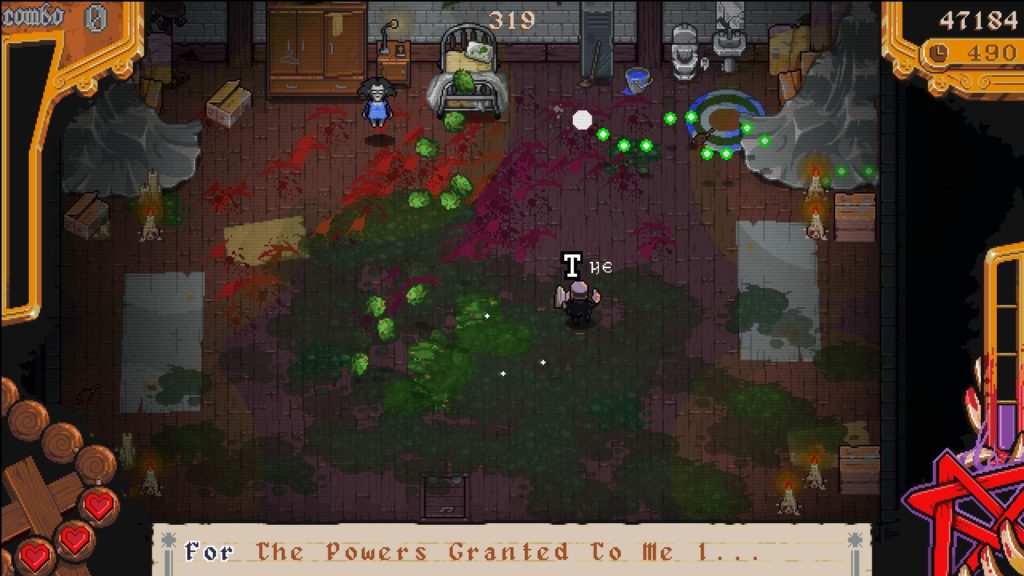 The game seems to be a top-down boss run (from what I have seen from the demo) where each level is a boss fight. They can last for a couple minutes to 5 or more minutes depending on how fast you kill them or what the time limit is for that level. Each boss has phases and attacks relevant to their characters. These can be mini typing games where for e.g. you have to type "Disarm" to defuse a bomb.
The player controls Ray using the arrow keys to move around a small arena. As the player dodges projectiles shot or spewed by the enemy, they must type out holy incantations to fire off Holy Bullets also known as "Hollets". They must also be in range of the enemy for them to "hear" the incantation so you can't be too far from them in the arena or you can't type it out.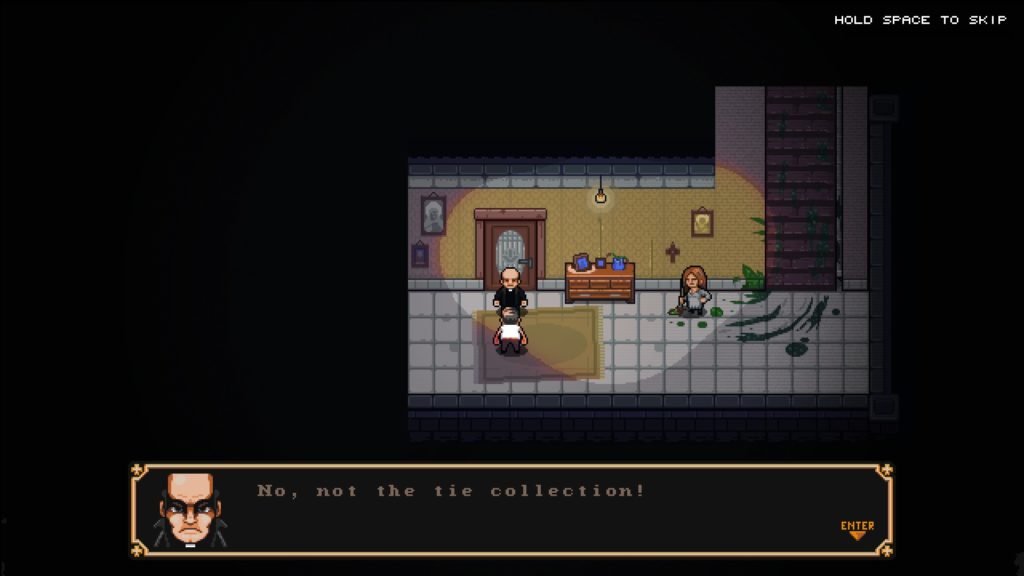 If Ray Bibbia is hit, his incantation is interrupted as he drops his Bible. He must pick it up before a timer runs out or he loses the word he was typing entirely. If he gets hit before picking up his Bible he loses a heart. His life total is 3 hearts. You'll die if you run out obviously.
You rack up points based on uninterrupted combos done, time finished and health left. There are leaderboards for the top typing exorcists so there's some replayability there.
It can be really challenging to watch the screen, move your character and type at the same time. I can see players who aren't familiar with typing games getting super frustrated and others loving it. The game is forgiving though because you can recover immediately after getting hit. Also, nearly everything you interact with requires typing which keeps your skills sharp for the next fight!
Art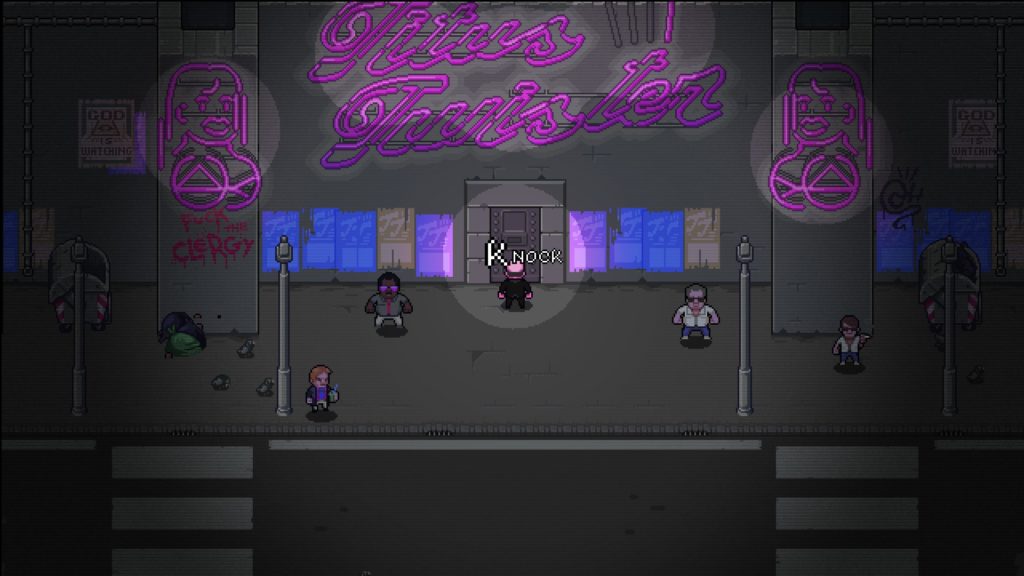 Pixel art is back at it again in Textorcist and it's amazing. The art direction in the game is mesmerizing and engaging. The color balance stands out and projectiles are very visible on an already detailed arena. Title screens also appear for each level and gives a sort of Tarantino movie vibe. It's a nice little touch that makes the game that much more pumping.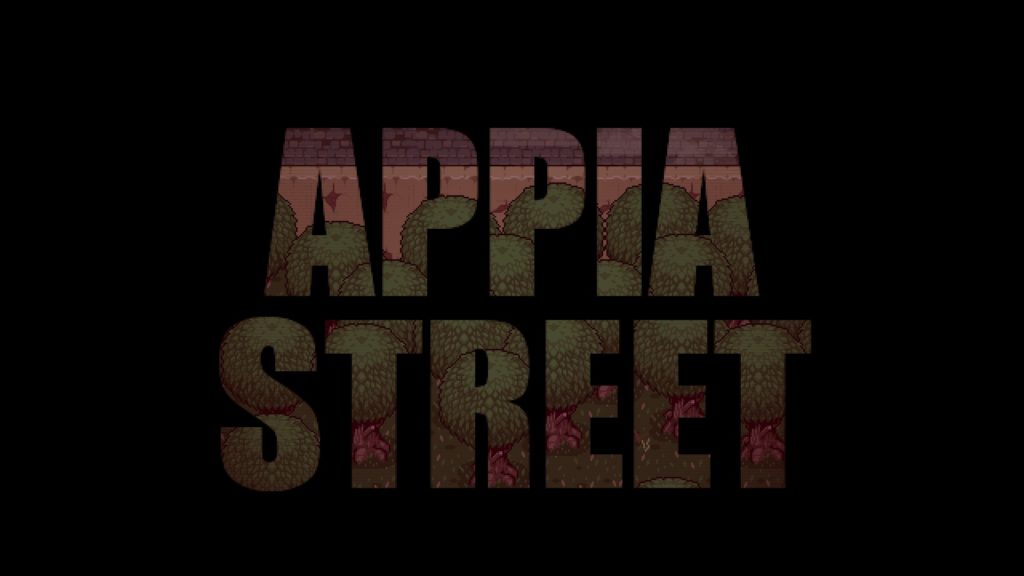 Sound Design
Speaking of pumping, the soundtrack for Textorcist is phenomenal! It is composed by GosT, a dark synth producer from Austin, Texas. They are electronic, dark, thumping songs with heavy rhythms and deliciously sharp synths. If you enjoy this genre of music, this is another reason why this game looks really enjoyable to play.
The tracks also remind me of Hotline Miami – they really get the player into the 'flow' of the game and the animations give this illusion that they are going with the beat of the track giving another link into that 'flow state'. The sound mixing is good too, softening when needs be and intensifying when in actual battle.
Overall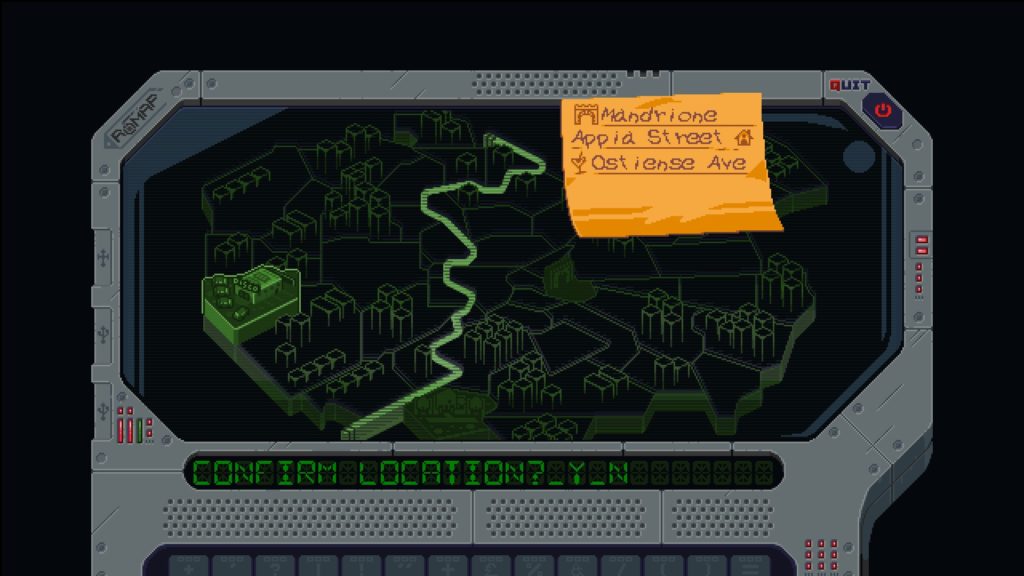 The demo of Textorcist is great and reminds me of days gone by when you could actually get a good chance to try a game out before you bought it. Having experienced the fun of trying to balance typing while dodging projectiles and exorcising demons and even people, Textorcist will be on my wishlist for sure!
The Textorcist: The Story of Ray Bibbia
Release Date: 14 February, 2019
Platform(s): PC
Publisher: MorbidWare
Developer: Headup
MSRP ($): $14.99 USD
Feeling cleansed!
Story - 80%
Art - 95%
Sound - 95%
Gameplay - 95%
The Textorcist: The Story of Ray Bibbia sets itself up like a solid game. Each boss is interesting, the controls are smooth and forgiving due to the unique nature of typing and moving at the same time. The soundtrack is bombing and the story is funny and quirky. Definitely keeping my eye on this one.