I've just started the latest adventure starring Dante and crew, and I'm more than a little hooked. Capcom is seriously rolling with Devil May Cry V.
The devil you say
I'm not really a fan of the Devil May Cry series. I've tried a few times over the years, but never was able to get into the main set of games. Notice I said "main" there, because I actually loved the reboot from a few years back.
As far as experience with DmC though, that was it for me. Well, until now anyway. I had heard that the fifth Devil May Cry title (from that main series) was a game not to be missed.
And guess what? That's exactly what it is, at least from the early goings.
So what's so good about it?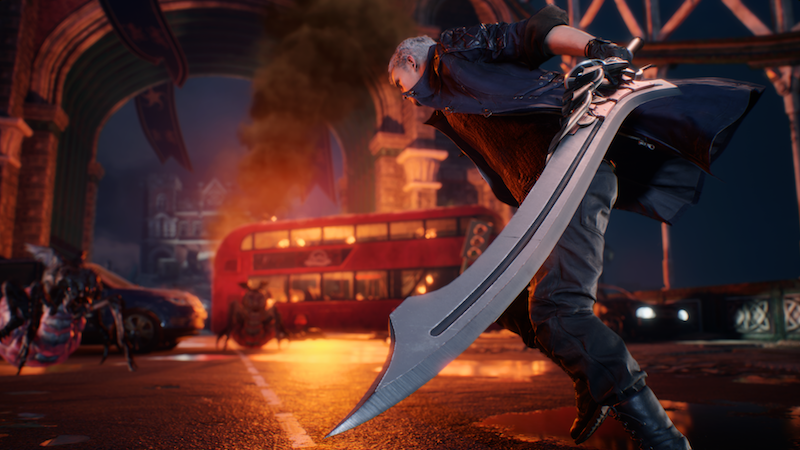 So far, pretty much everything is "so good". I'm about four hours into the main campaign, and it's pretty great.
The story revolves around a demonic "tree" that's sprung up in the middle of a massive, modern city. This thing is sprouting all manner of devils, generally laying waste to all the people and structures surrounding it, and is housing a demon king named Urizen.
The game cold-opens with him fighting Dante, and doesn't let up from there. When the action picks up, you're playing as Nero. That is where I am, but both the newcomer V and Dante both look to be playable as well.
DMCV has some of the best graphics I've seen in a fast-moving action title. Using Capcom's RE engine, the levels of detail are incredible. And it's hard not to notice the excellent animation and special effects. The game is a visual treat.
Likewise the controls are phenomenal. In addition to the typical attacks, there are special abilities to take advantage of. Nero's has to do with his cybernetic arm, which can stock varied attacks and a has a cool grapple for drawing in enemies.
Of course, you're graded on your style while dispatching enemies too – a fun kind of mini-game.
Anything not so good?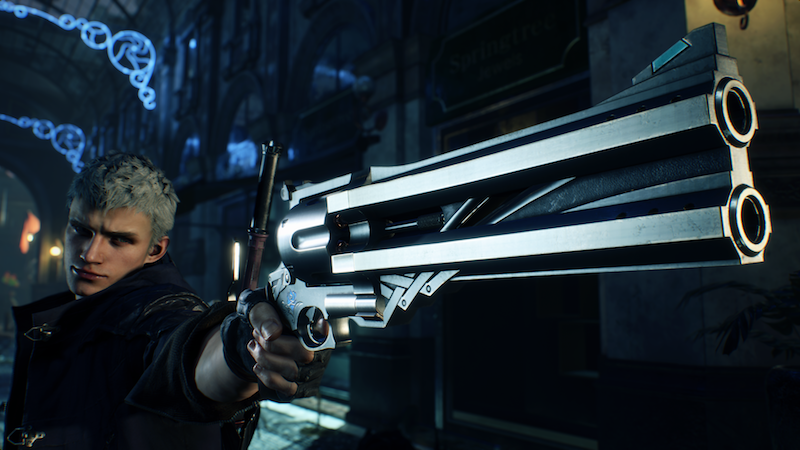 Unfortunately, DMCV isn't perfect. There are a few issues that I've had with it, though nothing that's all that major. And honestly, nothing in the way of glitches.
For starters, there are the moves that Nero can pull off. There are just way too many of them. Usually, when I open up abilities in games it's hit or miss whether I actually use the majority of them. So this complaint is nothing new for me.
In Devil May Cry V though, there seems to be a massive glut of stuff you can upgrade, buy, and otherwise improve. It's way too much for my liking, but that's me. I'm sure plenty of fans will enjoy the upgradability of everything, so this isn't really a knock.
The other issue I had was that the voice acting is not all great. At times, I felt like the game had a "dubbed" feel. Some characters seemed to be voiced too fast and with some inappropriately timed pauses/and or speed-ups in cadence.
In the same vein, the script itself is a little silly at times. Sometimes it's great, with some actual badass lines thrown around, but I found some lines a little cringe-inducing as well.
A winner in the early goings
Even with the (very) minor quibbles though, Devil May Cry V is flat-out awesome. Though I'm only a few hours in, I'm far enough along to see that everything looks and plays above average.
A full review will be coming along eventually, but for now I feel pretty safe saying that most action fans should enjoy what Capcom has created here. And of course, if you're a Devil May Cry fan, you're definitely going to want to see how the Sons of Sparda saga ends.