Nurgle and savage Dark Eldar just took a backseat. The brutal Khorne faction has arrived in Warhammer 40k Inquisitor – Martyr.
Bloodletting
Already a gigantic aRPG, Inquisitor – Martyr offers players the ability to step into the boots of an Imperial Inquisitor. The main mission there is to purge the sector of space of an incursion of the daemonic Nurgle's thralls. Not that that has changed post-launch, but since that initial release we've seen one new Season arrive. With it came the Dark Eldar, a brand new faction to fight against, in a new sector of space. And now, we've got Khorne.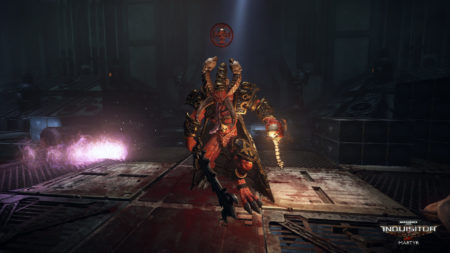 Not to be confused with the band or the veggie, Khorne is one of the most brutal factions in the 40K universe. The daemons are a savage, unrelenting, gore-soaked force. And now they've arrived in NeocoreGames' Inquisitor – Martyr.
As with the first Season of content, Season 2 is free to download and play as long as you have a copy of the main game. And like that first installment of DLC too, it comes loaded with stuff to see and do.
Included in the pack (again, it's free) is:
New enemy faction: Khorne
A new subsector: Four new systems, with an increased Power Rating and with numerous new points of interests
New story: Two new investigations
Level cap increased from 70 to 80
Not too shabby right there. As usual too, Neocore says that there's even more to come. So you never know what new alien force might creep into the game next.
Season 2 for Warhammer 40k Inquisitor – Martyr is available right now for the PC version of the game, and will be hitting console editions shortly. No date on those just yet though.