Previews offers a ton of exclusives, and they just added another that pretty much every Pop! fan is going to want. It's a creeptacular Batman Who Laughs.
Laugh it up
Debuting earlier this year in the DC Comics crossover Metal, The Batman Who Laughs is a dark, purely evil version of the Dark Knight. He's been infected by the Joker, murdered the Bat-family, and otherwise become a demonic shadow of his former self. There isn't too much merch out there right now as to the character however, though DST is correcting that.
Locking up a Pop! vinyl figure from Funko for their Previews magazine, Diamond presumably has a winner here. After all, Funko's rarer figures tend to be just a little bit hard to get. And one that features one of the biggest new villains in the DCU? I don't think it's going out on a limb to say that it's going to be a solid seller.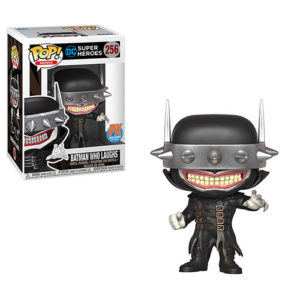 As with all the other standard sized Pop!s, The Batman Who Laughs is 4″ tall and has a movable head. There's no other articulation, but that's standard. Also as with other Pop!s, this bad boy will run you $11.99 USD. You'll be able to grab one come this January, and you can pre-order it right now via your local comics shop.