Looks like there will be a lil' tiny console on store shelves this year after all. But it won't be from Nintendo. Sony has announced the PlayStation Classic.
Classic. And tiny.
So there you have it, a little PSOne to join your diminutive Nintendo consoles under your TV. Is it worth picking up?? Well, if you're a died in the wool Sony fan, then the answer to that is probably "yes". The console includes 20 games, and a 45% scaled-down original look. It's got some neat reworking of its console-top switches too. If you didn't watch the video, the "open" button swaps non-existent discs. That's kind of neat.
Of course, you get the usual stuff that we've all come to expect from a launch like this too. There's an HDMI port and retro controllers are included. Though it's particularly nice that you'll get two in the box instead of Nintendo's one.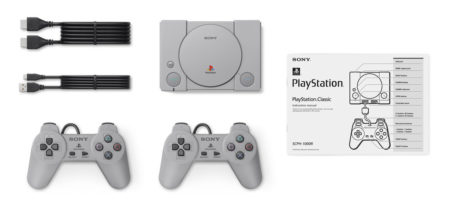 So what about those games? Well, right now we don't have a complete list. All we have is confirmation on the first five. They are:
Final Fantasy VII
Jumping Flash
Ridge Racer Type 4
Tekken 3
Wild Arms
Some surprises there honestly. I wouldn't have expected to see Ridge Racer, Jumping Flash, or even Wild Arms honestly. I'm hoping the next lot will include Symphony of the Night, and the original Crash Bandicoot, though now I don't know. BG's Erich has pointed out to me that Crash could be an issue thanks to Activision's rebirth of the series. We'll see. I'd flat out LOVE to see the PlayStation's version of Doom and Spider-Man included too, but those have zero chance, and I'm not going to delude myself.
Sony says there's much more to come for the console, so stay tuned. Those additional games should be announced in the fairly near future. Right now though, we know the you can expect to see the Classic go on sale on December 3rd, for $99 USD. It's available for pre-order right now from select retail outlets.